Profile
Posted: January 16, 2023
The rise of female solo travel can be seen everywhere—from the glossy images on Instagram to the rise of hostels that market to largely female digital marketers.
Pauline Andre began her solo travel journey when she was only 15. She immediately fell in love with the experience, and despite several harrowing moments she's had along the way, she is now dedicating her career to empowering other women to discover the world through solo travel. She shared that 85% of American women have already solo traveled and the numbers are growing after the pandemic. We asked Pauline to share her story.
How did you start solo travelling?
Growing up close to Paris, France, it was easy to travel outside of my home country. Belgium was only 1 hour by train and Germany only a quick 3-hour drive. I don't even remember the first time my parents took me abroad. I just know that I always wanted to discover as many countries and cultures as possible.
Even when I wasn't traveling, I craved being around people with different backgrounds than mine. At the age of 10, I already convinced my parents to list our home on a homestay platform so I could meet people from all over the world by hosting them. I remember listening to stories of our guests coming from all around the world and thinking that I wanted to travel abroad and see their home countries with my own eyes.
I started traveling solo in Europe when I was about 15. My first solo trip was in Spain and has been a life-changing experience. After that, I made myself a promise: never stop exploring the world. At this age, I wasn't sure about anything but about my passion for traveling. I didn't know what I wanted to study in university, but I knew which country I wanted to discover before heading off to school, and this was Peru!
That summer, I took a two-month-long solo trip to Peru. I started by volunteering at a school in the jungle and then visited Cusco, the Sacred Valley, Caral and Lake Titicaca. That trip was much more difficult and different than traveling in Europe, but I was pleasantly surprised by the number of people who were willing to give me a hand. That trip changed my life. It really helped me focus on myself and take some time to think about what I wanted to do. After that, I never stopped solo traveling.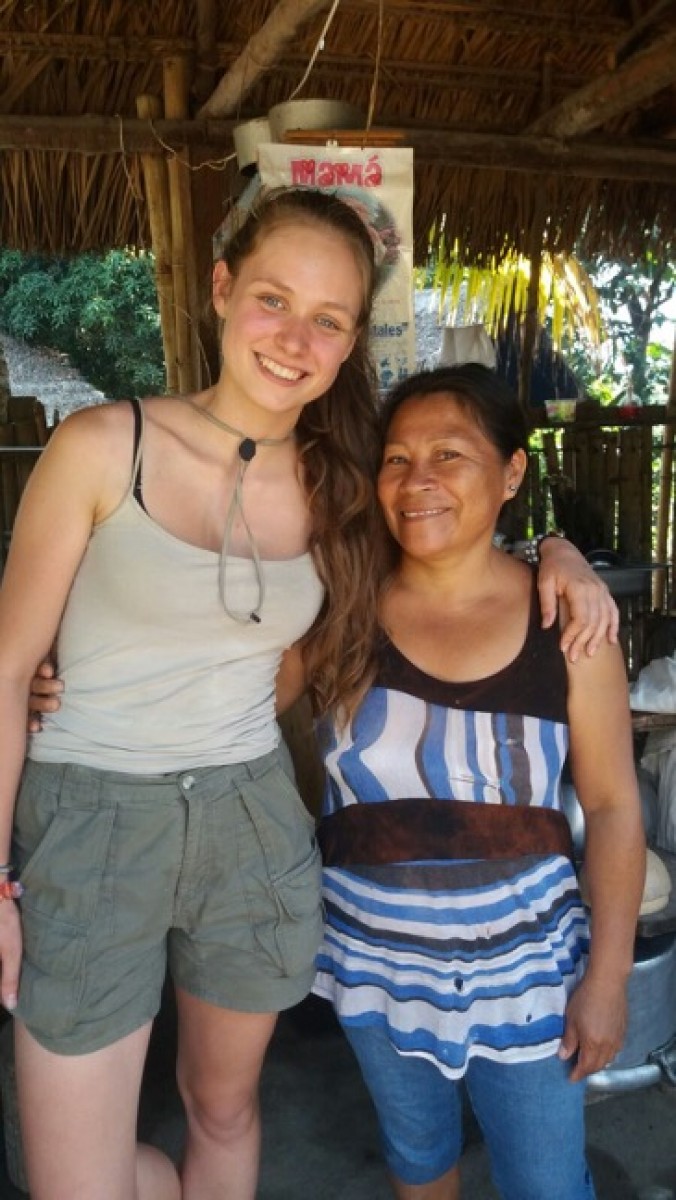 What are your key takeaways from solo traveling experiences?
Solo traveling taught me so much about myself and what it means to be independent. Spending more time alone also taught me a lot about who I am and what I am capable of. It may sound silly, but by getting to know or re-learn things about yourself, you gain more confidence behind the decisions you make or skills you use. Solo travel taught me how to advocate for myself, how to set boundaries, and how to make better decisions, and opened me up to a world of opportunity.
More importantly, I love seeing the countries through the eyes of the locals. Traveling alone makes you more approachable, so taking a trip by yourself offers a chance to learn about a place and its people through a local perspective rather than that of a tourist. I use this advantage to meet people while I'm traveling, and I've had some experiences I never would have had if I was in a big group. For example, I was invited to the 70th birthday party of a lady in Bolivia, and I joined her family in dancing traditional dances in their garden. In Chile, I lived with a couple that was national rangers and had the chance to explore the parks with them. In Japan, I stayed with a family whose son was a sushi cook and ate the best sushi of my life for 3 days.
Why did you choose homestay as an accommodation solution while solo traveling?
Many of my best experiences were homestays.
The main advantage of it is to be immersed in the local culture. It is a good way to practice a language as well and make friends with link-minded people. Finally, it is a good way to travel on a budget.
What I like the most about this way of traveling, is that by living with locals and experiencing their daily lives you can develop deep relations in within a couple of days. There is just nothing else that brings you so close to someone so quickly.
For instance, I lived in a floating village in Cambodia and ate the best local meals cooked by my hosts or in very local restaurants. I went fishing with them and then we cooked together. We didn't speak any common languages and had to use Google translate, but I still felt like I bonded with them. After only 3 days, I had the impression to belong to their families.
What are the drawbacks of traveling solo as a woman?
As liberating as solo traveling can be, it is not always sunshine and roses. I sometimes felt lonely, homesick, or exhausted from organizing and planning everything alone.
As a woman, I've also always had to be conscious of my safety. As a traveler who likes to connect with the locals as much as I can, that often means that I'm interacting with men who are strangers. Many homestays are listed by men, and while the vast majority of those I've met were wonderful people, there were certainly a few times when I felt unsafe.
The worst example dates back to 2020 when I was backpacking in Chile. In this country, it was pretty difficult to find female hosts. One night, I got hosted by a creepy man. He got drunk and started to become violent, insisting that I slept in his bed with him. He ended up locking me in his apartment, but I managed to escape through the window to save my life.
After that traumatic experience, I completely stopped doing homestays. I started talking with a lot of women who had similar experiences and with others who simply never dared to solo travel because of safety issues. At this time, I wished that it existed an alternative solution tailored to women. Two years after this discovery, I started building my own solution: GlobeSisters
Can you tell us more about GlobeSisters?
Globesisters is a hospitality exchange platform that connects female travelers with trusted local residents. Our community is 100% composed of women-identifying and ID-checked members who completed an onboarding call before any homestay experiences. Our mission is to empower women to travel by providing them with a trusted network of local hosts. For now, our hosts are mainly based in the USA while our travelers are coming from all over the world. Let's join our 1,000 GlobeSisters today!
Learn more about our community here: https://www.globesisters.com