Feature
Posted: March 16, 2020
A Photo Essay from India & Nepal
Earlier this year, two members of the ATTA team, Mike Hulting, our social media wiz, and Sean Philbrick, our Creative Manager & Designer, headed out on an adventure. Armed with cameras, open minds, and a passion for adventure photography and sustainable travel, they explored pieces of India & Nepal. Here's their story.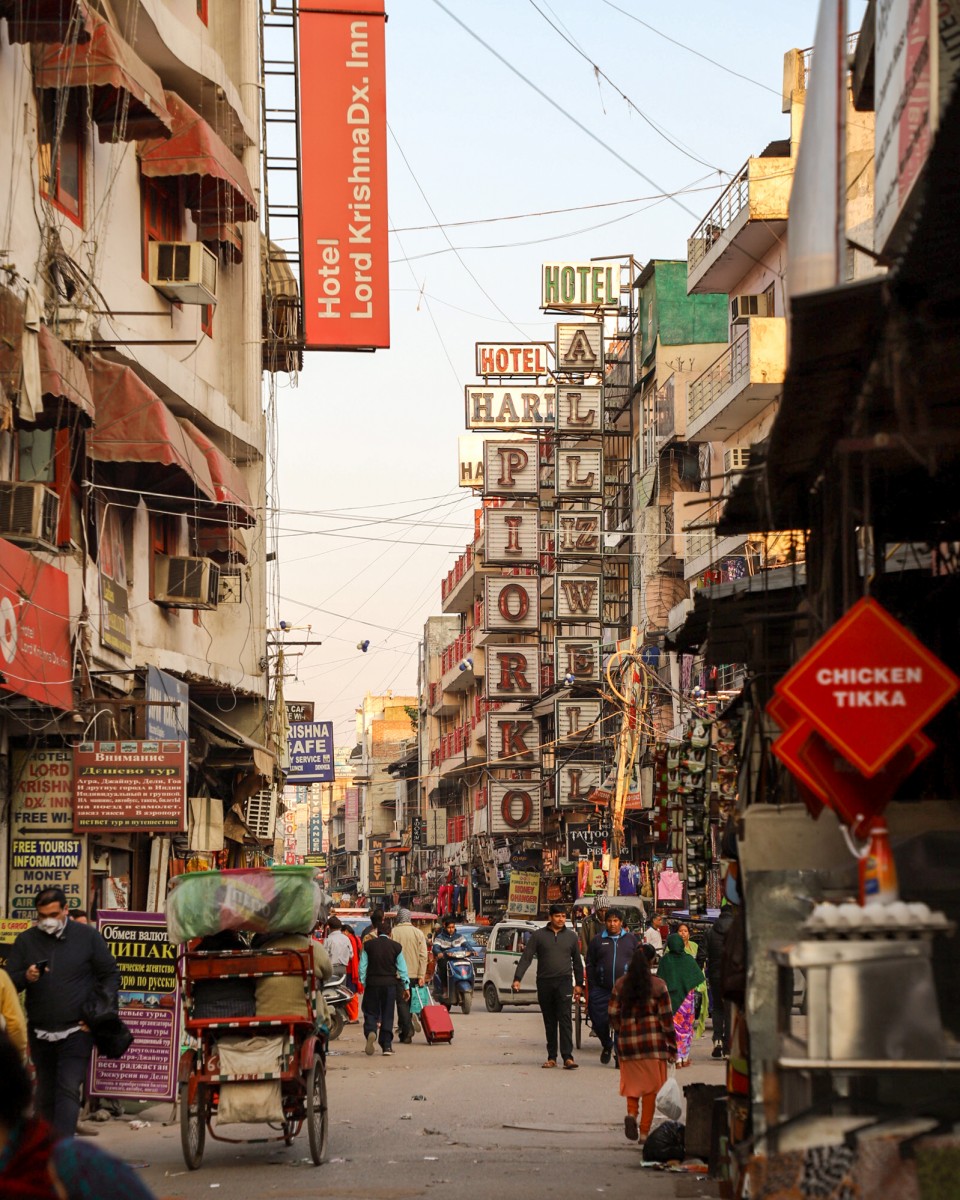 After months of planning and anticipation, we left behind the snowy mountains of Colorado and set off to explore the exotic lands of India and Nepal. Like most adventures, ours was full of unexpected experiences that challenged our navigation abilities, personal space constructs, communication capabilities, creativity, and our photography skills. Pushed outside of our comfort zones where we exercised our "go with the flow" muscles again and again, we not only explored a new place, but also uncovered new terrain within ourselves. As a result, we returned to the Rockies weeks later with a love for these places, their people and their culture, priceless memories, a renewed appreciation for home, and tons of photos. © Michael Hulting. Canon 6d MKII, 24-105mm f/7.1
In this photo essay, we share our favorite images from this journey. We hope they inspire you to get out there and see the world, whether you're exploring a new part of your backyard or a far-flung destination, in a different way.
Discovering India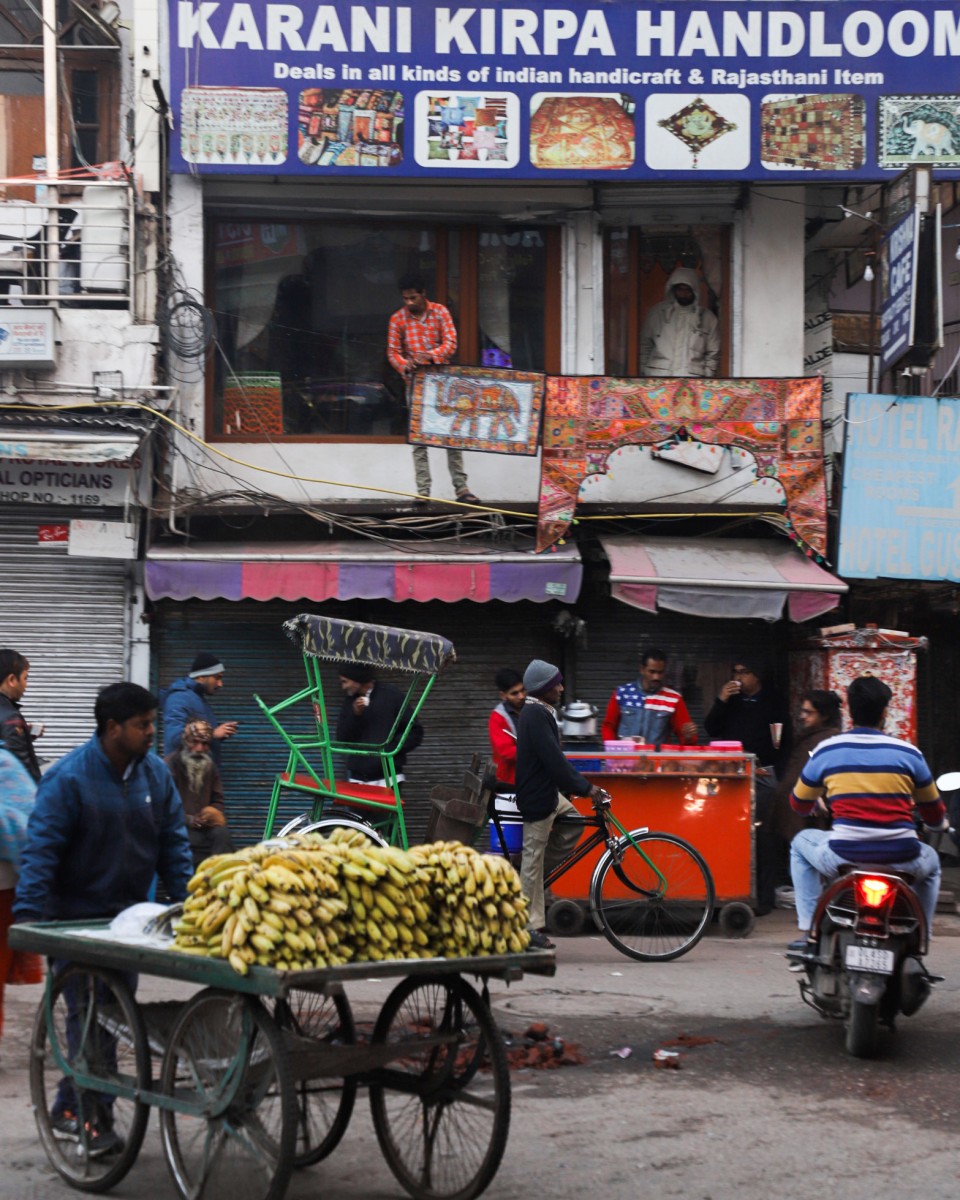 Morning Bustle. From the airport, we jumped into a tuk-tuk and headed toward our hostel. Cruising through the bustling streets, it was clear that India was like no place we had ever been. The smells, the sounds, the sights – all unfamiliar, and almost the polar opposite to life back home. Exhausted from over 24 hours of straight travel, we shuffled up to our room and tried to catch a couple hours of shut-eye before dawn. We tossed and turned, however. Kept awake by the anticipation of morning when we could break out our cameras and begin exploring the street of New Delhi. © Michael Hulting. Canon 6d MKII, 24-105mm f/7.1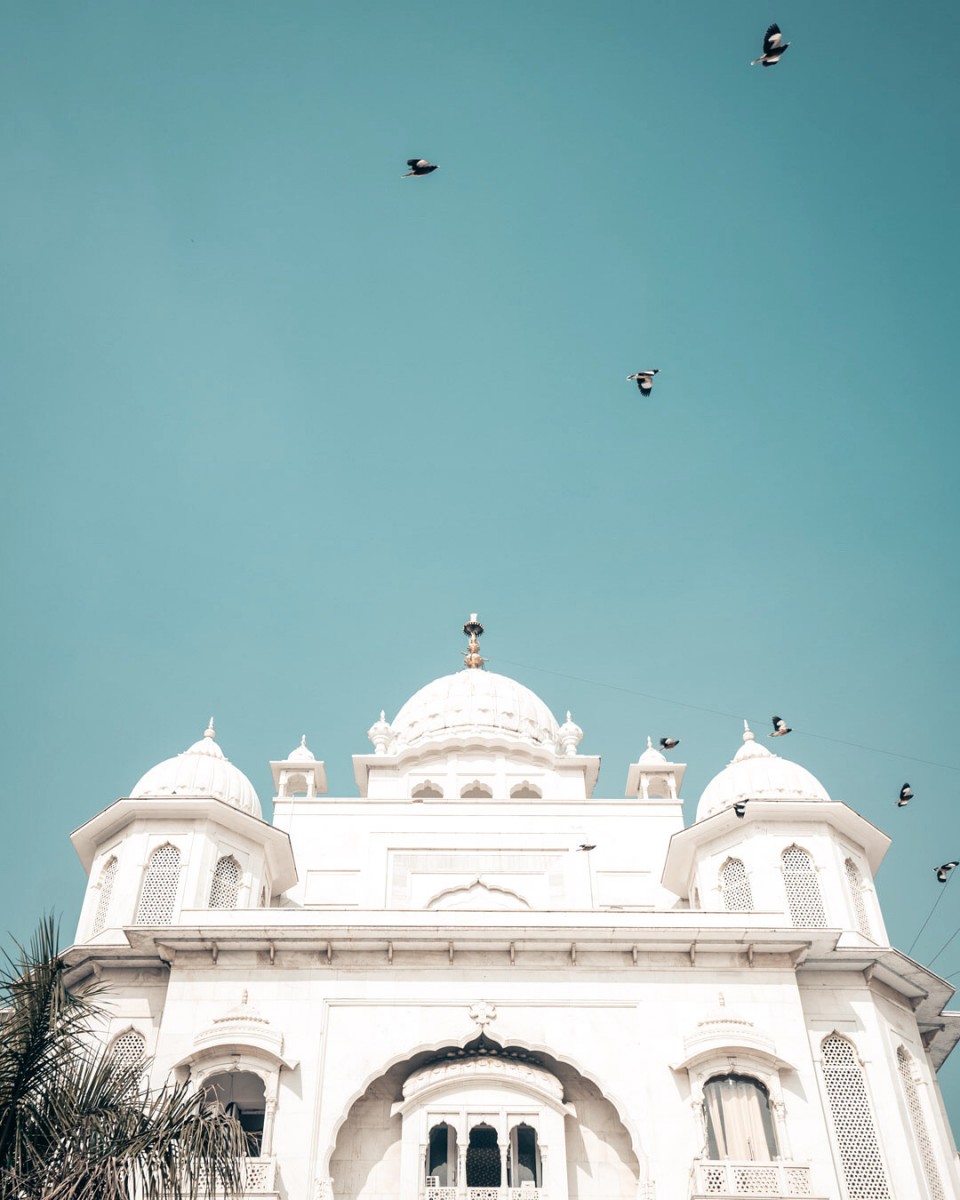 Flight. While wandering through the city, we stumbled upon our first Sikh temple. To show respect, we followed the example of others who took off their shoes and covered their heads before entering. Once back outside, we spent time discovering unique ways to capture the temple and its surroundings. Challenges of this image included shooting directly into harsh light and timing it to get the birds in flight. However, with a few test shots to lock in the proper settings, a lot of patience and a little luck, I captured the shot I had imagined. © Sean Philbrick. Sony A7Rii, 16-35mm f/5.6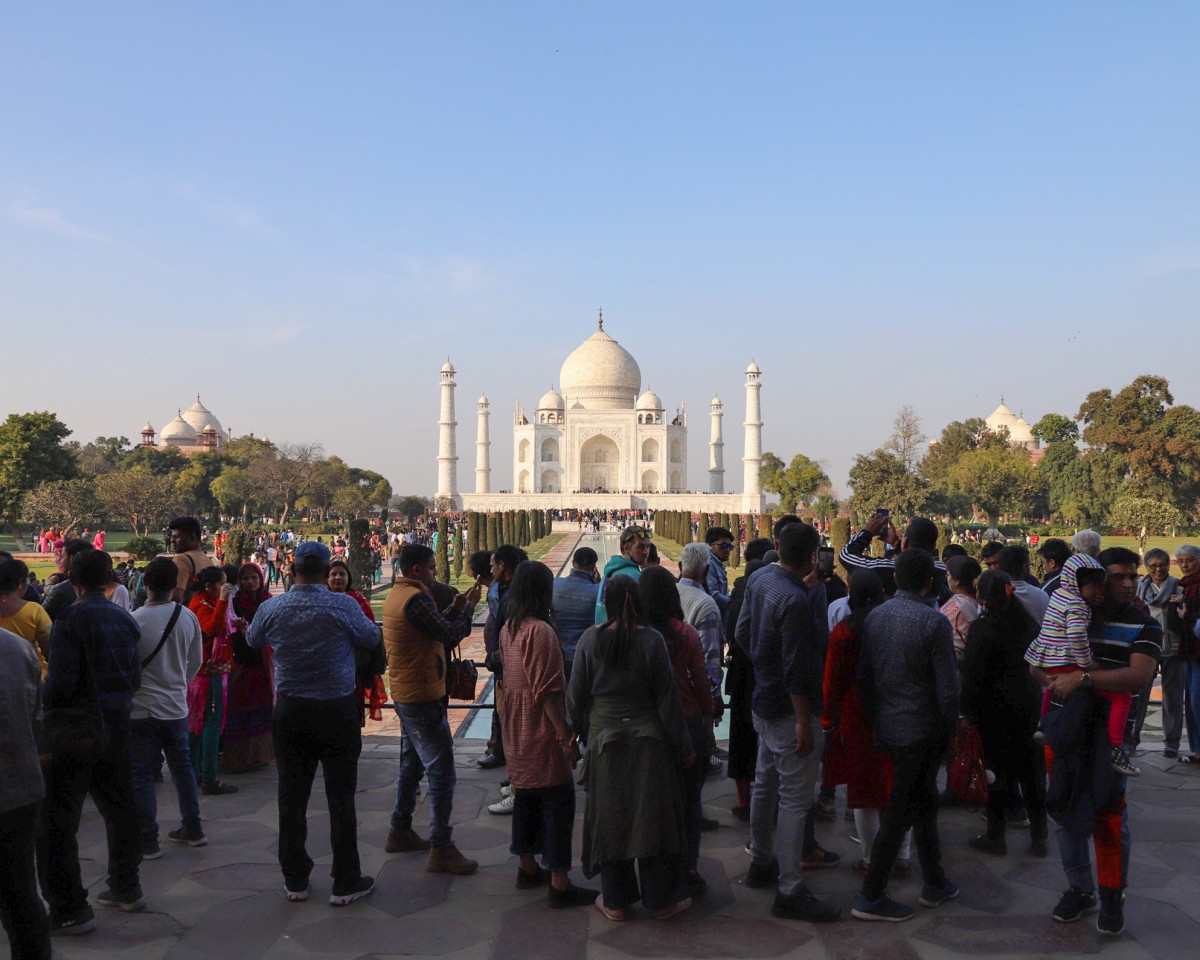 Jewel of India. One definite highlight for both of us: visiting the Taj Mahal, a monument that truly has rarified air surrounding it and immaculately kept grounds. However, this is also one of the busiest attractions in India. Neither of us had previously been to an equally crowded tourist attraction and thus, had never needed to navigate crowds like this when creating an image. Everyone wanted to get the classic straight-on shot (including me), but with the crowd it was just impossible so I decided to walk the grounds and come back closer to closing time. © Michael Hulting. Canon 6d MKII, 24-105mm f/9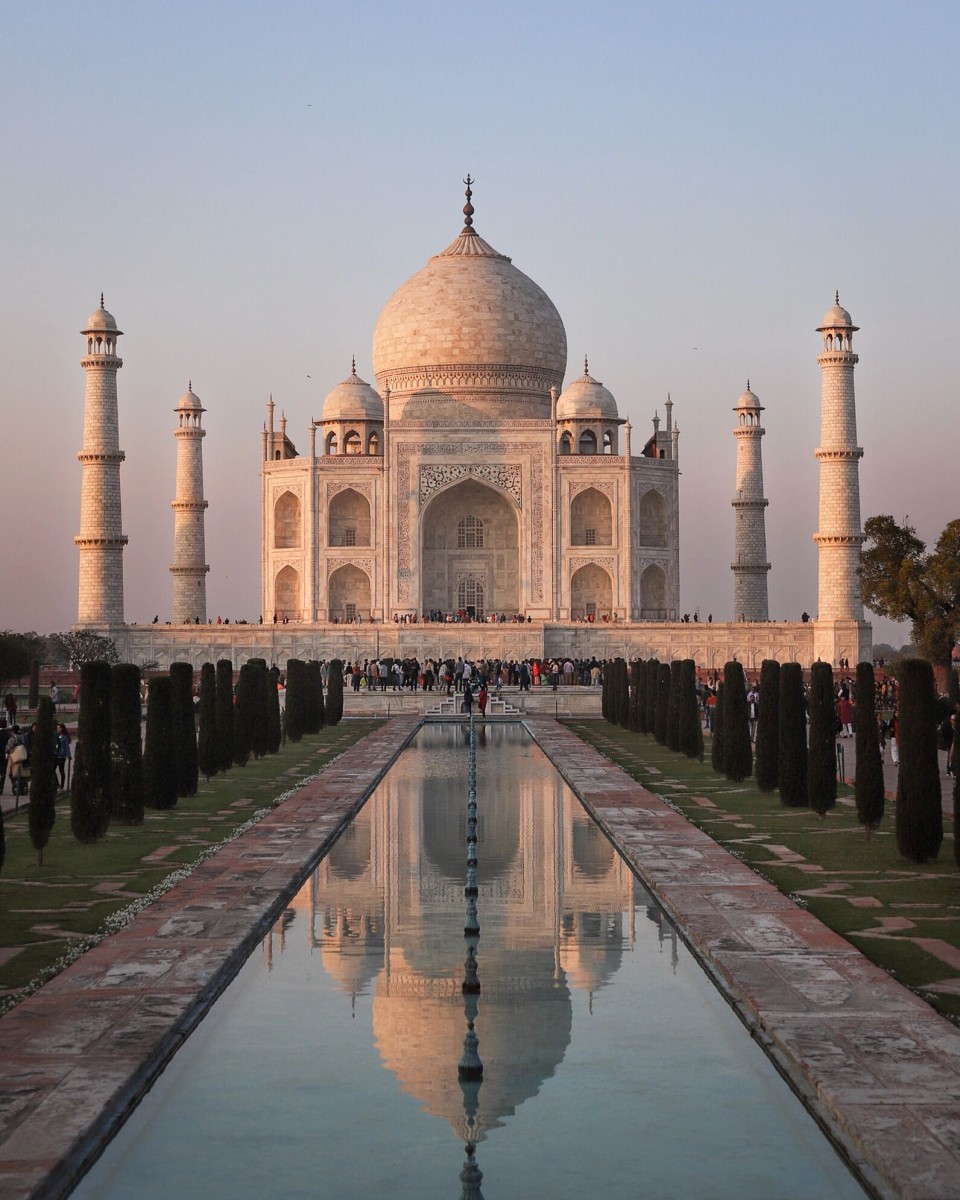 Wonder of the World. After exploring the area for a couple hours, I returned to the classic photo spot and snapped this shot. Though it came out well, it wasn't easy to capture. Because of all the other visitors trying to get the same shot, I needed to stretch my arms high so I could raise my camera over everyone else's head (luckily I was a half foot taller than most there) and used my flip-down screen to line it up properly. © Michael Hulting. Canon 6d MKII, 24-105mm f/9
Exploring Nepal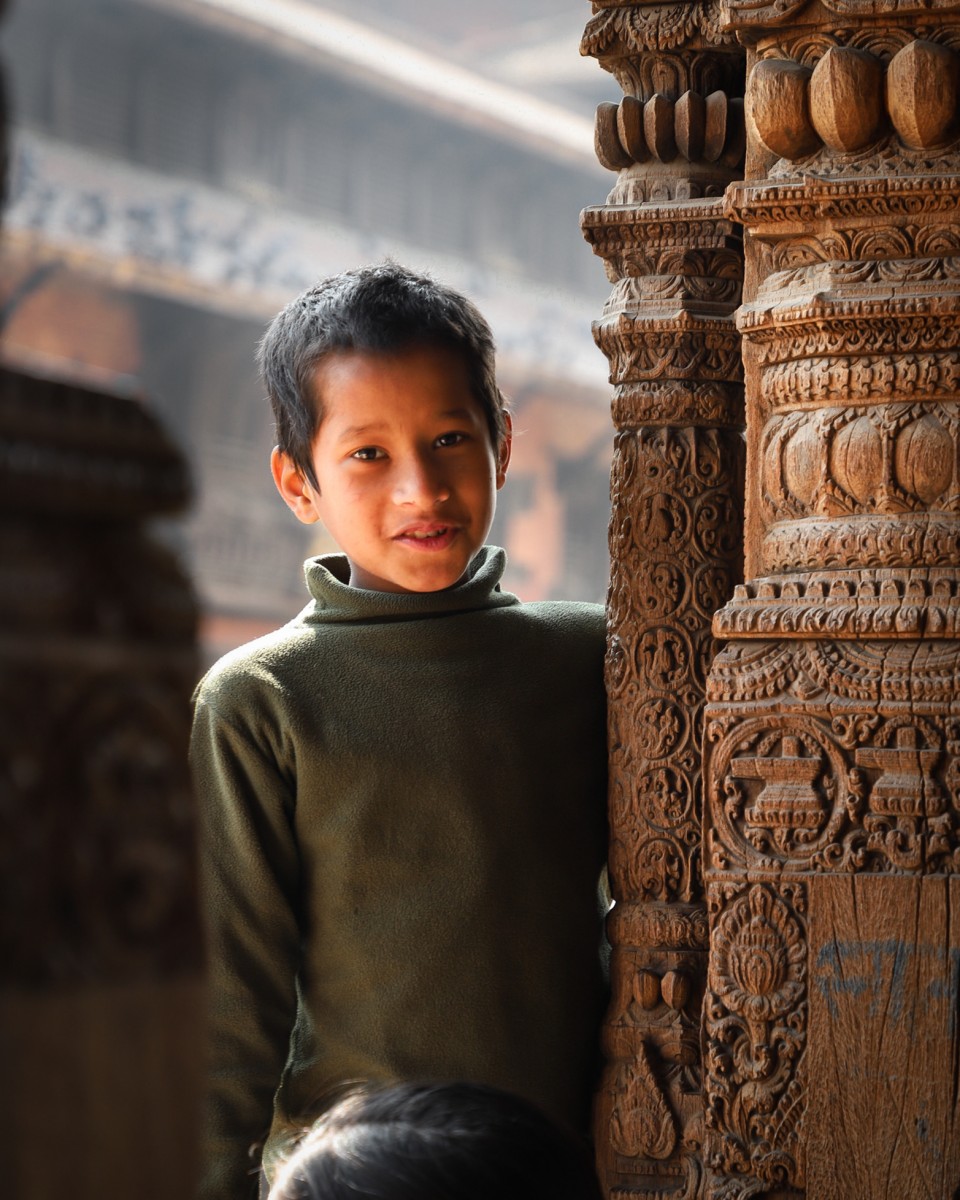 Eye Contact. We imagined Kathmandu's Durbar Square, a UNESCO World Heritage Site, would be a top photography stop on our exploration of Nepal. However, when we arrived, we were a little disappointed. While it was cool to see, it wasn't picturesque enough to capture the sweeping shots of the entire square we had envisioned. Instead, we adjusted our approach (a good skill for travel photographers to develop) and focused on the unique and dynamic elements of the scene.
One particularly captivating thing about this spot: the people hanging out all over the place, chatting with friends or laying down, catching sun, like it wasn't an incredible piece of history. Avoiding the religious temples out of respect, I scoured the square for an interesting portrait. Shortly after I sat down next to group of school kids enjoying themselves, one of the boys (who probably noticed my giant camera) looked directly at me and I quickly snapped the shot. In an effort to get his approval, I showed the boy the image on my screen. He smiled, gave me a thumbs up, and we went our separate ways. For me it was an unforgettable small moment of connection. ©Michael Hulting. Canon 6d mkii, 24-105mm f/4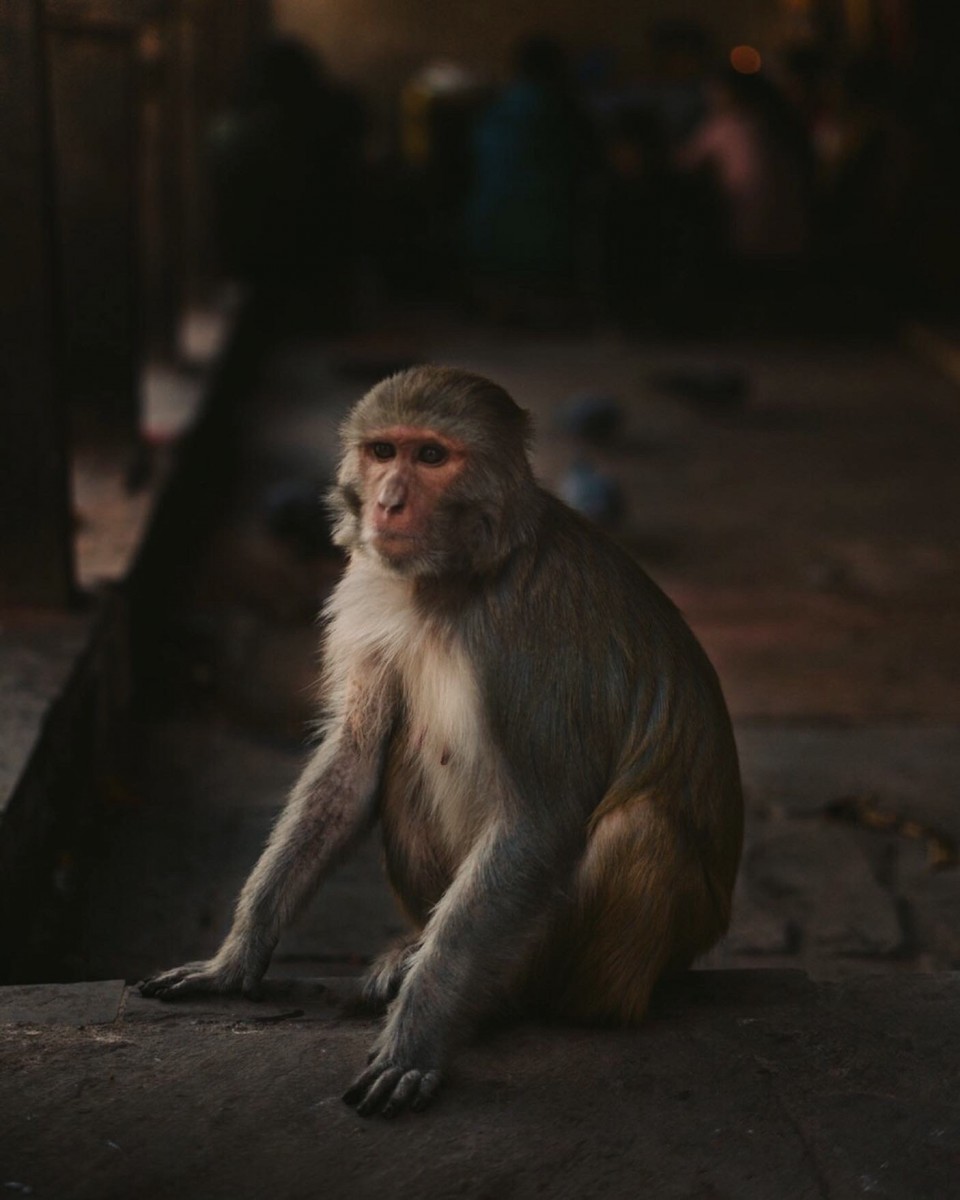 Monkey Business. It was truly amazing seeing, and having the privilege to photograph, monkeys in their natural environment at Swayambhunath (aka the "Monkey Temple"), a Nepali Buddhist site perched atop a hill overlooking the Kathmandu Valley. While shooting images of these creatures, I was asking myself: "Am I disrupting their natural environment? Or causing unnecessary stress?" Keeping this in mind, I felt I could capture an outstanding shot while still being respectful. Photographing a moving target can be tricky, but he gifted me with a moment of stillness, which was key to the success of this shot. © Sean Philbrick. Sony A7Rii, 50mm f/1.4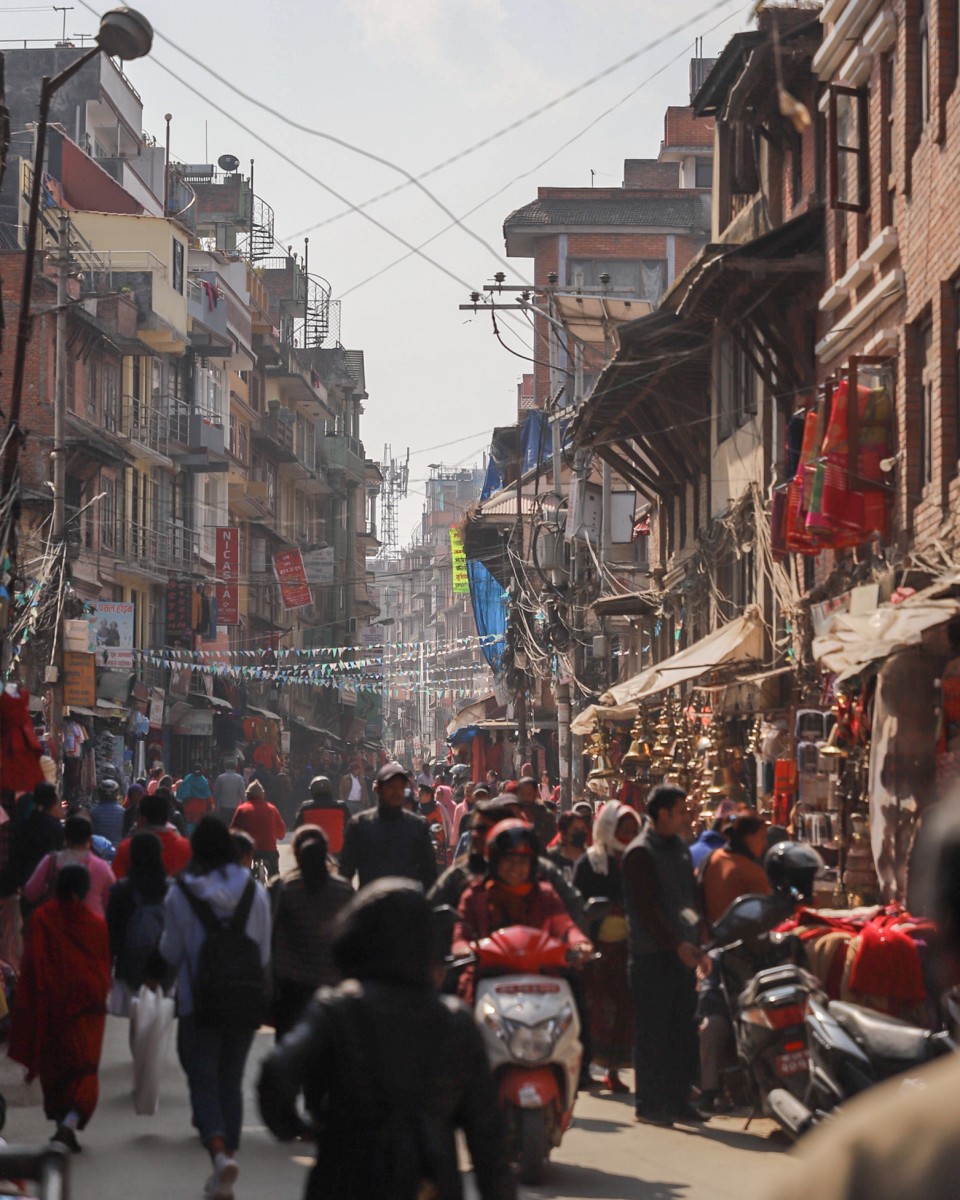 Chaos in Kathmandu. The streets of Kathmandu are as chaotic as you'd imagine. Thousands of taxis, mopeds and people walking and driving in every direction all at once. The mere act of traveling across town from Thamel, a hub for travelers that is lined with bars, restaurants, souvenir shops and hotels, to Indra Chowk was an adventure in itself. © Michael Hulting. Canon 6d MKII, 24-105mm f/5.6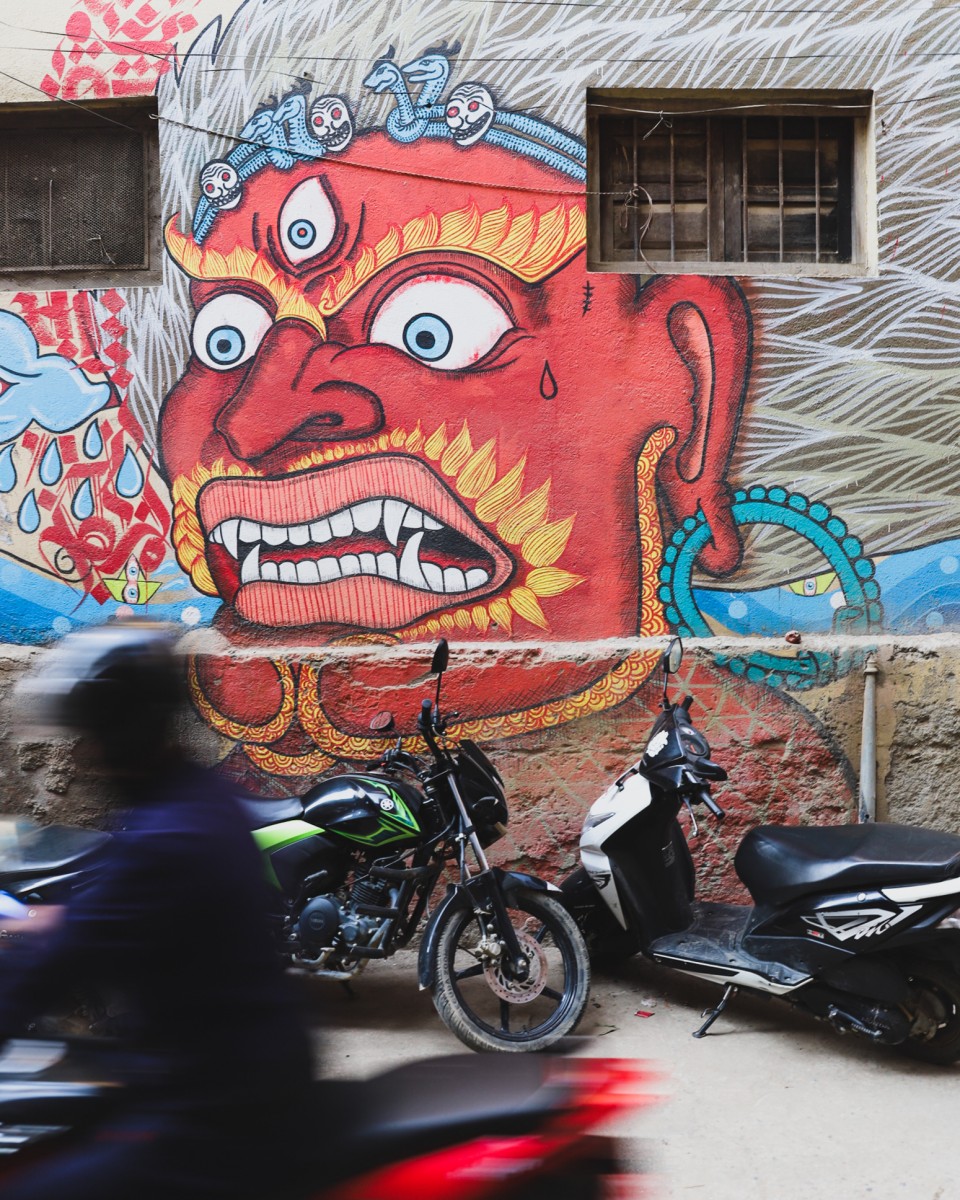 Feel the Pulse. Once we arrived at the centuries-old market of Indra Chowk, we couldn't ignore its strong pulse of energy. This made it the perfect place for street photography, a style that holds a special place in my heart. There's something about wandering around a city – a new one or your hometown - and capturing moments that are gone in a blink of an eye. Though a bit unsettling, this image illustrates the non-stop action and intensity of the area. © Michael Hulting. Canon 6d MKII, 24-105mm f/5.6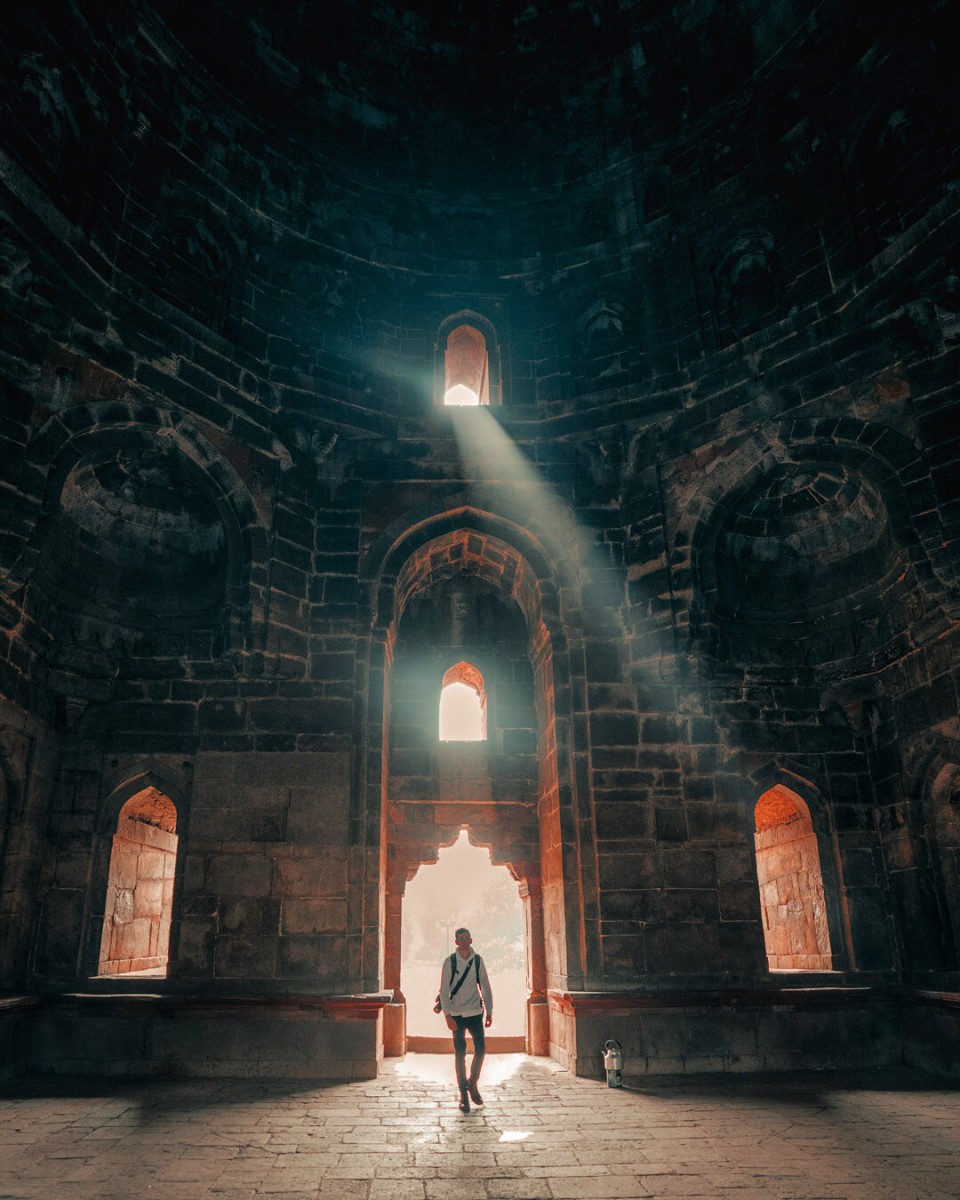 Thank you for joining us on our journey. We hope our photos inspire you to get out and explore. Remember that photography, and adventuring, can throw challenges your way, but if you persevere and overcome them, you'll return home with incredible stories and a lifetime of great memories. © Sean Philbrick. Sony A7Rii, 16-35mm f/7.1