Posted: May 7, 2019
SOSSUSVLEI, NAMIBIA ––– "What an incredible transformation!" exclaims Tristan Cowley as we exit the gravel road onto a sandy track surrounded by an ocean of yellow dubbletjie flowers. "Two weeks ago this was all barren desert," adds the managing director of Namibia's top adventure tour operator, Ultimate Safaris. Now nature has been reborn here on the doorstep of the Great Namib Sand Sea.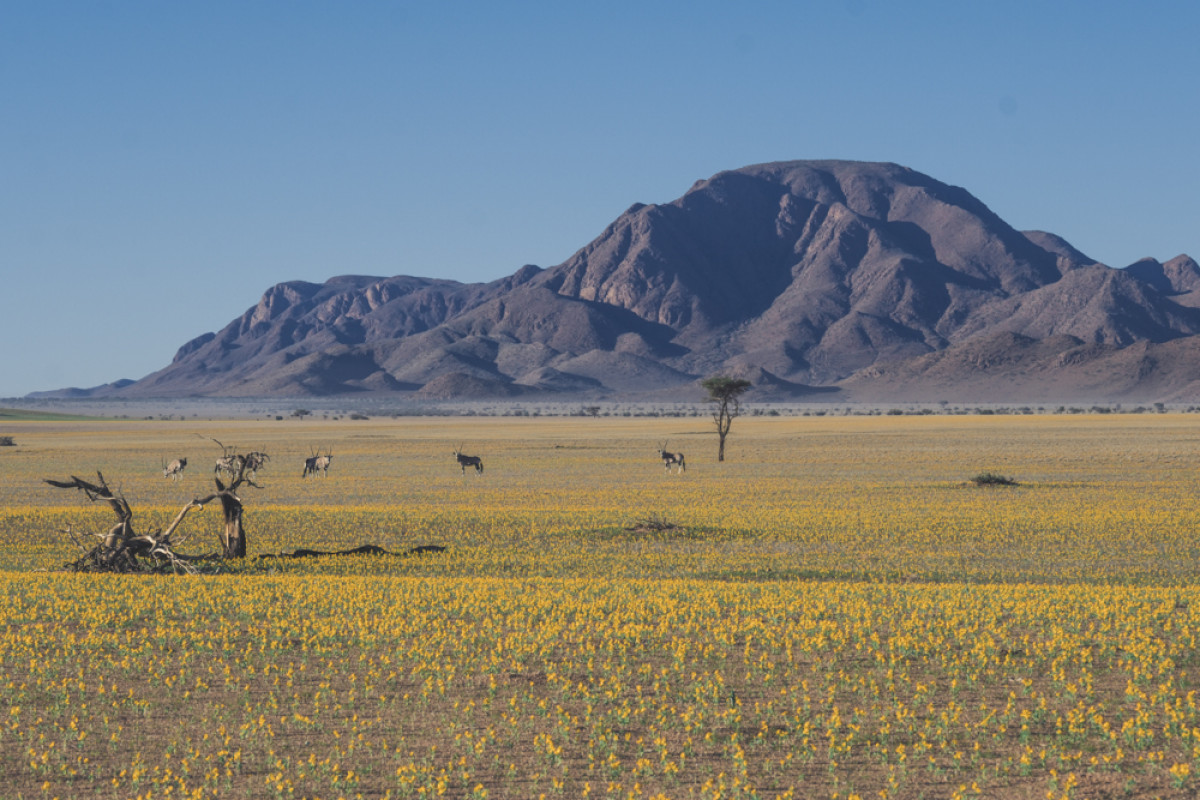 We're entering Neuhof Nature Reserve; a 60,000 square acre private wildlife sanctuary nestled between the Nubib and Zaris Mountains about an hour's drive from Namibia's famous Sossusvlei Dunes. After the first substantial rains in four years recently fell here, the desert is in full Technicolor bloom and migratory animals are returning, lured by the promise of fresh water sources and resurgent grazing lands.
Neuhof provides a natural buffer from some of Namibia's harshest desert conditions and has historically been a vital wildlife refuge during the parched dry season. But years of drought and agricultural mismanagement have taken a toll on this vast tract of reclaimed farmland purchased in 2010 by Swen Bachran, a Namibian real estate mogul and philanthropist. Over the past eight years, Bachran has removed of over fifty miles of restrictive fencing, installed new boreholes, improved the reserve's patchwork of dirt roads, and begun to reintroduce once endemic wildlife.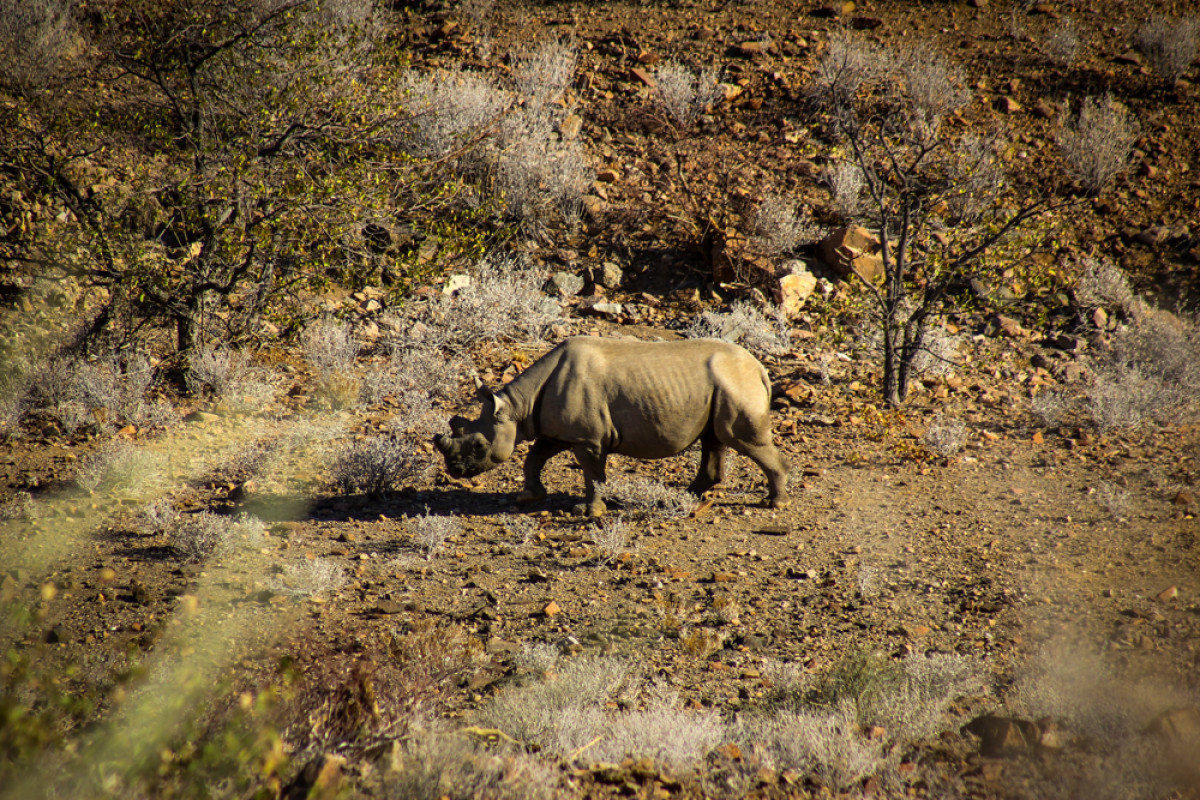 Now, largely thanks to his land rehabilitation efforts, Neuhof Nature Reserve is one of Namibia's ecological success stories. Bachran recently awarded Ultimate Safaris exclusive access based on the operator's commitment to preserving Namibia's wild places. For the next few days, Tristan and I have this reclaimed wilderness all to ourselves, along with Ultimate's new exclusive use seasonal tented safari camp, Sossus Under Canvas.

Solitude With A Small Footprint
You won't find a trail of rose petals leading to your candlelit bubble bath at Sossus Under Canvas. Nor will champagne be chilling by your pavilion's private infinity pool. Instead, you'll enjoy the flexibility to do what you want, when you want without having to follow the typical safari routine. "At Sossus you can be private, totally on your own, masters of your own time," says Tristan. "That is very rare in Africa unless you are paying a huge premium to have such exclusivity."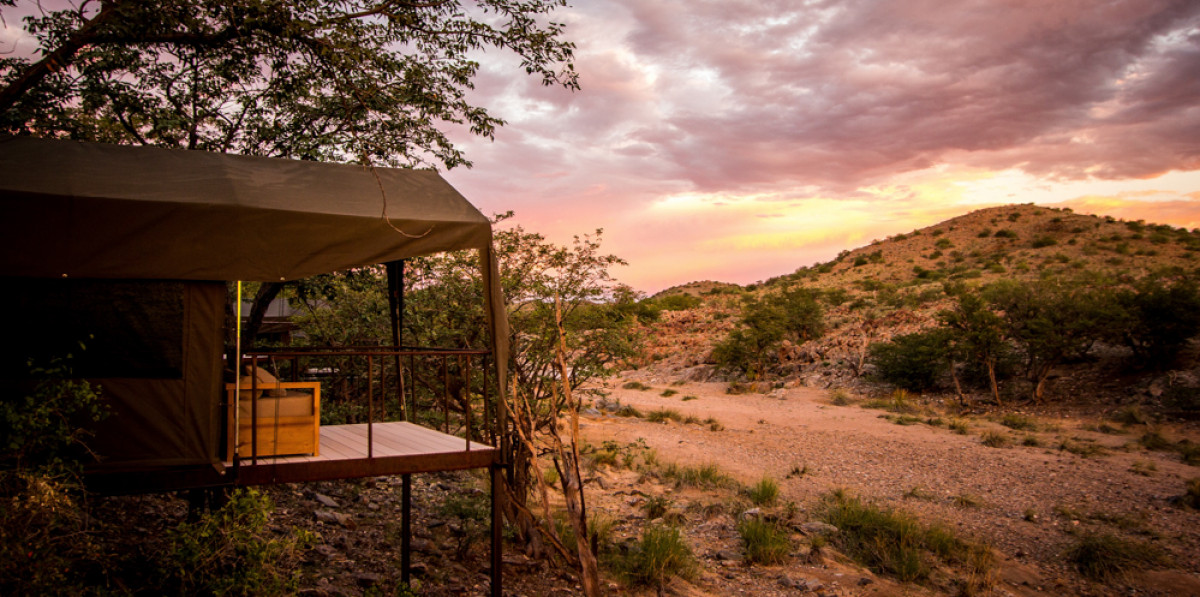 Set in the naturally formed amphitheater of a south-facing granite outcrop, the camp blends so well into its environment that it is virtually invisible from a distance. Its eight rectangular green Meru tents are protected from the desert winds by natural stone walls and shaded by roofs built from hundreds of recycled oil drums that resemble clusters of pangolins. Each tent is furnished partly with materials made from recycled metals and wooden pallets, and all have flush toilets, bucket showers, comfortable twin beds and solar lighting.
Sossus Under Canvas has the lowest environmental footprint in Namibia, according to Tristan. It's also redefining the notion of a luxury safari. "People are getting tired of how opulent African tourism has become, and the high prices associated with that opulence," he says. "Safari guests seldom talk about the seven-course dinner or the three hundred square metre bedroom with chandeliers they had. They talk about their extraordinary experiences, and the people looking after them trying to make sure that they have a great time."
Since the recent rains, Neuhof Nature Reserve has seen a welcome influx of animals. On game drives and guided walks, Tristan and I encounter herds of Oryx, Hartmann's mountain zebra, Burchell's zebra, kudu and giraffe. Predators like leopard, cheetah and spotted hyena are also here, but keep their distance from us as they patiently stalk their prey. The plan is to also introduce a protected breeding population of black rhino to the reserve's plateau, but many security challenges remain before rhino tracking can be offered to guests as an activity.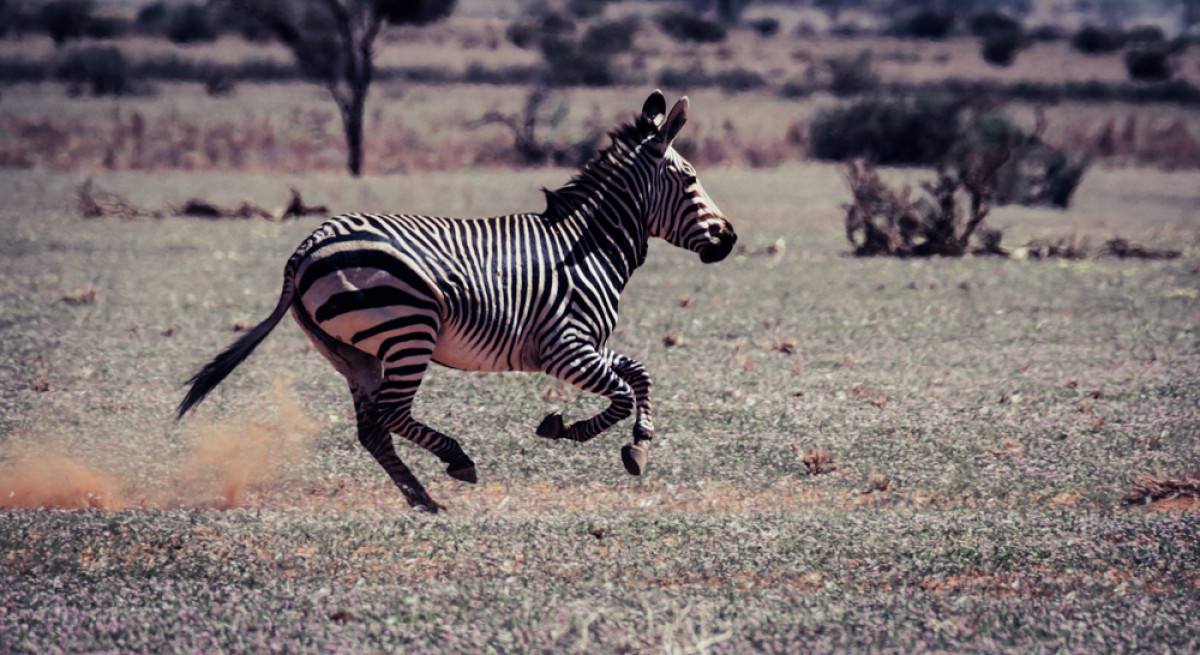 Neuhof's rocky plateau also turns out to be a great place for a cool desert dip, as I discover during a morning game drive when Tristan stops at an old circular stone livestock water tank. "Fancy a swim?" he asks, explaining that the tank contains overflow from nearby boreholes. I immediately strip down and jump into this plunge pool where zebra were drinking an hour earlier. Tristan plans to buy a half dozen mountain bikes for guests to ride up here from camp, which is about fifteen miles away. "We may even do sleepovers," he says.
After stopping to admire another breathtaking burnt orange desert sunset over sundowners at another concrete swimming hole closer to camp, I'm ready for my heated bucket shower. Although Sossus camp has a 10,000-gallon supply of fresh water, I'm still mindful to limit my H2O usage, acutely aware of how precious every drop is to Namibia's fragile flora and fauna. Conservation is critical here in the world's oldest desert.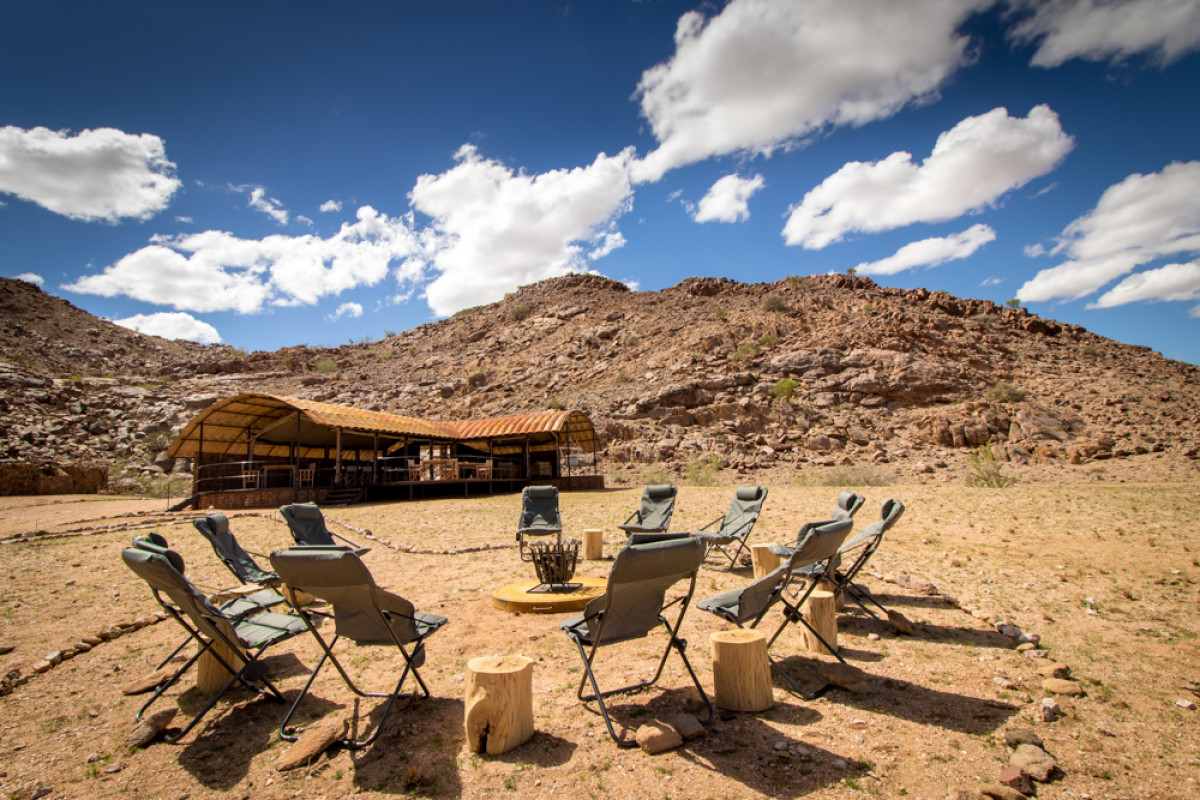 Desert Adapated Escape
Our next destination is Huab Under Canvas, Ultimate's original exclusive use seasonal tented camp, now in its second year of operation. It takes two days to reach, counting an overnight stop in Swakopmund, Namibia's major coastal resort town. Located in the heart of Damaraland's 150,000 square acre Huab Conservancy just north of the famous Bushman rock engravings at Twyfelfontein, Huab Under Canvas also has eight tents and can accommodate up to twenty guests.
Hidden among groves of Mopane trees and perched on mobile platforms, the camp's comfortable tents offer secluded views of a tributary of the Huab River and beyond, a jumble of rolling grassland, steep gorges and huge granite koppies. Like Sossus, the vibe is relaxed and intimate, a back-to-basics old school safari experience without compromising on comfort. The beds are still soft, the bucket showers brilliant and the hearty meals that emerge from the portable kitchen ingeniously embedded in the side of our land cruiser tick off all the gourmet boxes.
Ultimate guests have the exclusive opportunity to track desert adapted black rhino in the Huab Conservancy, accompanied by volunteer 'rhino rangers' from the NGO, Save the Rhino Trust. I spend a morning with the rangers fruitlessly searching for rhinos with the help of local trackers who fan out on foot. Some were spotted yesterday, and no doubt will return tomorrow, I'm told, as we abandon our search and set off instead on a multi-mile hike across Huab's highlands.
By sunset we reach what turns out to be the absolute highlight of my Namibian safari. Tristan calls it a Stellar Escape, the option to sleep out under the stars for a night while staying at Huab Under Canvas. "This is how we Namibians prefer to camp," he says. "No tent, just the starry skies above."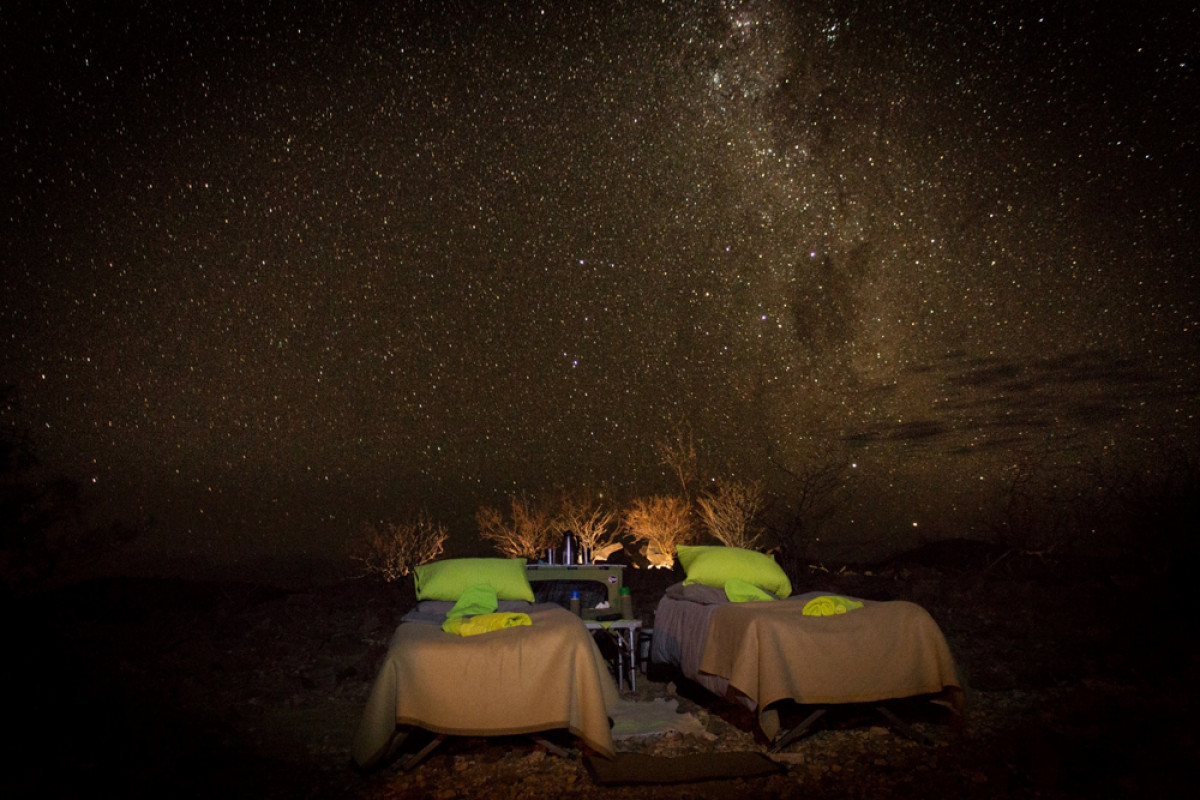 Located at the base of a red granite outcrop, our mobile 'pop-up' open-air camp consists of just our transplanted beds, a bucket shower behind a rock, and a dining table. Visions of Hemingway happily roughing it in the African bush while composing The Snows of Kilimanjaro come to mind. No frou-frou modern safari frills here. Just a gorgeous desert setting, another multi-course gourmet meal and the thrill of knowing that we have this magnificent wilderness all to ourselves. This is how safaris were meant to be.
After an impromptu astronomy class and too many Amarula nightcaps, I retire to my 'star bed'. Above me stretches a twinkling panoply of constellations, satellites, galaxies, shooting stars and the occasional meteor shower. The silence is broken only by occasional faint laughter from distant hyenas. Leopards also roam nearby but avoid our fires. Just before I fall asleep, a bat swoops across the night sky directly above my bad, its wings illuminated by a full moon, and a billion stars on this most magical of nights in my own private Namibia.
For more about the 'Journeys Under Canvas' concept in sustainable safari luxury, visit: www.ultimatesafaris.na/about/journeys-under-canvas