How To
Posted: January 16, 2020
We love to travel and so do you and so do tons of other folks. The sheer numbers of us exploring the world are astounding; international tourist arrivals grew 5% in 2018 to reach the 1.4 billion mark. This figure was reached two years ahead of the World Tourism Organization's (UNWTO) forecast. According to UNWTO's long-term forecast report Tourism Towards 2030, this number will hit 1.8 billion by 2030.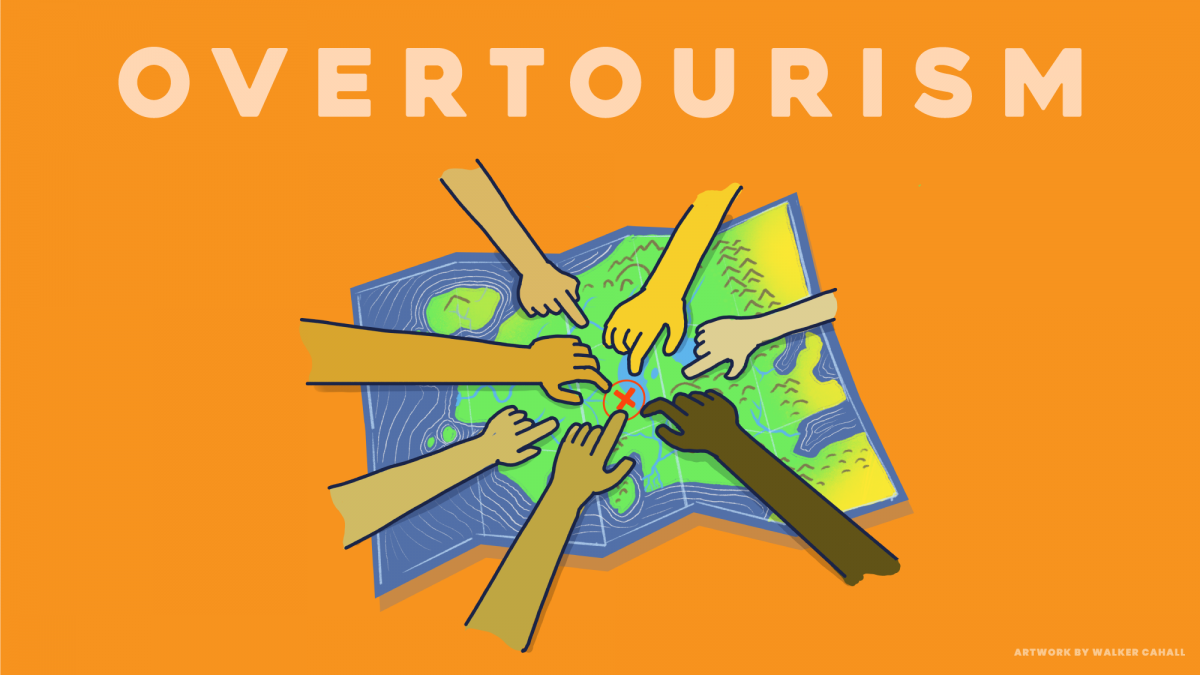 Done right, travel can change individuals and the world. It promotes understanding, expands our minds, makes us better people, and boosts local economies and communities. But the accelerated growth of travel has led to overtourism in certain regions and destinations.
You've likely heard this buzzword, but what, exactly, is overtourism?
Countless images posted of people tromping through flower-covered hillsides during California's super bloom in 2019 year are just one example. However, overtourism is not merely large-scale overcrowding in popular spots; in a fragile ecosystem even small increases in visitation can cause long-lasting impacts. When a place attracts more tourists than it can sustain, it suffers. Overtourism can diminish the quality of life for locals, damage precious cultural and natural resources, and degrade the visitor experience so much it threatens the destination's long-term viability and appeal. Many destinations and sites are implementing regulations and limiting visitor numbers to combat overcrowding.
Clearly, we are loving certain places to death.
So, should we stop traveling? Certainly not. The loss of the broadened worldview and cultural understanding travel offers would be unacceptable in today's world. But it's up to each of us, traveler by traveler, choice by choice, to invest in ourselves and the future of our planet's most-loved destinations by making decisions that prioritize sustainability.
Minimize pressure on the places you visit and improve your experience:
Choose Mindfully — Overvisited destinations are that way for a reason: they're special. There's no denying that the Philippine island of Boracay, Croatia's city of Dubrovnik, and the United States' Yosemite National Park are spectacular places to behold. With so many bucket lists, selfies and Insta posts featuring the same places, it's easy to feel like you're missing out. We suggest doing a "gut check." Go somewhere only when the landscape, people, culture, history, food—whatever you truly value—resonates with you and deeply draws you. Travel for you and no one else; it's more likely you'll visit off-the-beaten path places, and decrease the strain on certain overloved spots.
Get Creative — Quite simply, the best way to ease pressure on over-touristed destinations is to go somewhere else. However, though images and news reports portray overtourism as a widespread problem affecting the entire world, but it's actually concentrated to a fairly small number of extremely popular spots. That means you have tons of less-visited options to choose from. In fact, UNWTO's International Highlights, 2019 Edition reported that the top 10 destinations receive 40% of worldwide arrivals. Clearly, there's a huge part of our planet where overtourism is not an issue, and even within areas or countries that do receive a lot of visitors, you can still find relatively undiscovered regions, cities, national parks that you'll have largely to yourself. Why not invest in the lesser-known by trying a regional alternative (trade Bali for another part of Indonesia like Sumatra, Java or Flores) or travel off the normal tourist track to check out a popular destination's lesser-known sights (for instance visit Peru's Ancash and Amazonas regions instead of Machu Picchu)? You'll often save money and enjoy a more unique experience. On your travels, strike up conversations with locals to find their favorite quieter spots.
Visit During Off-Peak Times — Minimize impact and maximize experience by skipping peak seasons; you'll contend with fewer tourists, save money, experience a different side of a popular place, and boost the economy by adding dollars when tourism is traditionally slower. In addition to traveling during off-season or shoulder season, consider timing on a daily basis. Skip major holidays or rush hour; visiting a popular attraction out of peak hours can deliver a valuable and often elusive solitude.
Walk, Walk, Walk And Walk (or Bike) Some More — Whether you're visiting a national park or a booming city, you'll notice an interesting phenomenon: walk or ride a few blocks away from the city center or an iconic landmark, or hike a few minutes away from a main attraction (i.e. Delicate Arch in Arches National Park). You'll find yourself virtually alone, or close to it. Explore unique neighborhoods or less popular trails; get off the well-worn tourist trail (but stay on defined trails within natural areas, of course). Even a slight detour will enrich your experience, spread the wealth, and minimize impact on local communities — all while staying active and fit.
Go Deeper With A Local Guide — In many of our over-loved destinations, one of the main issues is that most people follow the same circuit, touching the same hotspots. What about the rest of the place? Exploring a destination with a responsible local guide often directs you to equally fascinating but lesser-known areas and experiences you probably wouldn't find on your own. This can save you from the over-touristed mainstream and reveal a completely different side of the destination. Local guides and operators will help reveal the people, places, customs, tastes and sights that define the character of a place. An added benefit: supporting local guides and small businesses supports the local economy.
R-E-S-P-E-C-T — This one seems obvious, right? Yet piles of trash on Everest, damage to ruins in Machu Picchu, and lewd behavior on the streets of Amsterdam and Barcelona indicate that many travelers have a lot to learn. Around the globe, we consistently fail to treat these spots like the fragile gems they are.
Visiting a place that others call home is a privilege. Amplify your experience and your sense of place by respecting your hosts, their culture, and the environment. Do your part to preserve what makes a destination special in the first place. Respect private property, local laws, customs and cultural norms. Don't litter or damage historical or natural sites. Leave no trace by avoiding single use products while traveling (see feature article, Travel Resolutions for 2020), and consider giving back to the communities you're visiting: try volunteering for a local clean-up or environmental improvement project. You may be amazed how much closer you'll feel to the people of the place and the sense of investment you create in yourself.