Austin Adventures' Guests To Share Spectacle of Havana's 500th Birthday in November 2019
Posted: April 12, 2019
Austin Adventures has a knack for observing significant events such as a solar eclipse or the birthday of our national parks. However, one upcoming celebration marks a major New World milestone, the 500th anniversary of the founding of Havana, Cuba. There will be dancing, parades, music and food and this company and a handful of fortunate guests plan to experience it all.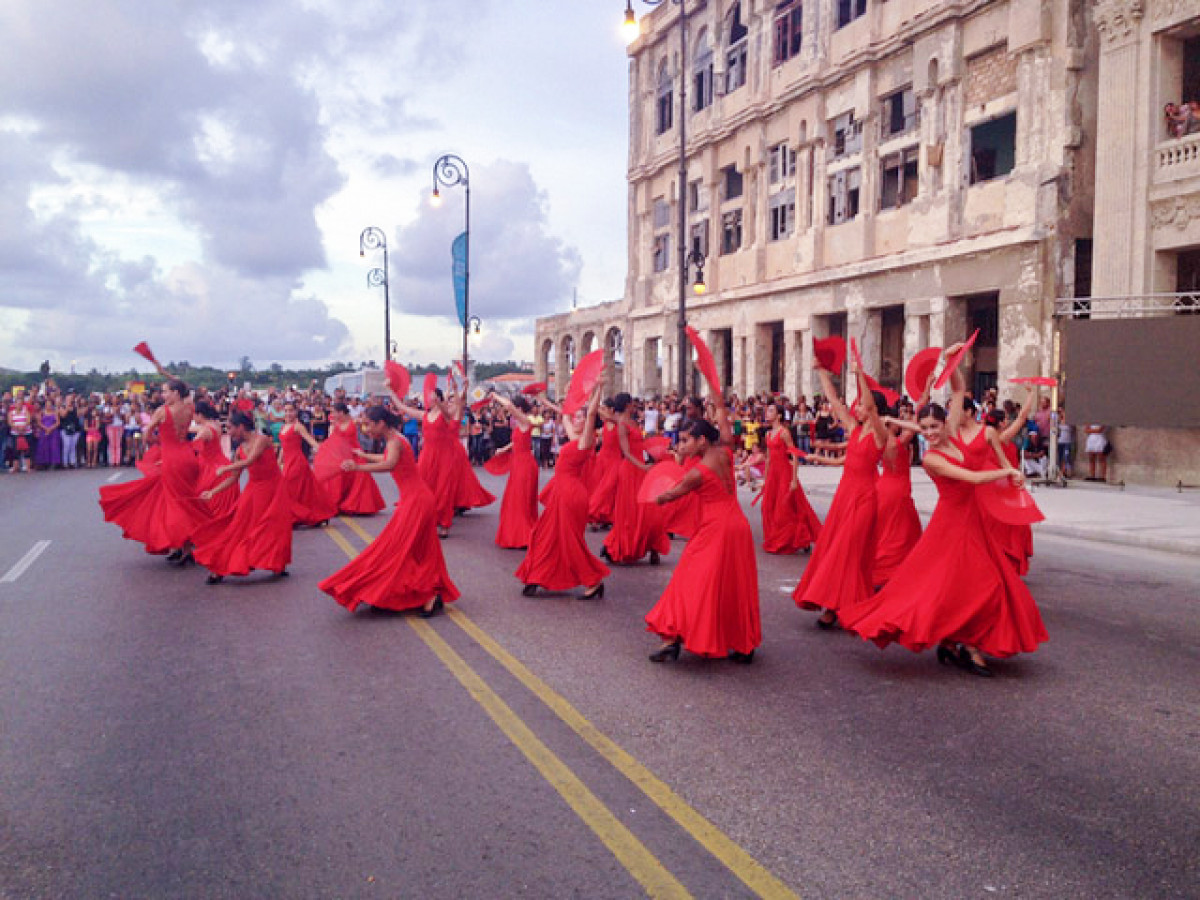 "This is going to be a major party, and I'm already on board," said Kasey Austin Morrissey, vice president of operations and co-host of this special trip. An award-winning guide herself, Kasey is the daughter of Dan Austin, company founder and president.
Ongoing restorations of Old Havana and early preparations are now focusing on the historic anniversary date of Nov. 16, 2019. The trip itinerary will bring guests into Havana on Nov. 15 and 16 to join the festivities.
The per person double rate for the eight-day, Nov. 10-17, 2019, Cuba - Havana's 500th Anniversary Adventure is $5,398 ($1,180 single supplement). For complete information see: https://www.austinadventures.com/packages/cuba-havana-500th-anniversary/
"After a short hiatus away and now under a new government permit, we are confident we can once again offer Cuba in a way we feel it needs to be done," explains Dan Austin. "Creating a trip to celebrate Havana's birthday was the logical way to kick-off our new trip series. Afterall, something like this comes around, well, every 500 years or so!"
Rates in 2020 for eight-day departures of Cuba - Trinidad to Havana (the same itinerary but without the 500th anniversary celebrations) are $4,898 ($980 single supplement). Departures in 2020 are scheduled for Jan. 26-Feb. 2; Feb. 23-March 1; and March 22-29.
Cuba was a popular destination for Americans until the 1959 Revolution changed it all. Since then a fascinating history has unfolded and today, the door has been opened again for Americans to visit. The incredible natural beauty of Cuba extends beyond its beaches, and its sweeping swamplands and crenellated mountains are known for rare wildlife and insurrectionist folklore. Today's guests may stroll city streets where opulent mansions peer out between suburban city planning. They explore the countryside where dilapidated plantations look out on still-thriving tobacco farms.
Austin Adventures was one of the first travel companies to offer culturally active trips to Cuba (in 2012) under a people-to-people exchange program. Cuba had just begun to sort itself out touristically after travel embargoes were lifted. As a result, operation of a dependable, high quality itinerary was at times a challenge.
Austin Adventures took a hiatus until now, securing a special license from the U.S. Treasury Department's Office of Foreign Assets Control related to economic and trade sanctions. This new license now assures meaningful interactions with Cuban individuals who have created privately owned businesses. For the November 2019 departure and scheduled departures in 2020, guests will lodge in private Cuban residences (casas particulares) and dine at privately owned Cuban restaurants (paladares) -- all run by self-employed Cubans (cuentapropistas).
"We can truly support the Cuban people with the itinerary we've created and the connections we have in-country," Austin assured. The itinerary mixes up classic activities such as riding in vintage automobiles and visiting a cigar factory with experiences only available through Austin Adventures. These include, among others,
Horseback riding through Valle de los Ingenios near Trinidad to learn about the history of sugar production through the eyes of a local,
Listening to an award-winning Cuban guitarist during a private concert,
Touring a museum full of paintings that were seized during that nationalization of Cuba following the 1959 revolution,
Learning the secrets to making the island's most famous blends from a professional barman during a pre-dinner cocktail class.
The program begins after transferring to Trinidad, Cuba, from Santa Clara's international airport. Trinidad, a UNESCO World Heritage Site, was once the center of the world's sugar production. Here Cuba's colonial past comes to life on horseback or by creating traditional Trinitario pottery. One day explores the life of a coffee grower in a region where coffee beans fetch $25 a pound. Guests can indulge in birding, guided walks and water activities in this country that shields more than 20 percent of its open lands in national preserves. Enroute to Havana is Playa Giron, home of the Bay of Pigs Museum. This US-led invasion is often thought to be the galvanizing force behind Fidel Castro's longevity as Cuba's leader.
For centuries once-prosperous Havana was a coveted jewel by the British, Spanish and Americans. Its larger-than-life Colonial buildings speak to the days of empires created from the sugar trade. Here guests bike through the less visited Centro Habana neighborhood with stops along the route to learn how the average Cuban lives and works in this often misunderstood country. Nightlife, music and dance thrive in Cuba where artistic expression has traditionally been its people's passion.
For more information, questions and trip availability, please call 1.800.575.1540 or email [email protected]. For a full roster of Austin Adventures' 2019 trips, cruises and distinctive accommodations on seven continents please visit the newly relaunched and enhanced website: www.austinadventures.com.
To access the 2019 digital catalog or order a print copy, go to: www.austinadventures.com/request-catalog/.
Austin Adventures is a two-time Travel + Leisure Magazine World's Best Award Winner and a Virtuoso Preferred Tour Operator.
About Austin Adventures
Based in Billings, Montana, Austin Adventures has spent over 35 years building an international reputation as a top provider of luxury, small group, multisport tours for adults and families to the world's most captivating destinations. Acknowledged twice by Travel + Leisure Magazine with the prestigious World's Best Awards along with other national media accolades and distinctions, Austin Adventures has perfected the art of creating itineraries featuring exceptional regional dining, distinctive accommodations, incredible guides and exhilarating activities, all while keeping all-inclusive rates and services the norm. In addition to scheduled group departures on all seven continents, Austin Adventures has developed a reputation as the leader in customized trip planning and execution. All backed by the industry's best money-back satisfaction guarantee.