We are excited to introduce Dolomites treks to our list of amazing adventures! Starting with the 8-Day Dolomites Hiking Traverse.
The best time for trekking in the Dolomites is June through September. It can be accessed from Venice or other European cities to make for an amazing European vacation.
As with all of our trips, we can customize this trek, and we offer many of the treks through the Dolomites.
ITINERARY
Day 1: Arrive in Selva di Val Gardena
Arrive in Selva di Val Gardena (or Wolkenstein, as it's referred to in German, 1,563m / 5,128') in the heart of Italy's South Tyrol on your own (private transfer available on request). Val Gardena is a quaint alpine town nestled in the Dolomites and an excellent center for all levels of hiking. You'll meet with your local representative in the late afternoon. She will give you a briefing on the trip, the maps you'll need during your hikes, and answer any questions you might have. Dinner will follow.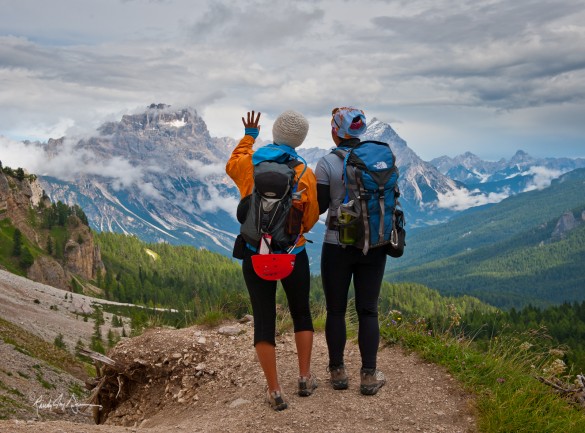 Day 2: Hike around Sasso Lungo
In the morning transfer by bus to the Sella Pass (2,180m / 7,152'), then hike under Sasso Lungo and Sasso Piatto on the famous Friedrich-August-Weg. Following ancient shepherd routes, spectacular views take you to Rifugio Sassopiatto (2,300 / 7,546'), Rifugio Vicenza (2,253m / 7,391'), and Rifugio Comici (2,153m / 7,063'). This loop hike continues through an unearthly landscape of tumbled boulders—Città dei Sassi ("city of stones") — arriving back at Rifugio Passo Sella. Transfer back by bus to Selva di Val Gardena.
(6-7 hours hiking 18 km / 11 miles, 850m / 2,788' ascent and descent.)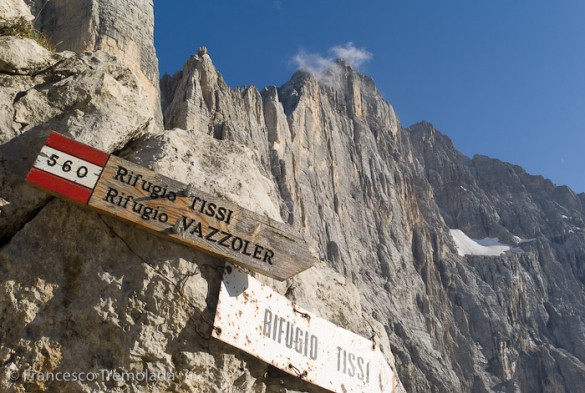 Day 3: Hike from Selva to Corvara in Alta Badia
From Selva take the public bus to Passo Gardena (2,120m / 6,955'), then hike up to the Passo Cir (2,470m / 8,100') and follow a wider trail on undulating terrain that leads to the Forcella Ciampai Pass (2,365m / 7,760') and up to the Rifugio Puez (2,475m / 8,120') where you can stop for lunch.
A longer option allows a one-hour ridge hike from the Passo Cir to the Sass Ciampac (2,673m / 8,770'). A final three-hour hike downhill on an easy and panoramic trail brings you to the town of Colfosco and then to Corvara (1,560m / 5,120'), located in the Alta Badia (the South Tyrol) in the heart of the Dolomites.
(6 hours hiking 12 km / 7½ miles, 424m / 1,390' ascent, 914m / 3,000' descent.)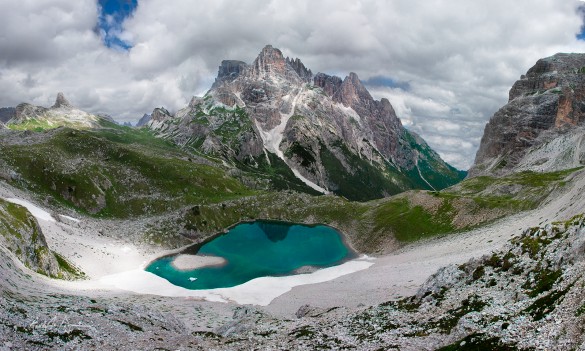 Day 4: Hiking in Santa Croce Sanctuary
Transfer by bus to Pedraces (1,324m / 4,344') and take the local chair lift to the first station (1,840m / 6,037'). The trail ascends gradually through lovely conifer wood and flowery meadows. It takes less than an hour to reach the simple but extraordinarily photogenic church and sanctuary of Ospizio Santa Croce (2,045m / 6,710'). Begin to descend on a trail skirting the realms of the Fanes–Sennes–Braies Nature Park, sticking fairly closely to the base of the mountain. Continue to the town of La Villa and walk just 4 kilometers (2.5 miles) along the river to Corvara.
(5-6 hours hiking 10-11 km / 6-7 miles, 480m / 1,580' descent.)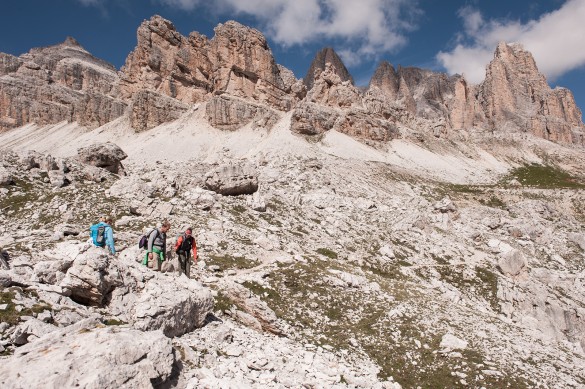 Day 5: Hike from Capanna Alpina to Natural Park of Fanes-Sennes-Braies
After breakfast, hike or take a public bus towards Armentarola. Reach Capanna Alpina (1,726m / 5,663'), a restaurant built just at the edge of the Fanes-Sennes-Braies Natural Park, in an incredible setting; from here begin your hike with a steep ascent of 1 hour. After arriving at Col de Locia (2,069m / 6,788'), you will enter in a fairy tale valley, midst of the mountains, with green pastures. Hike numerous ups and downs for about 3 hours, pass by a cozy mountain hut, Malga Gran Fanes, a cheery converted farm offering light meals and basic accommodation, and reach a cozy rifugio (2,060m / 6,759'), your home for tonight.
(~4 hours hiking 8km / 4.9 miles, 564m / 1,850' ascent, 229m/ 751' descent.)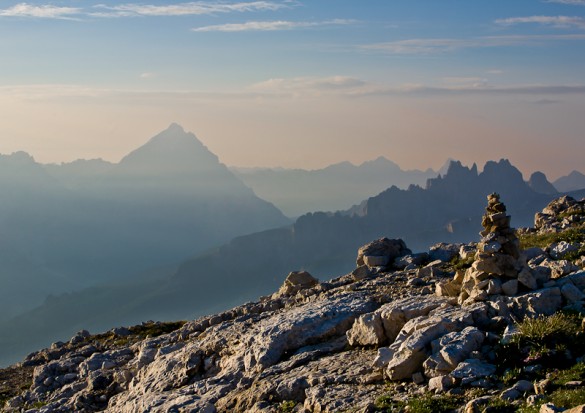 Day 6: Hike from Natural Park of Fanes-Sennes-Braies to Cortina
Depart from your rifugio this morning retracing yestarday's steps, hiking south on gentle curves out of a steep valley (or on steeper shorcuts) to Passo di Limo (2,172m / 7,126'). Past an old military building and wooden cross, you reach Malga Fanes Grande (2,104m / 6,903'). From here start descending towards the town of Cortina d'Ampezzo. The Fanes Valley is a wide amphitheatre with woods of spruce and Arolla pines. Pass by the mass of Monte Vallon Bianco with its fascinating white rock folds and waves. Reach Lago di Fanes and the Fanes Waterfalls, a 70m / 230' drop, a record for the Dolomites (possible side trip). From Fiames have a private transfer to Cortina d'Ampezzo.
(~5.5 hours hiking, 13km / 8 miles, 580m /1,903' ascent, 1,392m / 4,567' descent.)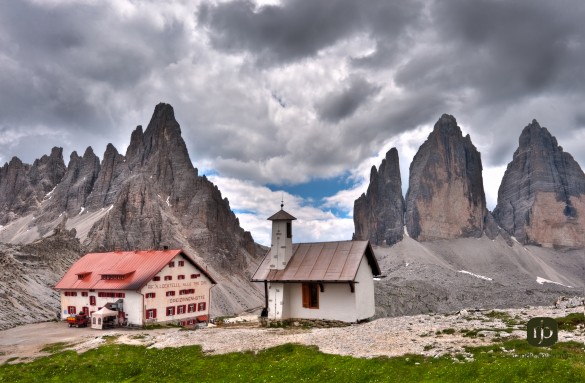 Day 7: Hike to the Tre Cime di Lavaredo
Today you will take a scenic 30-minute drive up to Rifugio Auronzo (2,331m / 7,650'), then hike around the Tre Cime di Lavaredo and Monte Paterno, one of the most scenic mountain landscapes in the Dolomites. Along the way you'll admire the spectacular Cadini mountain group on the south, with its rock spires and strangely formed needles.
The remainder of the afternoon is free to wander and explore Cortina's busy streets lined with restaurants and cafes, antique shops, art galleries, and boutiques. Your in-country host will meet with you again this evening to say farewell, and make sure you're confident about your departure travels.
(6 hours hiking 12.8km / 8 miles, 610m / 2,000' ascent, 549m / 1,800'descent.)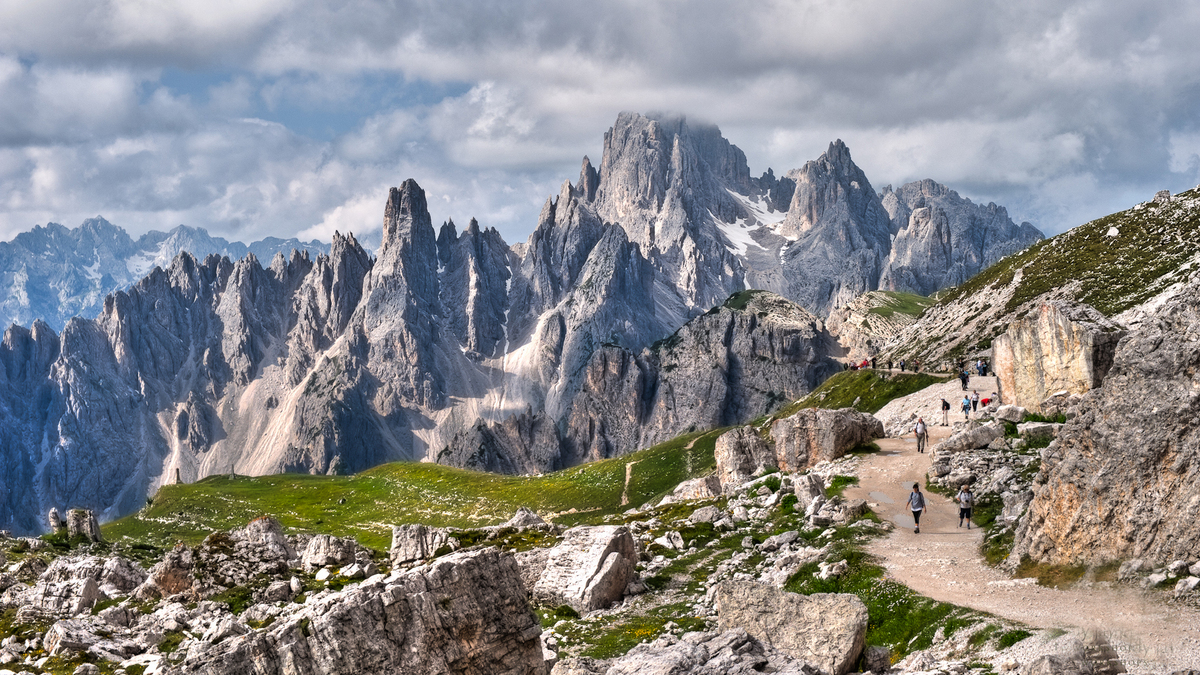 Day 8: Departure
After breakfast, departure on your own. Consider spending an extra day for a via ferrata.