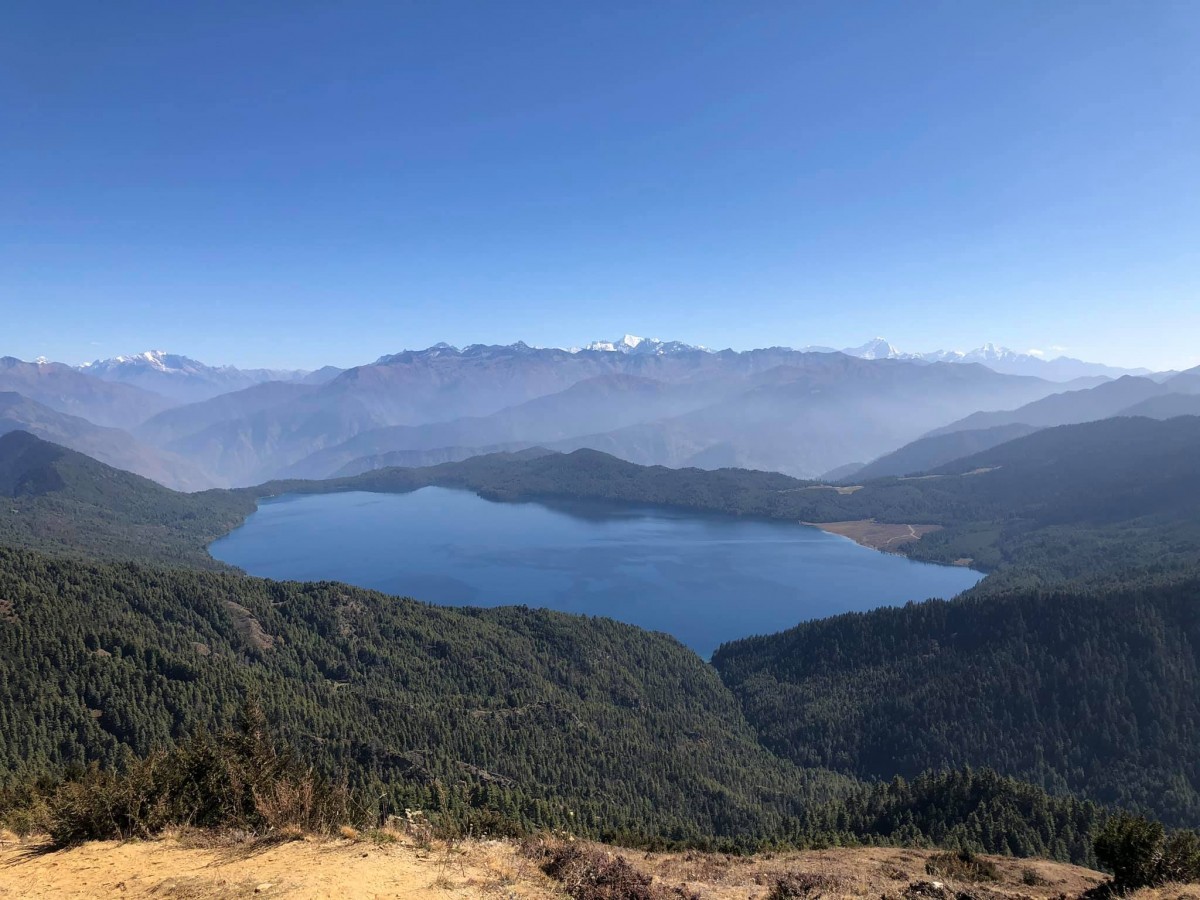 Rara Lake, the deepest and biggest freshwater lake in Nepal, is a hidden treasure deep within the Himalayas, making it an ideal spot for relaxing and enjoying nature. You will discover incredible landscapes, diverse natural features, and authentic culture during your visit to this hidden gem of Nepal.
A Rara lake tour is a less crowded eco-tourism destination in the heart of a natural haven in Nepal. Here you can experience an off-road tour of Nepal, which shows the typical lifestyle, culture, and scenery of the country, all of which are quite different from the rest.
A unique combination of incredible beauty that will captivate hikers and tourists alike, the National Park surrounds the lake with pine, spruce, juniper, and coniferous forests, including rare and vulnerable species, and offers incredible views of the snowcapped Himalayas.
Rara Lake is one of Nepal's least-explored regions, yet it offers mind-blowing natural beauty. A rise in tourist flow can benefit the local economy and improve the quality of life for locals. The promotion of steamy jungles, sparkling lakes, snowcapped mountains, spectacular scenery, and cultural diversity will attract tourists and provide income for local communities.
Tour Highlights:
Visit Rara Lake and enjoy its scenic beauty and tranquility.

Explore the rich biodiversity of Rara National Park.

Enjoy a tour through magnificent pine, birch, and rhododendron forests.

Several activities are available around Rara Lake, including horseback riding, biking, jungle safaris, and boating.

A scenic drive to Nepal's deepest and largest lake.
Things to do in Rara:
Get the amazing view of Park boating in Rara Lake:
Boating can be a fun, and relaxing way to enjoy nature surrounded by the beautiful Rara Lake. There is an absolutely breathtaking view of the hills, jungles, and clear sky here.
You can enjoy the beautiful view of Rara, the largest lake in Nepal, and its surrounding mountain greenery and variety of fish and water plants while boating in the clear water.
Take a hike to observe nature at its best:
You can hike nearby hills for more close-up views of the mountain and the lake, and you will meet amazing and friendly people in this area. Also, hiking in Rara Lake offers the opportunity to see rare birds and wildflowers that exist only in that area.
While hiking, you will also be able to see the surrounding area and the amazing view of nature without being disturbed by any artificial or other interference. Visiting this site provides the opportunity to be very close to nature and experience God's creation in its original form.
Hiking and walking through this area with your friends and enjoying the greenery and different flora and fauna will be a great experience for anyone who really loves nature and its beauty.
If you would like to see various types of plants and animals in one place, you can visit the area's national park. Also, the lakeside view and greenery hills make this place very popular.
The largest lake in the country is shaped and sized in such a striking way that it provides peace for the viewer's eyes. Walking or riding a horse through the national park gives us an interesting view of the park.
It is also possible to see a variety of flower types, birds, and insects. Additionally, a deep blue freshwater lake and a green forest make it ideal for taking pictures of the scenery or mountains.
Set the hammock and sleep in tent:
After traveling for a whole day, you may appreciate the warmth of a campfire after facing the cold mountain breeze. I think it would be interesting to have a campfire with a group of friends, where you can involve in singing and dancing as well.
Get a sleeping bag, find a shady spot, have some drinks and relax. If you don't have a tent of your own, you can rent a room or tent at one of the nearby hotels. The beauty of the mountains and the stellar sky make camping the ideal activity for those who seek true luxury.
Jungle safaris provide you with an opportunity to see different kinds of animals, birds, and plants throughout the jungle.
A jungle safari gives you the opportunity to get up close and personal with different animals and plants.
Best time to visit Rara Lake:
The biggest and deepest freshwater lake in Nepal is Rara Lake. The area is beautiful and serene throughout the year, making it a fascinating place to visit.
However, it is best to visit the lake from March to May because the weather is mild, the rhododendrons are in bloom, the sky is clear and the lake is crystal blue.
Traveling to this natural wonder will take about two weeks, starting in Kathmandu, during which you will see scenic views and a variety of animals. Embark on a trip to the highest lake in Nepal with the Himalayan Circuit and make your dreams come true.