Western River Expeditions Named The World's Best White Water Rafting Tour By USA TODAY Readers
Posted: June 9, 2019
The results are in! After nearly a month of online voting, the USA TODAY 10Best Readers' Choice Award for the world's best white water rafting tour goes to Western River Expeditions!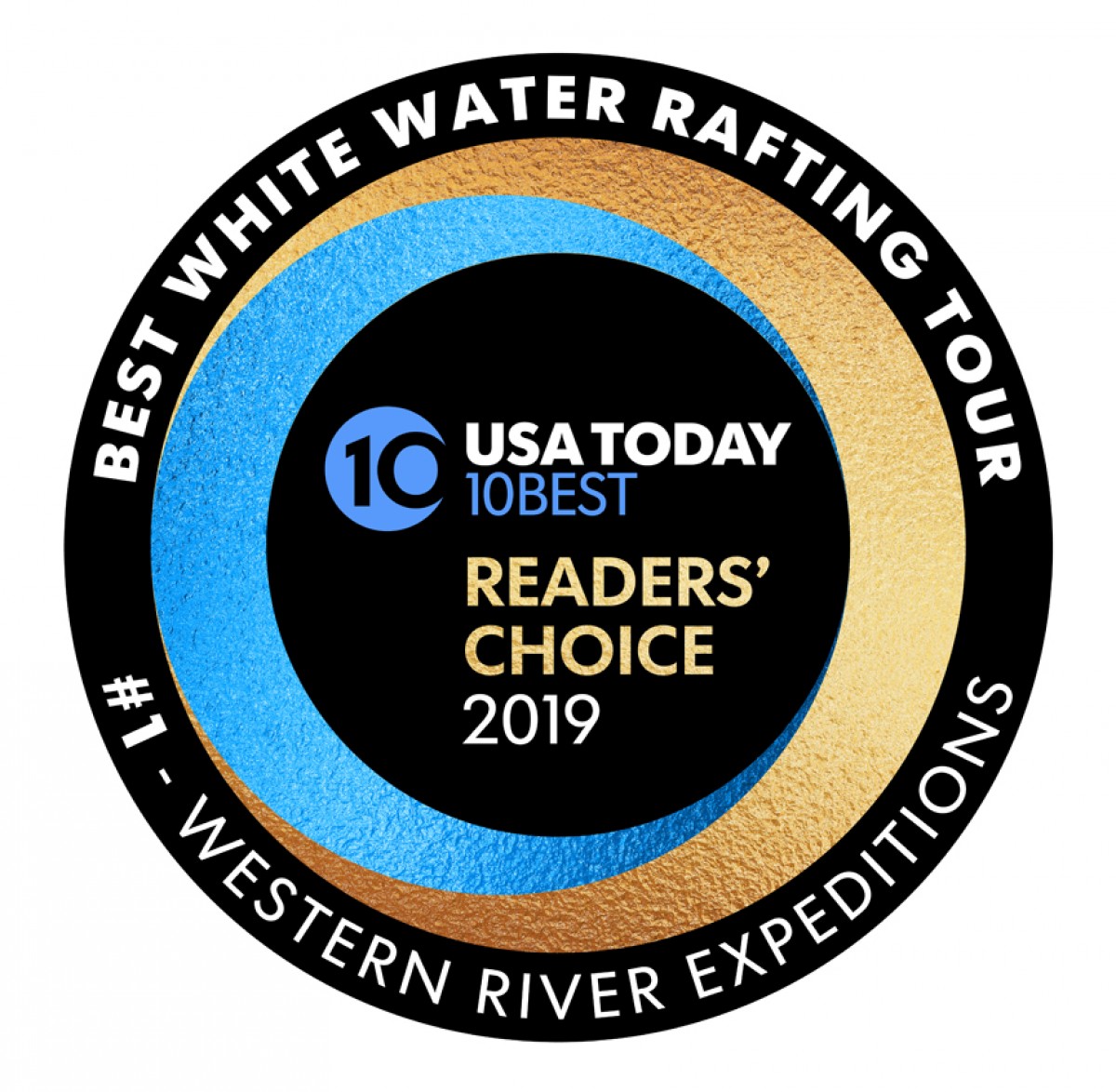 "Western River Expeditions (https://www.westernriver.com/) has more than 50 years of experience guiding trips along the rivers and canyons of the American West," states USA Today. "Today, the company offers itineraries in Arizona (Grand Canyon), Utah, Idaho, Oregon and Costa Rica. From white-knuckle rapids to more relaxed family floats, rafting is a great way to add a dash of adventure to a trip."
Dozens of nominees were chosen by a panel of relevant experts who include editors from USA TODAY and 10Best.com plus relevant expert contributors. Winners were chosen by highest total votes accumulated in an online voting forum. Members of the public could vote once daily from April 22-May 20. The final results were announced to the world on Friday, May 31, 2019.
"We want to thank the editors and staff of USA TODAY 10Best along with all the loyal travelers who voted for Western River Expeditions," said Brian Merrill, company CEO. "Our staff works hard to make every trip an exceptional experience and it's very rewarding to be recognized for our daily efforts!"
The Top 10 finishers in the category of Best White Water Rafting Tour are as follows:
Western River Expeditions
U.S. Rafting
Wildman Adventure Resort
Barker Ewing Whitewater
Zoar Outdoor
OARS
Arkansas River Tours
Downstream Adventures
Three Rivers Whitewater
Far Flung Adventures
Three outside travel experts helped select the 20 original nominees for the awards voting. They were, Lisa Ellen Niver, an award-winning travel expert on KTLA TV who has explored 101 countries and six continents. Her website, We Said Go Travel, is read in 212 countries. LiLing Pang is founder and CEO at Trekaroo, a travel resource and online community of "families inspiring each other to travel the world." Jeremy Clement is a Co-Founder at Project Expedition, a website where travelers can discover and book tours and activities in destinations around the world.
About
Western River Expeditions is an adventure travel company headquartered in Salt Lake City, with operations and offices in Moab, Utah and Fredonia, Arizona. Annually from March through October it escorts more people down rivers on professionally guided rafting trips in Utah, Idaho and Arizona than any other company. It is the largest licensed outfitter in the Grand Canyon and the largest single tour provider in Moab, UT, through its division Moab Adventure Center (http://www.moabadventurecenter.com/).
Western River Expeditions, providing Grand Canyon rafting, Utah and Idaho rafting, and international multi-sport trips, was founded in 1961 by Colorado River rafting pioneer Jack Currey. It has been named one of the "Best Adventure Travel Companies on Earth" by the editors of National Geographic Adventure magazine. The company is the proud recipient of the "Best of State" award through Utah's Premier Recognition and Awards Program for sixteen consecutive years.
For more details on the contest see https://www.10best.com/awards/travel/best-white-water-rafting-tour/
For a copy of Western River Expeditions' 2019 catalog, questions, availability and reservations call toll-free: 866.904.1160 (Local: 801.942.6669), or visit: http://www.westernriver.com/.