Western River Expeditions Offers Rafting And Wildlife Adventures On Oregon's Wild Rogue River
Posted: June 9, 2019
Imagine a river so remote that mail to riverside residents comes by jet boat. Here a lush eco system harbors a profundity of wildlife along a 45-mile section defined by Class II-IV whitewater thrills.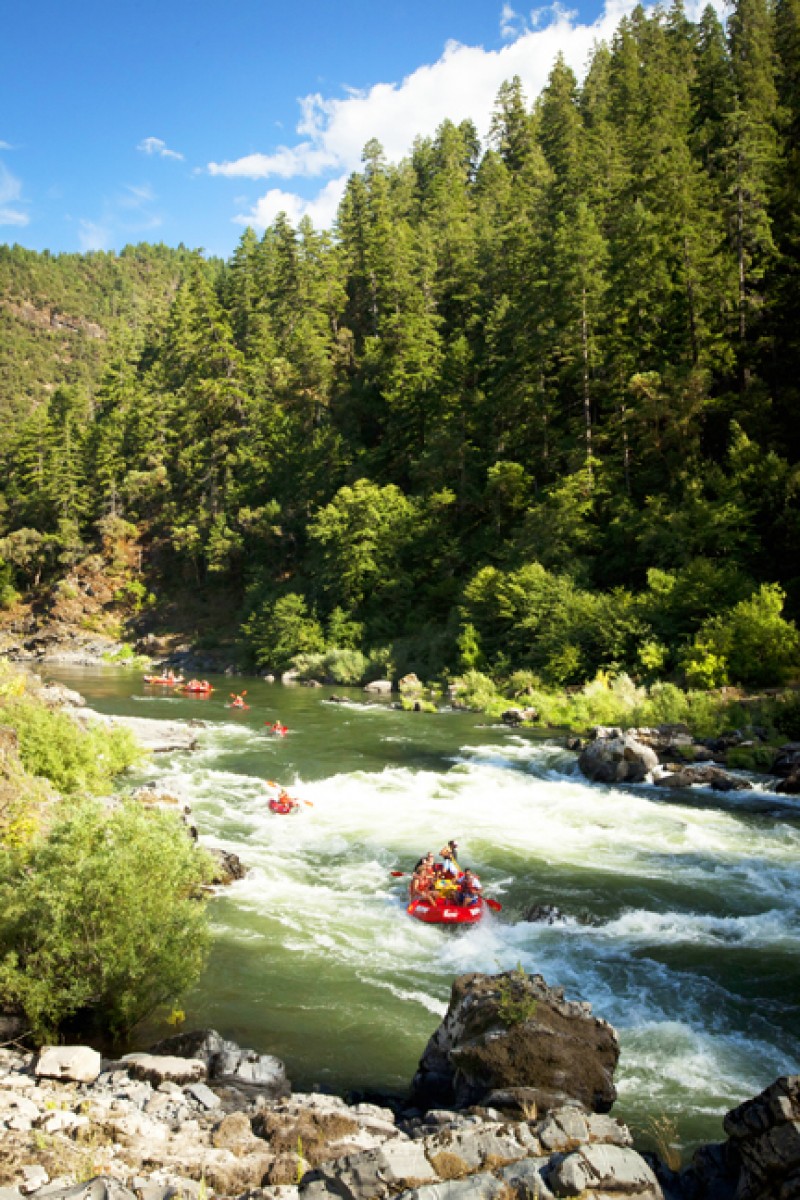 Western River Expeditions hosts multiple departures of a floating wildlife safari this season. Rogue River Rafting and Lodge combines whitewater rafting on Oregon's wild and scenic Rogue River with hiking, wildlife spotting and overnight stays in comfortable lodges along its course. The boats used on these adventures range from oar to paddle boats and inflatable kayaks.
The 2019 Rogue River three-day program is $1,095 per person double (single supplement $500) with availability on June 8, 22; July 27 and Aug 24. The 2019 Rogue River four-day program is $1,375 per person double (single supplement $600) with availability June 2, 16; July 14, 21, 28 and Aug 4, 11, 18, 25. The minimum age is seven. The gateway is Merlin (Medford), Oregon. See: https://www.westernriver.com/rogue-river-lodge-trip
Rainy winters and sun-filled summers create ideal river running conditions along the Rogue's course that begins near Crater Lake in the Cascade Mountains and runs westerly through southern Oregon to the Pacific Ocean.
"Western River Expeditions has river rafting programs in Costa Rica where wildlife viewing is always exciting. But stateside, the Rogue can't be beat when it comes to the wildlife our guests may see," said Brandon Lake, CMO of Western River Expeditions (http://www.westernriver.com/). He cited a recent study by a colleague in the river rafting industry who reported on the chances of spotting the following wildlife during a typical four-day river rafting trip:
Black-tailed deer - 95% chance of seeing
North American river otter - 65% chance
American black bear - 50% chance
North American beaver - 10% chance
Osprey - 95% chance
Ouzel - 95% chance
Great Blue Heron - 95% chance
Bald Eagle - 50% chance
Rough-skinned newt - 95% chance
Steelhead - 90% chance
Salmon - 50% chance
Sturgeon - 10% chance
"On most of our other rafting trips, guests can experience camping under the stars, but on the Rogue we feature the luxury of lodge-based accommodations. With so much daytime whitewater and wildlife excitement along the Rogue, we depend on our lodge hosts to calm and pamper our guests at night with sumptuous dining and cozy beds," Lake added.
The Rogue River was one of the first (in 1968) rivers designated a Wild & Scenic river ecosystem.
Another non-camping option offered by Western River Expeditions is its Westwater Canyon Rafting & Multisport Trip on the Colorado River in the back country around Moab, Utah. In addition to rafting 26 miles in oar and paddle boats over Class II-IV rapids, guests enjoy exploring off-river on a Hummer® Safari and the option of horseback riding. Nights are spent in riverside cabins at the stunningly located Red Cliffs Lodge, surrounded by red rock country and Arches National Park. This adventure is available June through September. The minimum age is 12. The gateway is Moab. For details see https://www.westernriver.com/westwater-canyon.
For a copy of Western River Expeditions' 2019 catalog, questions, availability and reservations call toll-free: 866.904.1160 (Local: 801.942.6669) or visit the website at: http://www.westernriver.com/.
About Western River Expeditions
Western River Expeditions is an adventure travel company headquartered in Salt Lake City, with operations and offices in Moab, Utah and Fredonia, Arizona. Annually from March through October it escorts more people down rivers on professionally guided rafting trips in Utah, Idaho and Arizona than any other company. It is the largest licensed outfitter in the Grand Canyon and the largest single tour provider in Moab, UT, through its division Moab Adventure Center (http://www.moabadventurecenter.com/).
Western River Expeditions, providing Grand Canyon rafting, Utah and Idaho rafting, and international multi-sport trips, was founded in 1961 by Colorado River rafting pioneer Jack Currey. It has been named one of the "Best Adventure Travel Companies on Earth" by the editors of National Geographic Adventure magazine. The company is the proud recipient of the "Best of State" award through Utah's Premier Recognition and Awards Program for the past fifteen consecutive years (2004-2018).