WHY YOU SHOULD VISIT THE VILLAGE OF CHARANG-UPPER MUSTANG, NEPAL
Posted: July 19, 2019
If you like high, wild, remote and authentic then the village of Charang in the former Kingdom of Mustang, Nepal more than ticks these "becoming harder and harder to find" boxes.
Sometimes spelled as Tsarang, the Tibetan influenced village of Charang lies at an altitude of around 12,000 feet on the sparsely populated Tibetan Plateau of Upper Mustang.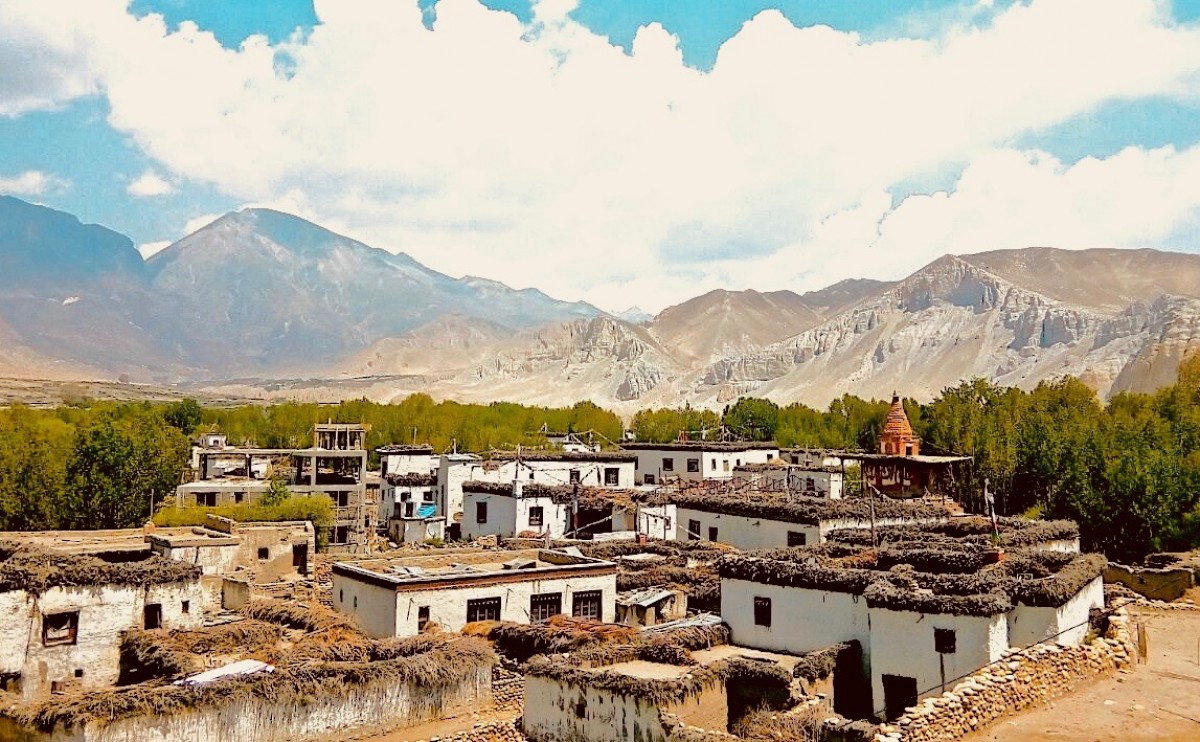 Although Mustang is in Nepal, this high altitude desert wilderness that lies "behind" the mighty Himalayas is one of the last places on Earth where Tibetan Buddhism flourishes and even vestiges of the ancient Bon Po faith still exist.
Upper Mustang itself is definitely not a mass tourism destination. Less than 3,000 tourists per year venture into this arid landscape of weirdly wind eroded cliff faces and high mountains. Compare that with the 80,000 that set off on the Everest Base Camp Trek each year. Or the 47 million that visit the English Lake District!
For those wanting to get off the beaten track, Mustang and the village of Charang is most certainly that.
Charang is actually the second largest village in the entire Mustang region. But, with just 130 or so homes and around 700 inhabitants…..that's hardly large.
The village was once an important halt for the ancient caravan trade that once perilously plied their way between Tibet and India carrying large amounts of salt.
Nowadays Charang is a peaceful, serene sort of place……the kind of place where you can "feel the spirituality".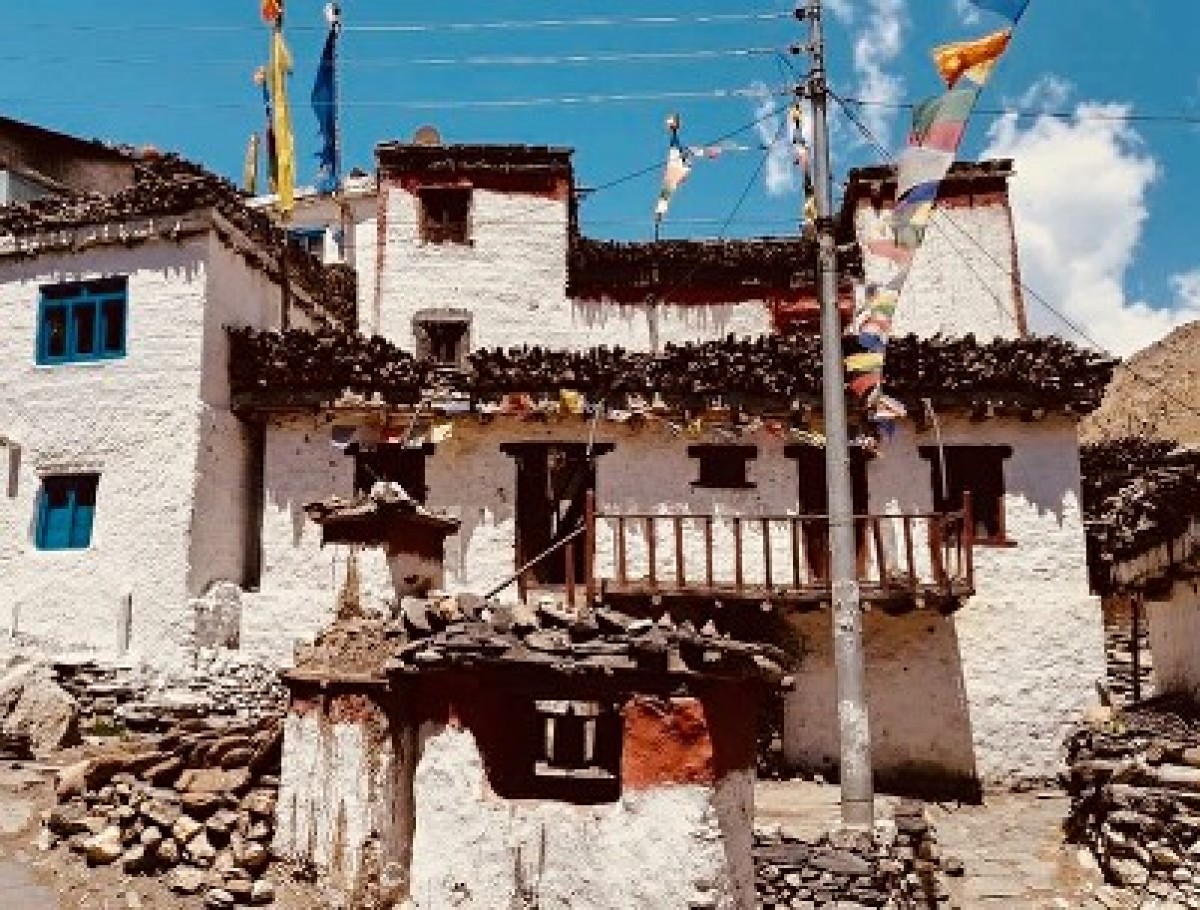 With precious little rainfall and at such high altitude it's a wonder that anything grows up here. Yet, the village is akin to a desert oasis, with carefully tended terraced fields adding greenery to an otherwise barren mountainscape with shades of brown, ochre, yellow and black. Indeed other than a little bit of passing tourist trade, agriculture is the main source of income here and the locals have ingeniously and with back breaking hard work managed to eek out what little water there is up here through irrigation channels.
Brightly coloured prayer flags waft on the cool breeze. Tibetan Buddhist Chortens and Mani (Prayer) Walls surround the village of typically "Mustang style" homes, which form a maze of narrow stone flagged alleyways and whitewashed mud and stone houses with flat timber topped roofs that blend so perfectly with the surrounding landscape.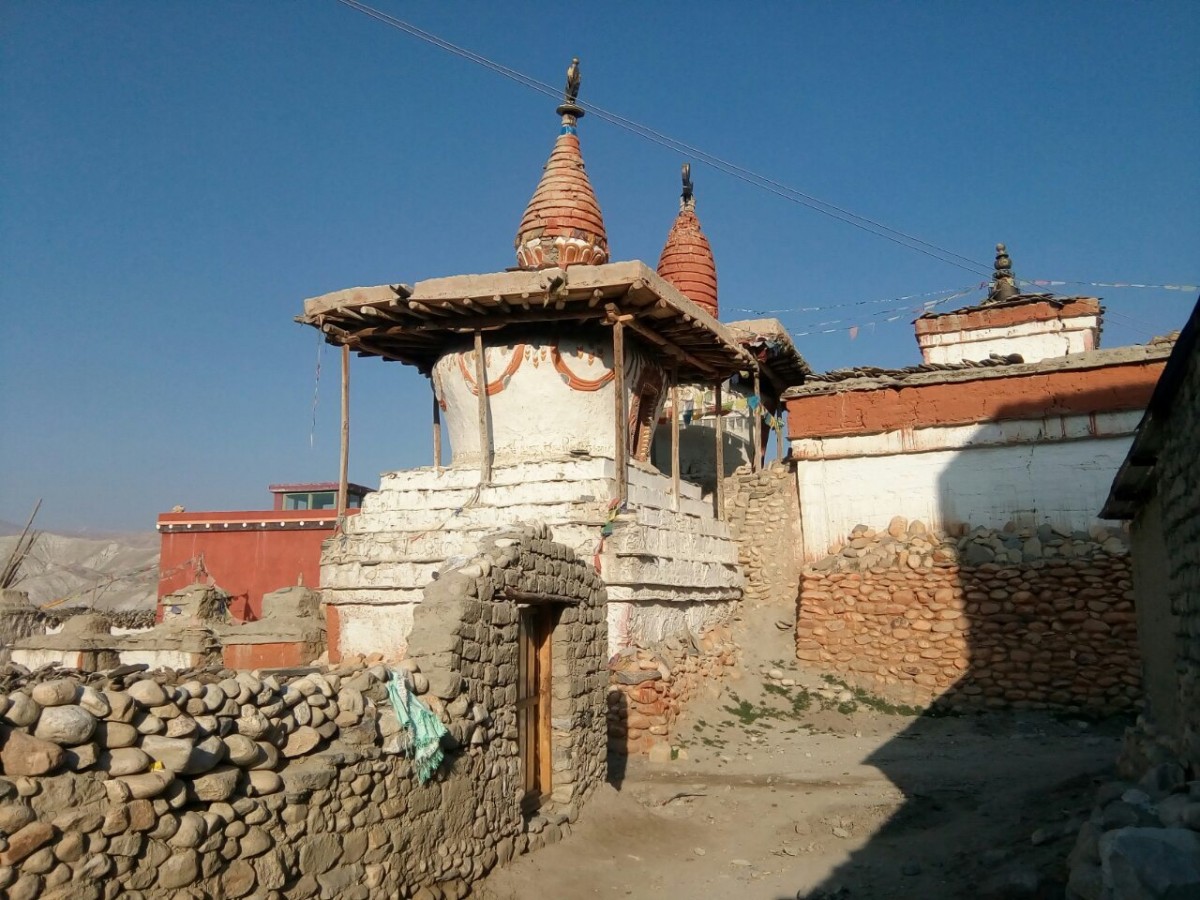 Most tourists coming to Mustang are heading to Lo Manthang, the fabled "walled city" and capital of the former Kingdom of Lo. With Charang being only 2 hours by 4WD vehicle from Lo Manthang, less and less people are now bothering to stop and explore Charang. Whereas when trekking was the only way to travel in Mustang, Charang was an ideal overnight halt before hiking to Lo Manthang the next day.
This has meant that Charang has become "less touristy", which for any traveller seeking the more experiential and genuine aspect of travel is big plus.
Things to See and Do in Charang
Visit the Palace & Museum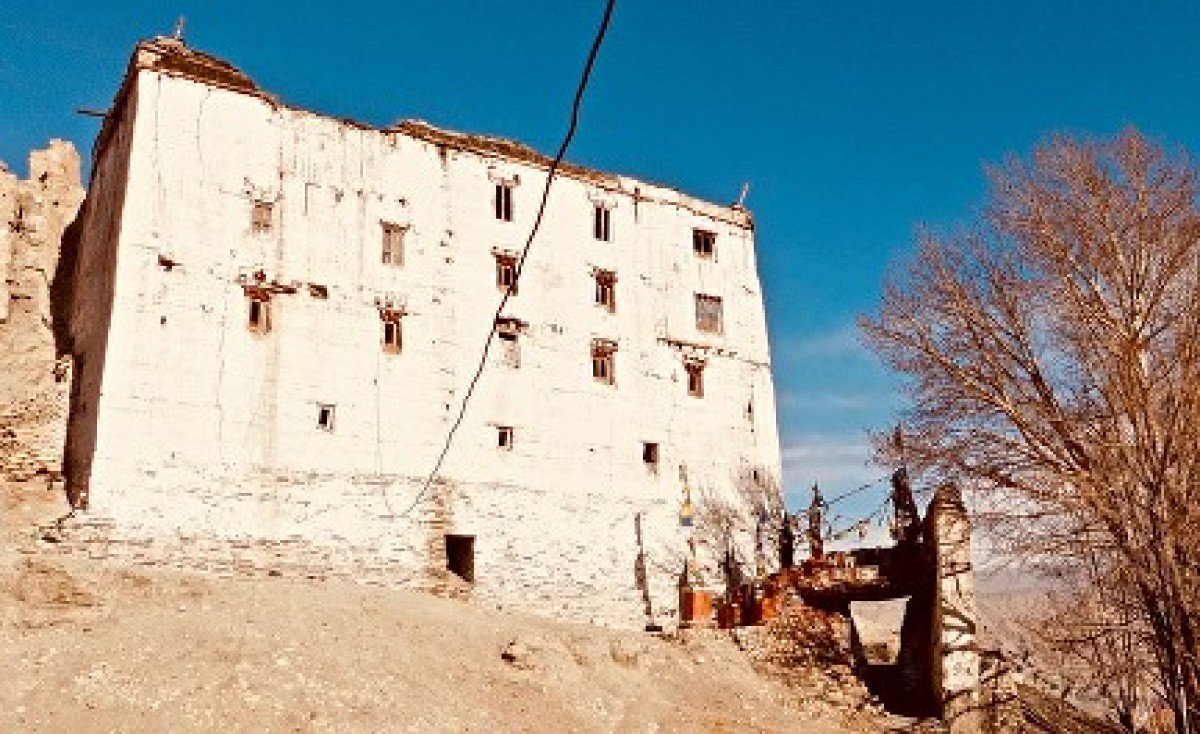 Once the home of the Raja of Mustang, the ruin of the former palace is strategically located astride a hill. It's a steep, short hike up to the palace and although it is now dilapidated, there are great views from here and the small chapel and armoury (now a museum) are open to the public. On display are the blackened, macabre hands that are said to belong to the Master Builder of the palace. As a mark of respect they were cut off after his death and placed there in his honour. Another story says that they were cut off while he was still alive so he would never build another.
Meet The Locals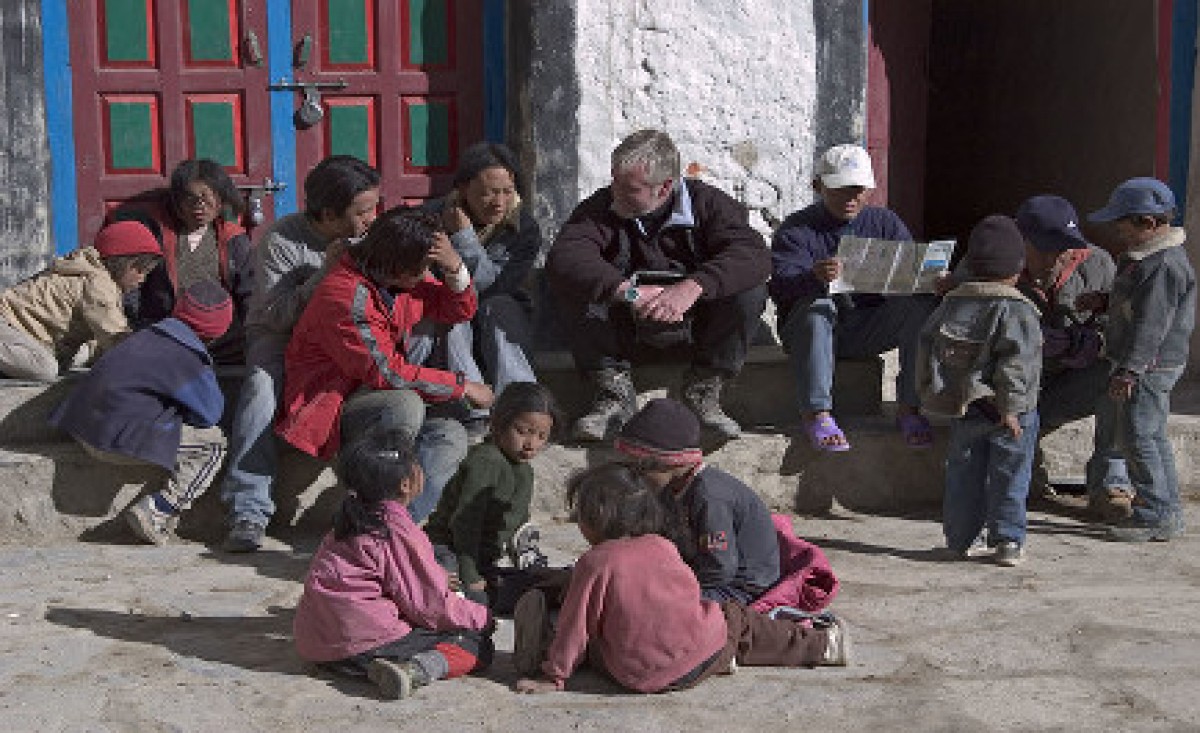 Perhaps the true "jewel in the crown" of Charang are the people of Charang, whom are most welcoming and friendly towards vistors. To meet the locals, all you need to do is step outside your guest house and walk around the village. Who knows who you will meet and strike up a conversation with, or get invited into a local home for tea. You'll also discover numerous Stupa's and Chortens too.
Charang Gompa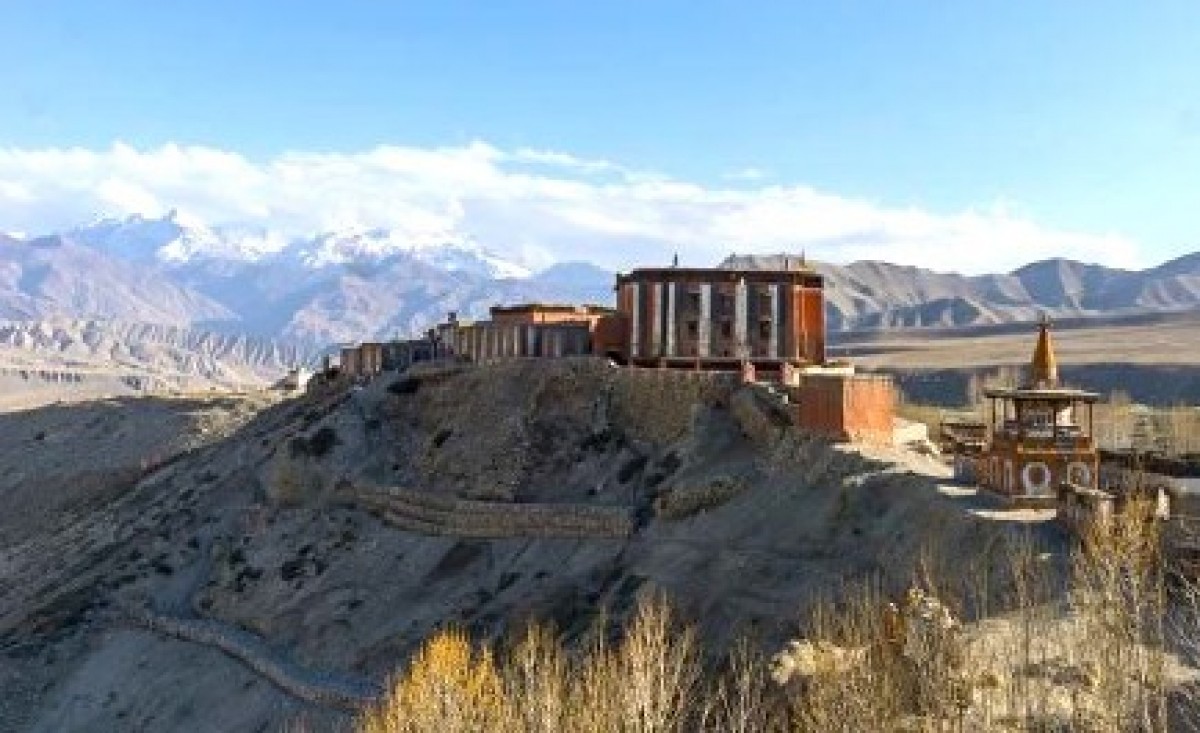 The "local monastery" and around 500 years old. The inner walls of the main temple are painted with murals depicting the deities of the Medicine Buddha mandala. The Ani Gompa to the rear looks like it's falling over a cliff and is in fact a "nunnery".
Sky Caves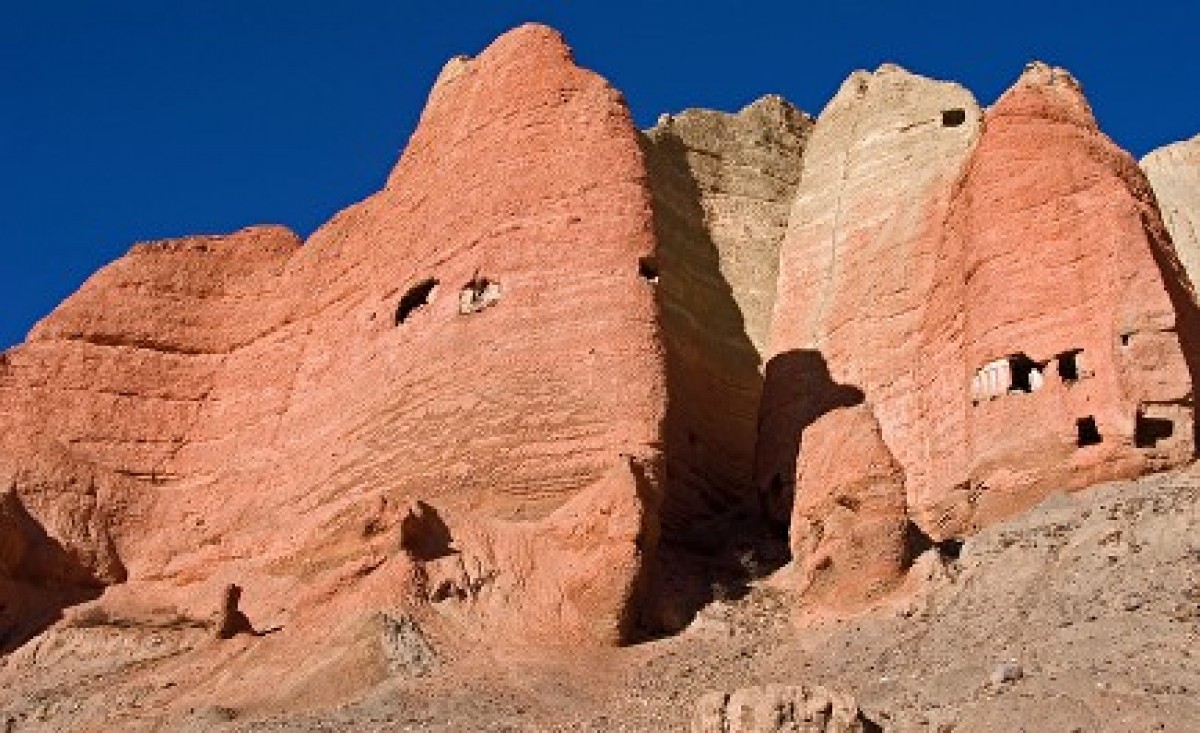 An hour or less hike from the village to the opposite side of the river leads to some spectacuarly located sky caves hewn out of the cliff face thousands of years ago. Whilst it is not yet fully understood why these caves were built (there are believed to be around 10,000 sky caves in Mustang), it is possible there were initially used as burial chambers, from as early as 1,000 B.C. In times of conflict they may also have been used as places of safe refuge, then homes and later places of meditation and even military look outs.
Look for Saligrams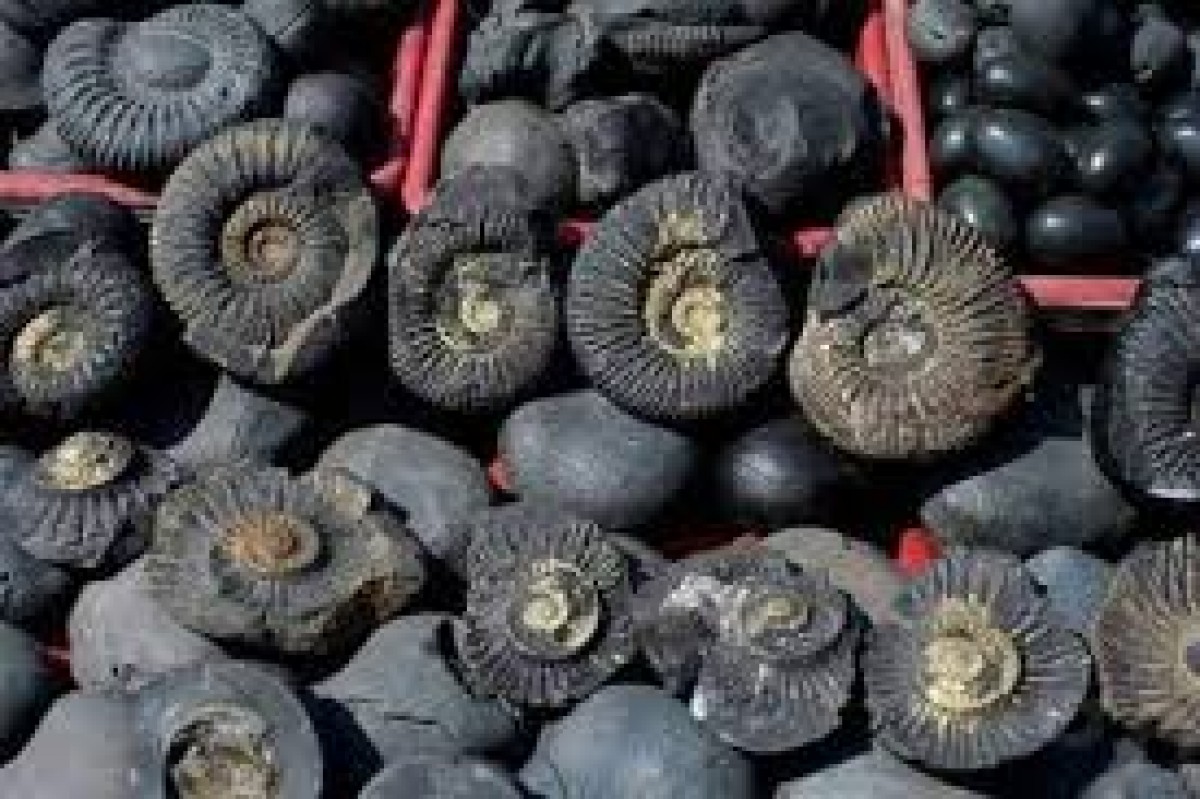 Head down to the Kali Gandaki River bed and you might just come across Saligrams (or Shaligrams). if you look hard enough. Saligrams are fossilised Ammonite like sea creatures around 400million to 600 million years old and it's quite something that they are found here 12,000 feet above sea-level! That's because at one time before the Himalayas were formed, Mustang was the sea bed of the Tethys Ocean. To Hindu's Saligrams are an iconic symbol and reminder of the God Vishnu as the Universal Principle.
Lo Gekar Monastery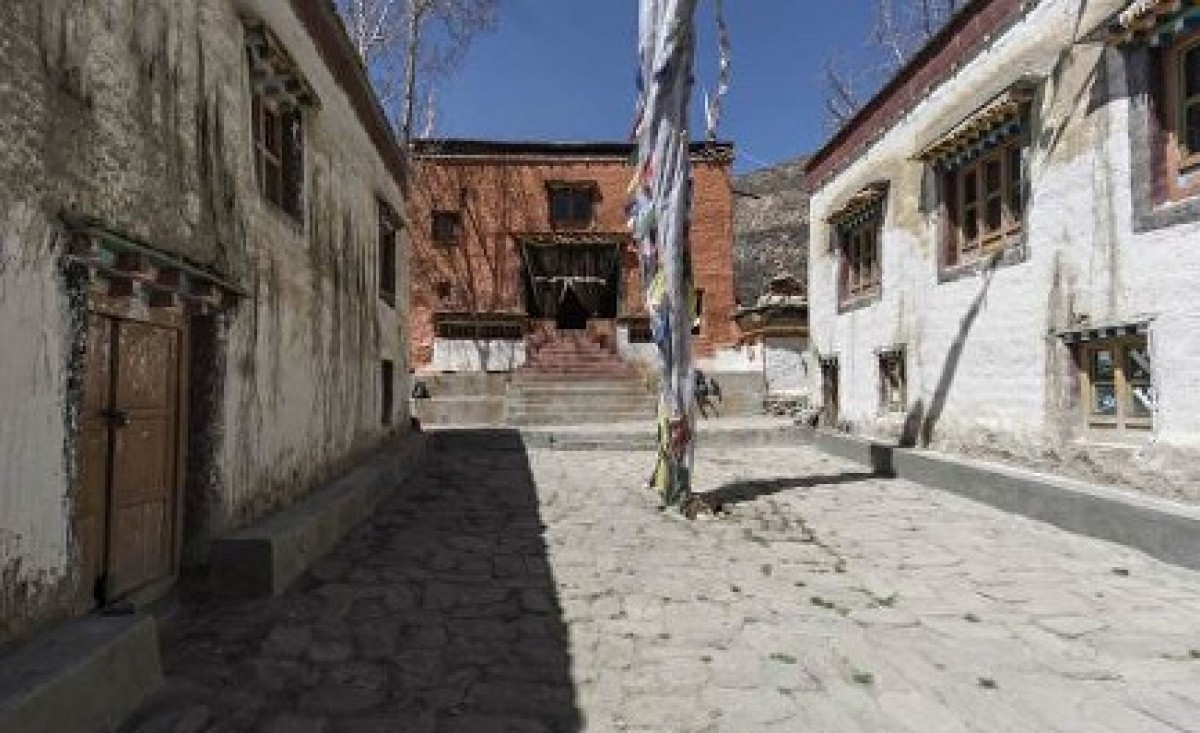 Just a 30 minute drive, or 2 hour walk away is the ancient Lo Gekar Monastery. Dating back some 1200 years, Lo Gekar is one of the oldest and most important monasteries in Mustang. The interior of the monastery greets the visitor with tiles of Buddha Sakyamuni and Bodhisattvas. The Gonkhang is situated before the main room, the different protectors are covered with sheets and shown only once a year during a special festival. Dozens of butter lamps illuminate the main room, making the many statues even more beautiful. The main statue is Padmasambhava, to each side are his two Yoginis Yeshe Tshogyal and Mandarava. A statue of a Green Tara may also be found in a smaller room.
Visit Charang School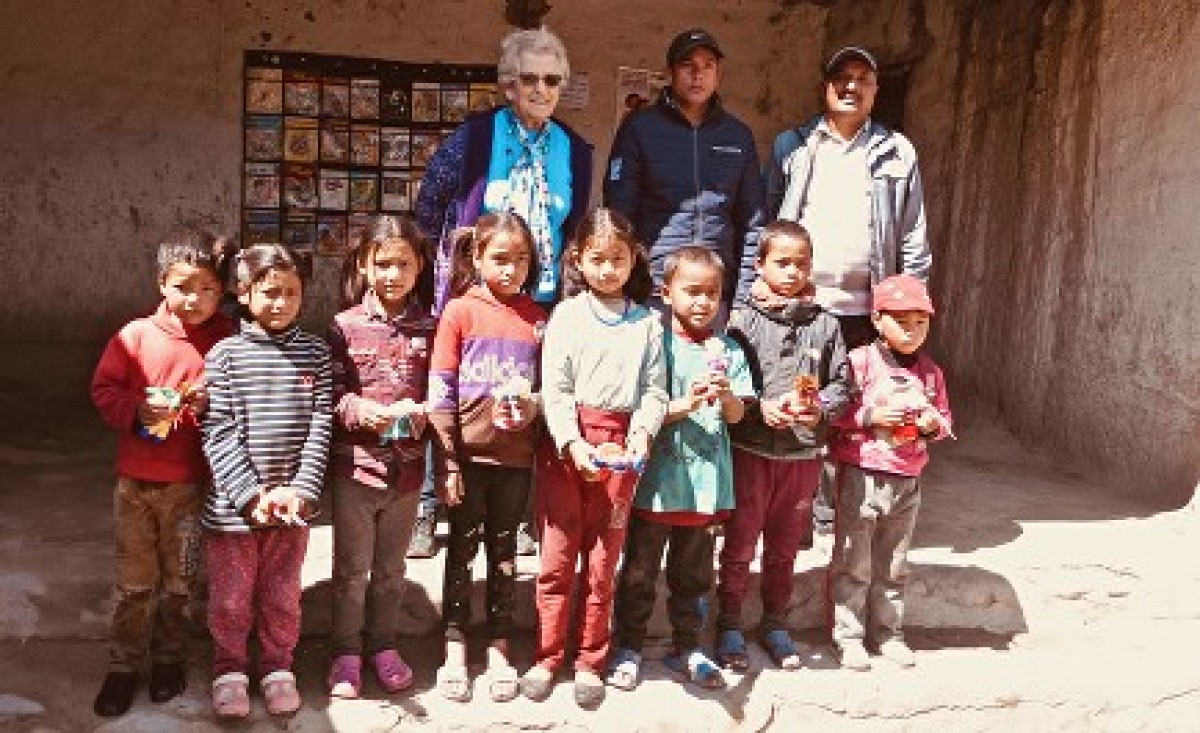 Yes, do pay a visit to the very small village school. The children in particular would be delighted and honoured to meet you and maybe practice their English with you too.
There are around 15 pupils between the ages of 4 to 11 studying Nepali, maths, writing, reading and English (to some degree). Sadly the school has no blackboards, no desks, no pictures on the walls, no books, just some rough desks and benches and is in a poor state of repair. But with some help from friends of Charang things are going to get better!
But, please don't let this put you off visiting. What the school lacks is more than made up for with a welcome. You'll find the children (and the teachers) exceptionally hospitable, cheerful and a lot of fun too.
Indeed, if you do visit us the children would readily welcome any pens, exercise books, colouring books etc
Gone are the days when the only way to reach Charang was on foot, involving many days of arduous trekking at high altitude. Although intrepid trekkers still do enjoy the challenges of trekking in Upper Mustang.
But, nowadays you can reach Charang by 4WD vehicle as a "rough and ready" jeep road extends all the way up the Kali Gandaki Valley from Pokhara to Lo Manthang and beyond to Tibet via the Kora La, although foreigners are presently not allowed to cross into Tibet from Mustang.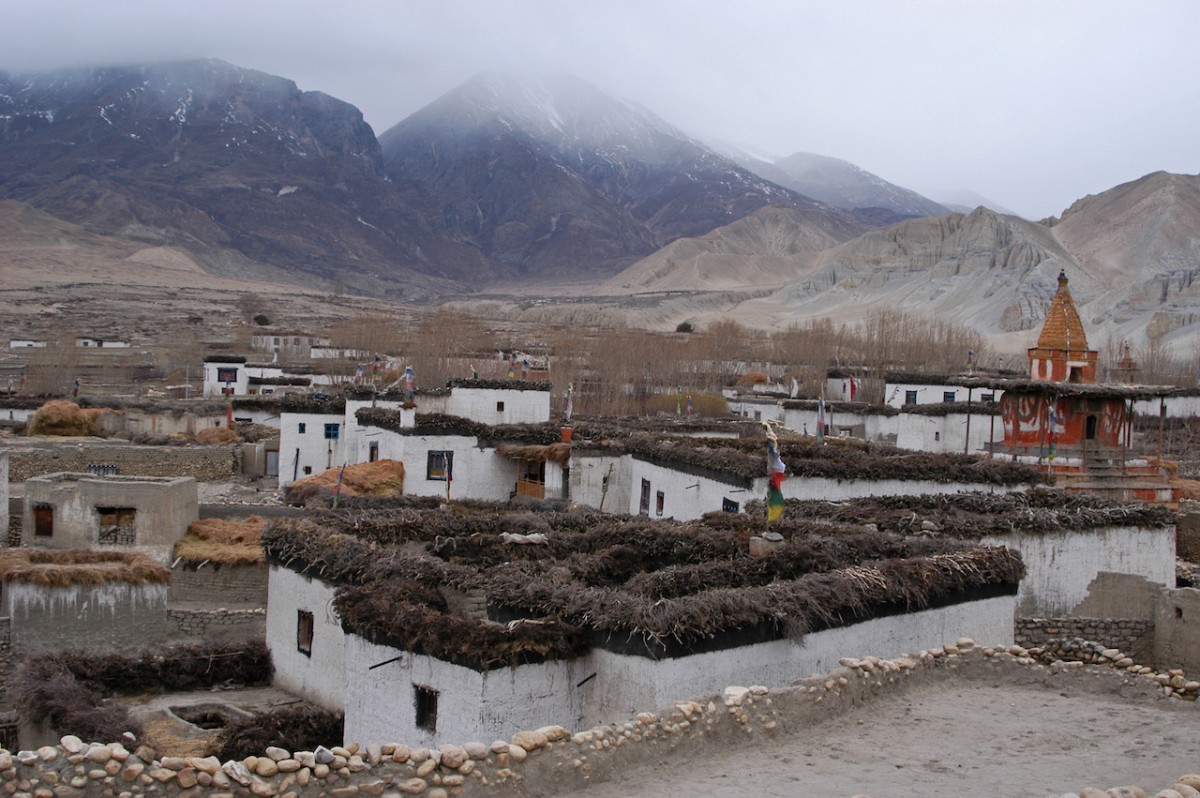 or both tourists and locals alike the advent of the jeep road has made a positive impact in many ways, yet traditions hold fast and strong up here in Upper Mustang, so other than we are now better connected to the outside world in Charang, we're still the same and the wild, spectacular landscape of Mustang has not been tamed!
Of course most tourists visiting Upper Mustang come to see and experience the region as a whole, but spending a night or two in Charang before heading to Lo Manthang is a good idea. If nothing else it helps you get used to the altitude!
But, don't forget that Upper Mustang remains a restricted area, so a special permit is required (see further below) to enter Mustang beyond the village of Kagbeni.
By Air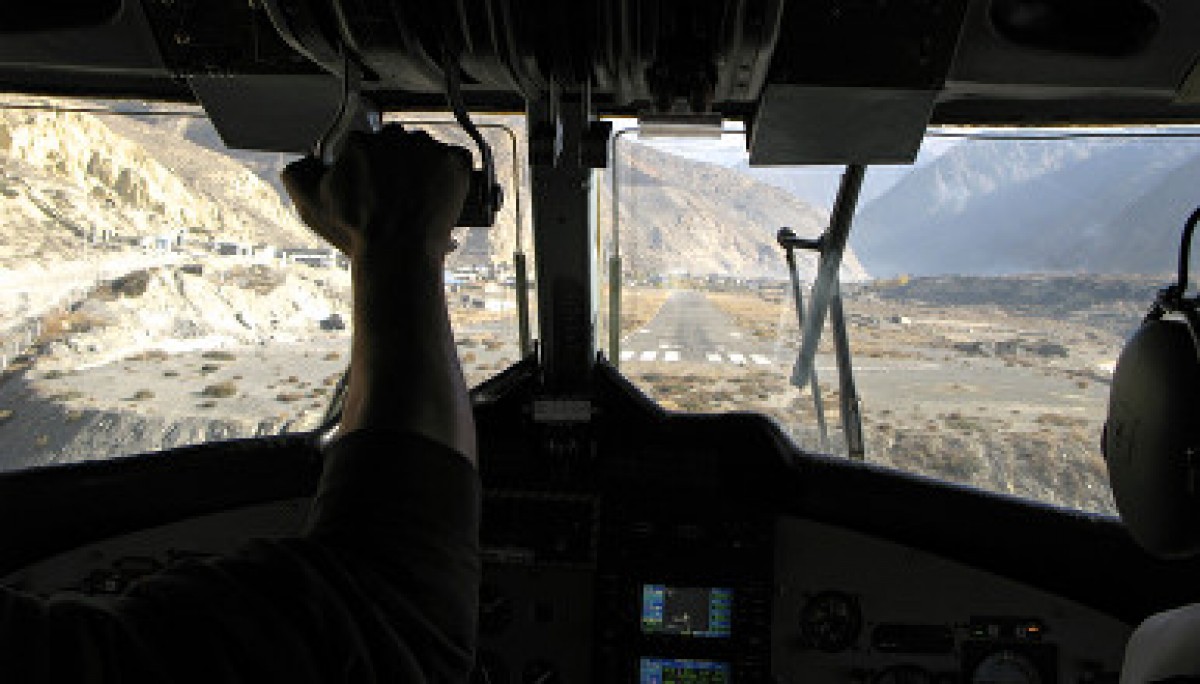 The nearest airport is at Jomsom. There are daily flights (usually early morning) between Pokhara and Jomsom. Flight time is a mere 18 minutes! From Jomsom it's a full days drive by 4WD vehicle to Charang
By Road (well….a sort of road)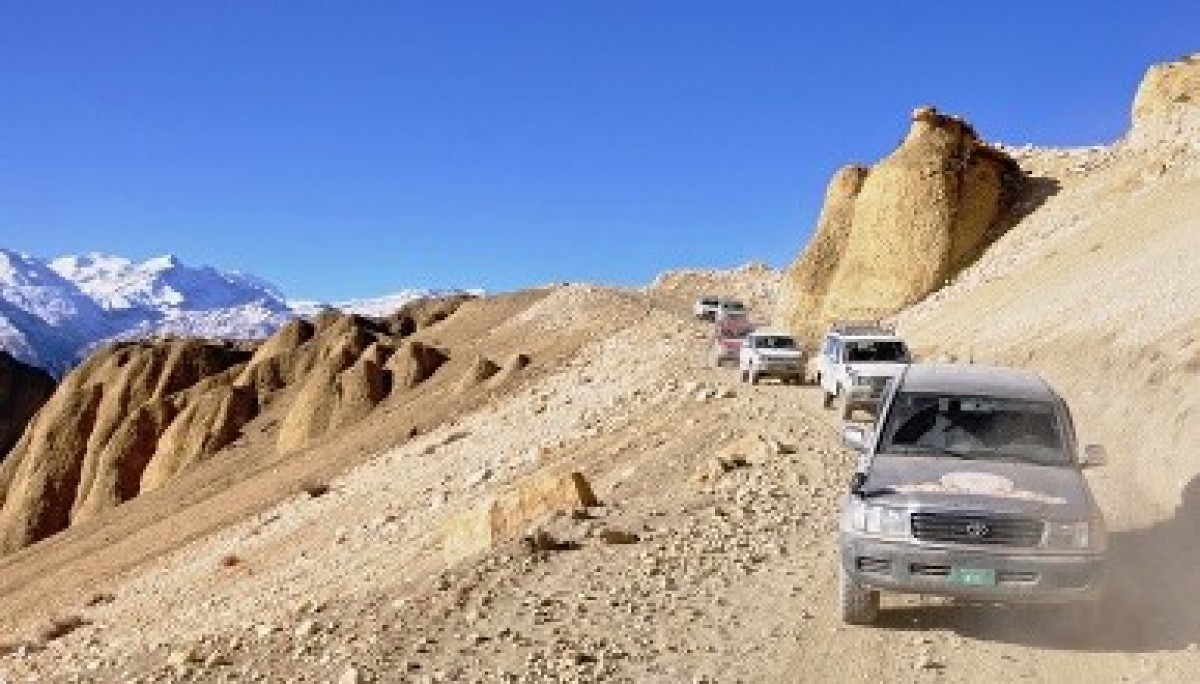 It's a spectacular two day drive by 4WD vehicle up through the Kali Gandaki Valley from Pokhara to Charang. You can come by mountain bike too! Travelling between the mighty peaks of Dhaulagiri and Annapurna then across the Tibetan Plateau must surely rank as one of the greatest road trip adventures on the planet.
See: Into The Forbidden Kingdom – Himalayan Road Trip Adventure
Trekking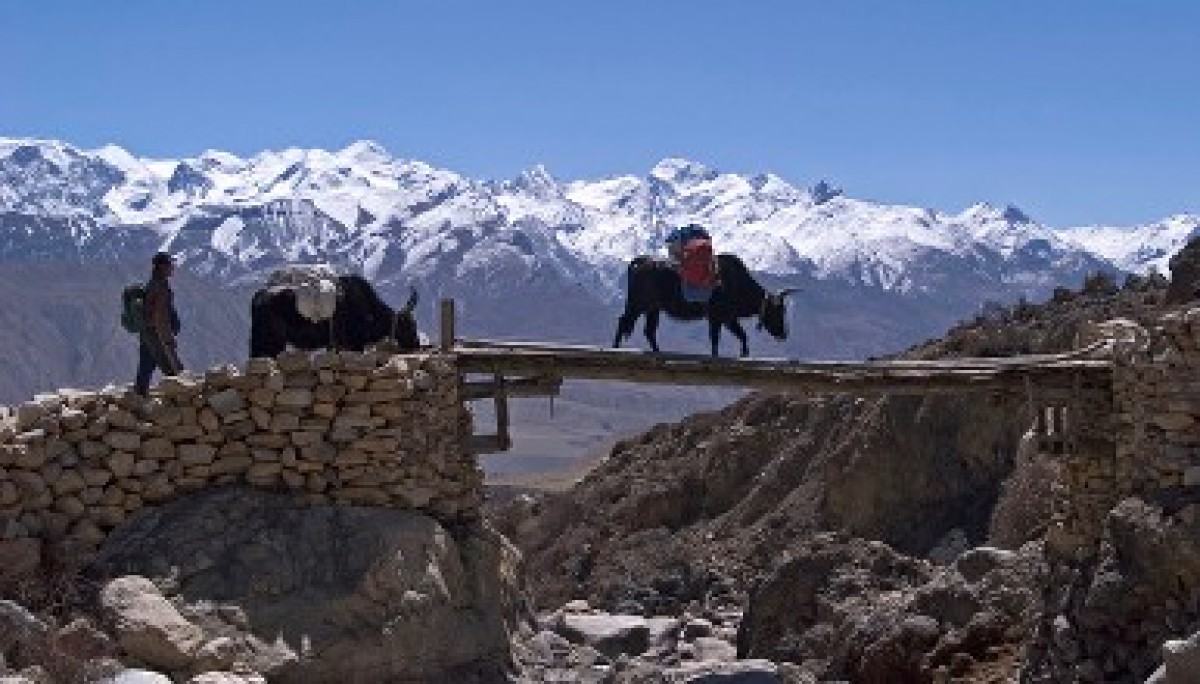 Of course there remains the traditional way of travel in Upper Mustang…..trekking! Most trekkers fly up to Jomsom from Pokhara. From Jomsom it's a 3-4 day hike (with acclimatisation along the way) to reach Charang.
Upper Mustang Special Permit
Until as recently as 1992 the Kingdom of Lo (Upper Mustang) was famously off limits to foreigners, earning it the unofficial title of "The Forbidden Kingdom". Even now, Mustang remains a restricted area and a special permit is required to venture beyond Kagbeni.
The combination of cost, permit restrictions and not least the challenges of travelling across a high altitude desert deters most tourists. Not least the independent "Nepal On a Shoestring" backpacker hordes.
A special permit to enter the restricted area of Mustang beyond Kagbeni costs in excess of $US 500 per person for ten days. The permit (minimum of two persons) can only be obtained through a licensed tour operator. You must also be accompanied by a licensed guide. The permit is for a minimum of two persons travelling together. If you're travelling solo you will have to pay for two Mustang permits and a little extra to "facilitate" the permit process.
The village of Charang has a couple of welcoming guest houses, although because Charang is in the restricted Upper Mustang it is likely that your Mustang Tour Operator will book your Charang accommodation for you as part of your Mustang trek or Mustang jeep tour.
Lumbini Guest House
This friendly family run guest house has just 9 cosy and comfortable rooms. All have proper beds and provide clean linen and blankets. There are communal hot showers and toilet facilities, although 6 rooms here have private, en-suite facilities.
Telephone: +977 9867 608 325
Maya's Inn
Owned and managed by "Princess Maya", the daughter of the last King of Mustang, there's certainly a palatial feel to Maya's Inn. Photographs of the Royal Family of Mustang adorn the main rooms in this distinctly Tibetan style accommodation, The guest house also has a camping site for the more hardy.
Telephone: +977 9847 788 897
Just be sure to tell them you want to visit Charang!
The village of Charang now has its own website too. Visit www.charang-mustang.com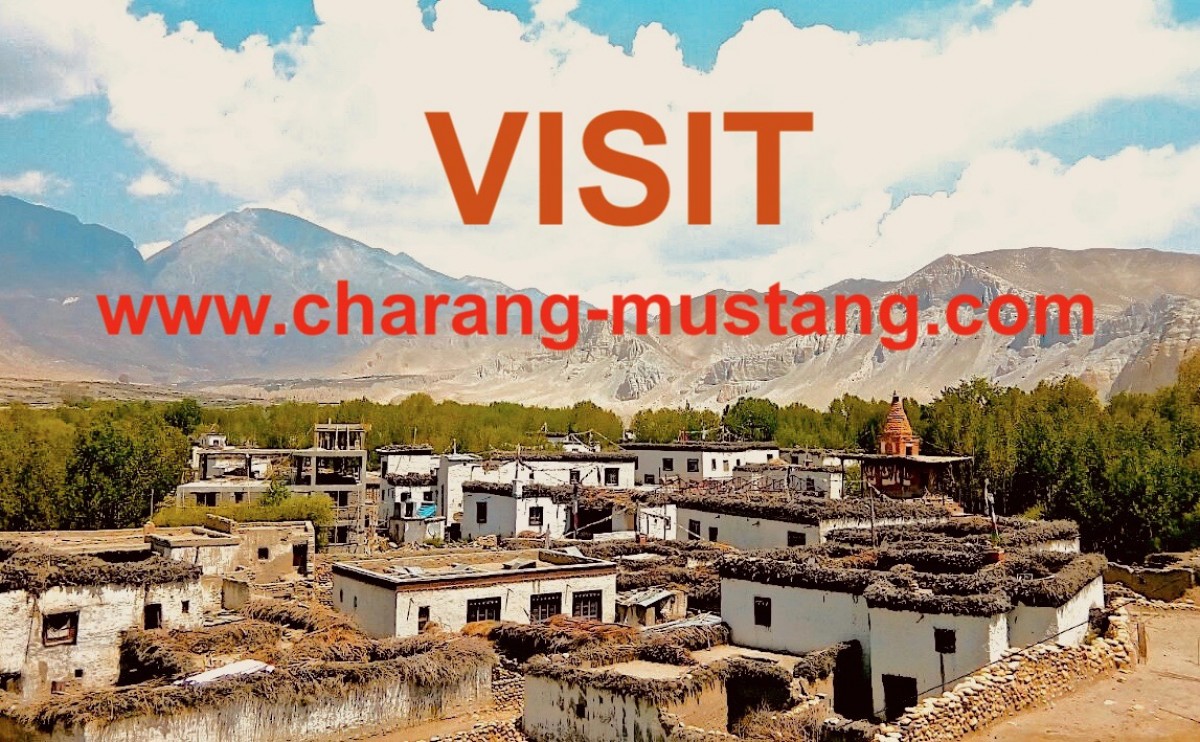 SNOW CAT TRAVELarrange CUSTOM Tours & Treks to the Mustang region of Nepal.
Just be sure to tell them you want to visit Charang!