Wild Women Expeditions Asks Women to Help Protect Planet; Launches Wild Womenkind Campaign
Posted: March 6, 2019
Wild Women Expeditions is launching a new campaign, Wild Womenkind (www.wildwomenexpeditions.com/wild-womenkind/), in honor of International Women's Day on March 8, 2019.
This company that pioneered women-only adventure travel today offers more international itineraries than any of its competitors in the women-only sector.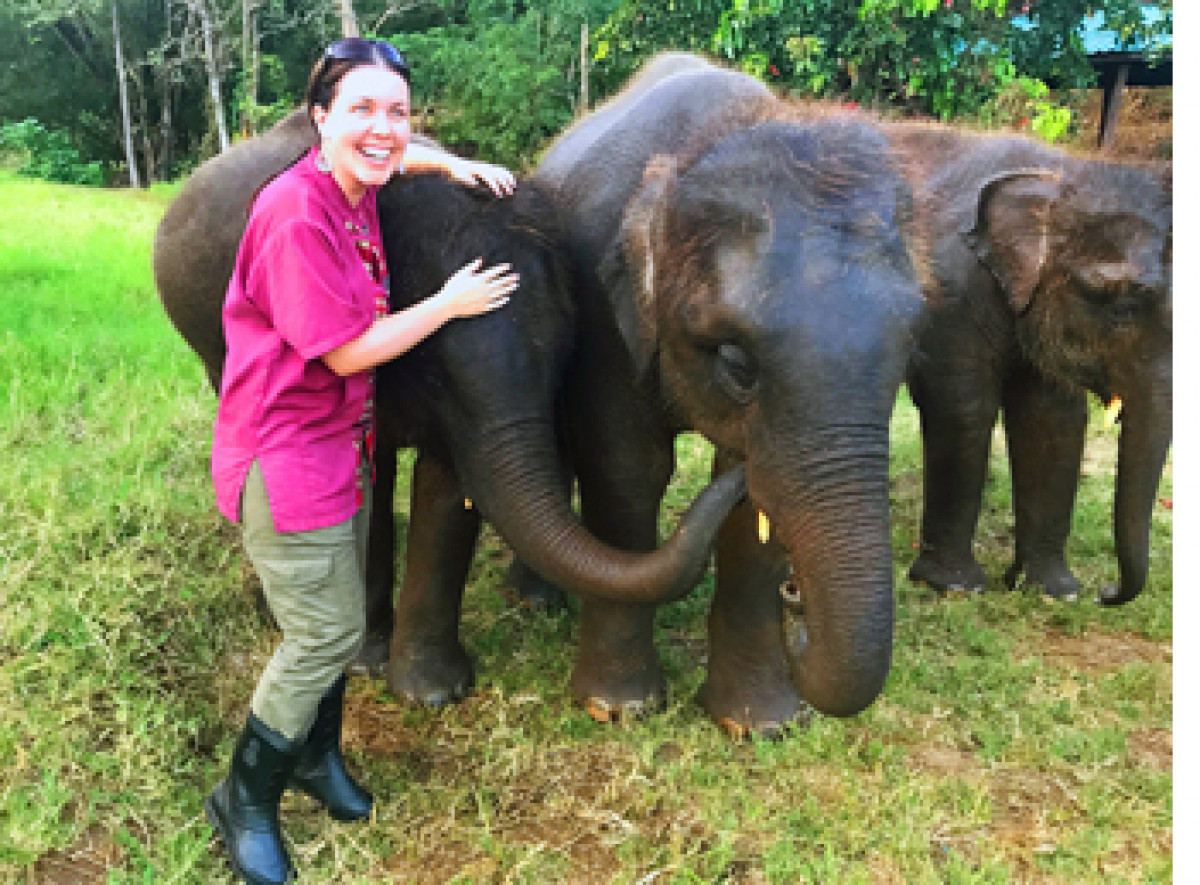 But to Jennifer Haddow, owner and guiding director, more important than the size of her company is its on-going, two-fold mission wrapped around the word kind: to support climate justice and to support women to take their place as leaders in the world of outdoor adventure travel.
Climate Justice
Wild Womenkind's initial campaign focuses on the Great Bear Rainforest in British Columbia. Wild Women Expeditions will invest in a conservation economy through a planned contribution of $10,000 to this valuable resource and by purchasing carbon offsets. The company will donate offsets on all of its domestic flights on all trips including staff travel. It will invite clients to offset and make a donation to Offsetters.
The primary recipient will be the Great Bear Forest Carbon Project. The setting is a temperate rainforest of 1,000-year-old Western red cedar and Sitka spruce that spans the Pacific Coast of British Columbia and is part of the world's largest remaining, pristine, coastal, temperate rainforest. Here, too, are the traditional (since 7190 BCE) territories of the Heiltsuk First Nation. The forest teems with life, including the Spirit (Kermode) Bear, a white (thanks to a recessive gene) relative of the American black bear that also resides here, along with cougars and wolves. In the surrounding water are flitting dolphins and the blowing mists of humpback whales. (For details see Great Bear Rainforest Kayak Adventure, an eight-day kayaking and camping journey with July 8 and July 15 departures in 2019. See https://wildwomenexpeditions.com/trips/great-bear-british-columbia/
"Our adventure in the Great Bear Rainforest celebrates the spirit of the international campaign to bring attention to this endangered coastline and its iconic wildlife. If we want to see precious places like this protected, we need to go there and enjoy them and show the world their tremendous value," said Haddow. "We support the end to the trophy bear hunt and making sure that threatened species such as sea wolves are targeted in a positive way by tourism."
The campaign also celebrates a new IMAX film, "Great Bear Rainforest: Land of the Spirit Bear." This 41-minute film debuted on Feb. 15, 2019.
Women Rising
In such diverse countries as Morocco and Thailand, Wild Women Expeditions' outreach to women – as guests on trips, as guides on these trips, as workers in their communities – is making a difference in the lives of the women themselves.
The key is empowerment that can lead women to taking on leadership positions. For example, two itineraries being introduced this year focus on the Berber culture of the women of Morocco. Morocco is known for being one of the most progressive states in the Middle East and North because of its support for women's rights. Despite these advancements, women's education in Morocco still lags behind and over 80% of women are illiterate. By casting Moroccan women as, among others, drivers and guides for these trips, Haddow hopes that both guests and locals will be empowered.
"On our Morocco tour we put the stories of women in the spotlight while empowering them with opportunities to benefit from tourism and play a leading role," she said.
Wild Women Expeditions tours in Morocco will help empower women by:
Working with a female Berber entrepreneur who owns the transportation company for these tours and who hires female drivers;
Engaging Berber Moroccan women as tour leaders are hiring female guides;
Supporting trek guide training for Moroccan women;
Visiting women's cooperatives where locally made items are sold;
Basing in a riad in Marrakech that employs women trained by the Amal Centre for disadvantaged women (http://amalnonprofit.org/);
Conversing over a women-hosted dinner in Casablanca through Al Hidn, an association that empowers illiterate widow women in rebuilding their lives through a series of educational programs as well as providing them with financial and educational support to keep their kids in school;
Supporting the Henna Café, a social enterprise project for women in Marrakech;
Using accommodations that reflect the company's commitment to women's empowerment, such as the Kasbah Toubkhal that co-founded the Education for All program for girls' education (an additional 5% of the revenue from a group stay here is donated to this local project);
Donating to the Education for All campaign as a project partner;
Being mindful of the environment – through women – with an overnight at an eco lodge owned by a local woman and part of an ecotourism initiative focused on empowering local women in the Riff: See: http://www.gitetalassemtane.com/en/qui-sommes-nous/
For details on two itineraries being offered see:
https://wildwomenexpeditions.com/trips/medinas-to-mountains-northern-morocco/
and https://wildwomenexpeditions.com/trips/mosiac-of-wild-morocco/
Wild Womenkind extends a hand to both women and wildlife. On Elephants, Treks, and Temples Tour (https://wildwomenexpeditions.com/trips/thailand-elephants/) Wild Women Expeditions supports an elephant project run by the Karen Hill Tribe women to protect elephants that had been abused in an exploitative riding camp. The company is a funder of the first elephant hospital in Thailand and it supports the campaign of the Asian Captive Elephant Working group, a leading coalition of elephant experts and conservationists. See: https://www.youtube.com/watch?v=Gl-AxWDkniU&t=1s
"Our company is about heart. We want to change how women perceive leadership and empowerment, to value connection and compassion more than competition. Women are rising in the adventure travel industry and approaching each other and our environment with kindness is the key." Haddow added.
About Wild Women Expeditions
Founded in 1991, Wild Women Expeditions is the world's largest women-only travel company. Its initial focus was on canoeing on remote Ontario waters. Through an unwavering focus on Canada, one of the wildest, most pristine countries in the world, Wild Women Expeditions became experts in a pioneering niche that introduced small groups of women into wilderness settings. The company now hosts guests all over the world, offering more trips and more women-only, backcountry camping, hiking, paddling and horseback adventures than any other women's travel company in the world.