Wild Women Expeditions Introduces Women-Only Canoe Expeditions On Epic Routes in Canada's Northwest Territories
Posted: October 15, 2018
In 2019 Wild Women Expeditions will host two canoe expeditions on rivers in Canada's Northwest Territories that figure among the most epic paddling routes in the world.
The rivers are the Keele and Nahanni in the remote Northwest Territories that has a population of just over 42,000 and occupies 519,000 square miles due north of Alberta, Saskatchewan and the northeast corner of British Columbia. A jagged coastline favored by migrating and nesting birds juts into the Arctic Ocean, sandwiched between Yukon Territory on the west and Nunavit to the east.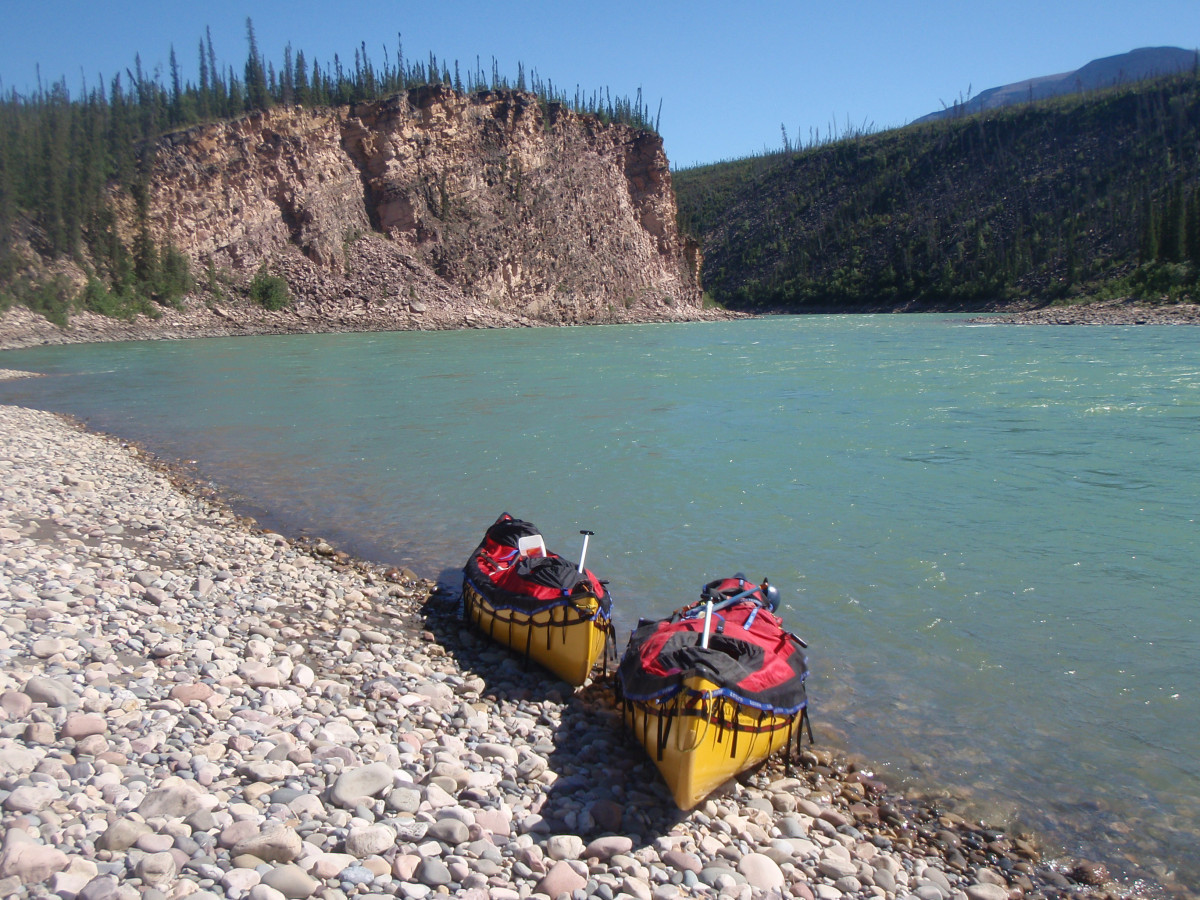 Wild Women Expeditions' 12-day Keele River Canoe Trip, designed for experienced backcountry canoeists who also have beginner whitewater skills, explores some 300 km (186 miles) of the Keele River, part of a river system that eventually flows into the Mackenzie River and out to the Arctic Ocean. The route through the Mackenzie Mountains (a northern extension of the Rockies) and onto the Mackenzie River passes caribou, moose, grizzly, Dall's sheep, wolves, wolverine and fox. Eagles, hawks and a variety of song and shore birds hover over Arctic Grayling and Dolly Varden navigating the currents of the river.
Custom-covered canoes make light work of Class I and II rapids and chutes, eventually dropping 122 feet into ever-lusher lowlands. The Keele River area is the traditional lands of the Mountain Dene (a First Nations people) who hunted, fished and over time traded furs at Fort Norman before walking back into the mountains where they spent their winter together in small family bands. The Dene name for the Keele River was 'Bacotyeh', meaning "meat drying river." Early European river travelers dubbed this Gravel River enroute to the Yukon during the Gold Rush of the late 1800's. Today, there are no year-round residents in the Keele watershed as most have moved into villages along the Mackenzie.
This adventure is July 18-29, 2019. The per person rate of $5,995 CAD includes the services of female guides (5:1 ratio); 10 nights camping, one hotel night; all meals and snacks; canoeing gear and equipment including custom 17' ABS expedition canoes with spray decks, paddles, PFDs, throw bags, knee pads, paddling helmets, and safety equipment; camping gear including tents (free standing custom expedition dome tents) and camp kitchen equipment; communications equipment (satellite phone); and roundtrip ground and charter float plane transportation between Norman Wells and Keele on Days 1 and 11. See: https://wildwomenexpeditions.com/trips/keele-river-canoe-trip/.
The 15-day Nahanni River Canoe Adventure reveals the largest mountains, deepest canyons and grandest waterfalls in the Northwest Territories. Part of the Nahanni watershed is a UNESCO World Heritage Site. The South Nahanni River is Canada's premier wilderness river, so remote that as few as 250 people annually paddle here. This itinerary is for experienced backcountry canoeists with some (intermediate) whitewater canoeing skills.
This adventure is Aug. 2-16, 2019. The per person rate of $6,995 CAD includes the services of professional female guides; 12 nights camping plus guest house accommodation on the first and last nights; all meals; canoeing equipment (custom 17' ABS expedition canoes with spray decks and knee pads, paddles, PFD's, throw bags, paddling helmets and paddling (dry) suits); camping equipment, free standing custom expedition dome tents (including private tent upgrade option for $60 CAD), kitchen with tarp, firebox, cooking stoves and utensils. Personal equipment including canoe barrel, sleeping bag and sleeping pad are available upon request. Also included are safety equipment (first aid, safety, river rescue, repair kits, satellite phone); $200 National Park fee; roundtrip ground transfers to/from Fort Simpson Airport; charter float plane flight from Fort Simpson to Rabbitkettle Lake, and shuttle from Lindberg Landing back to Fort Simpson. See: https://wildwomenexpeditions.com/trips/nahanni-river-canoe-adventure/.
After meandering through a broad U-shaped valley, paddlers set up camp at Virginia Falls, twice the height of Niagara, with inviting hikes to the summit of nearby Sunblood Mountain on the other side of the river, and a challenging portage around the falls to come. Below the falls the river squeezes into a series of steep-walled canyons, with opportunities for day hikes, fishing, photography and exploring a Dene (Slavey) village before showers and home cooked meals at a nearby homestead. The Dene represent people who migrated across the Bering land bridge from Asia at the end of the last ice age about 12,000 years ago. The modern Slavey First Nation people who call themselves Dene likely arrived in the Mackenzie valley in the 18th century. Contact with Europeans came with the fur trade; the Dene traded furs for guns, knives, tents and portable stoves.
For details, availability and reservations for these trips and all the worldwide programs offered by Wild Women Expeditions please see https://wildwomenexpeditions.com/.
For questions and requests call 1 (888) 993-1222 or email [email protected].