Wild Women Expeditions Plans Journey through Millennia Traversing Mongolia's Gobi Desert
Posted: October 2, 2019
For 12 days in 2020, Wild Women Expeditions will immerse women-only guests in a universe so old, so vast and so remote that the 21st century itself is at risk of seeming other-worldly.
The pioneer of women-only travel has arranged an in-depth foray into the Gobi Desert that is on the distant frontier of adventure travel. The May 13-24 and May 27-June 7, 2020, Women of the Gobi Desert Tours are one-of-a-kind itineraries that begin and end in Ulaanbaatar, the capital of Mongolia. This city is in the northern realms of the Gobi that spans some two-thirds of Mongolia's southern border with China.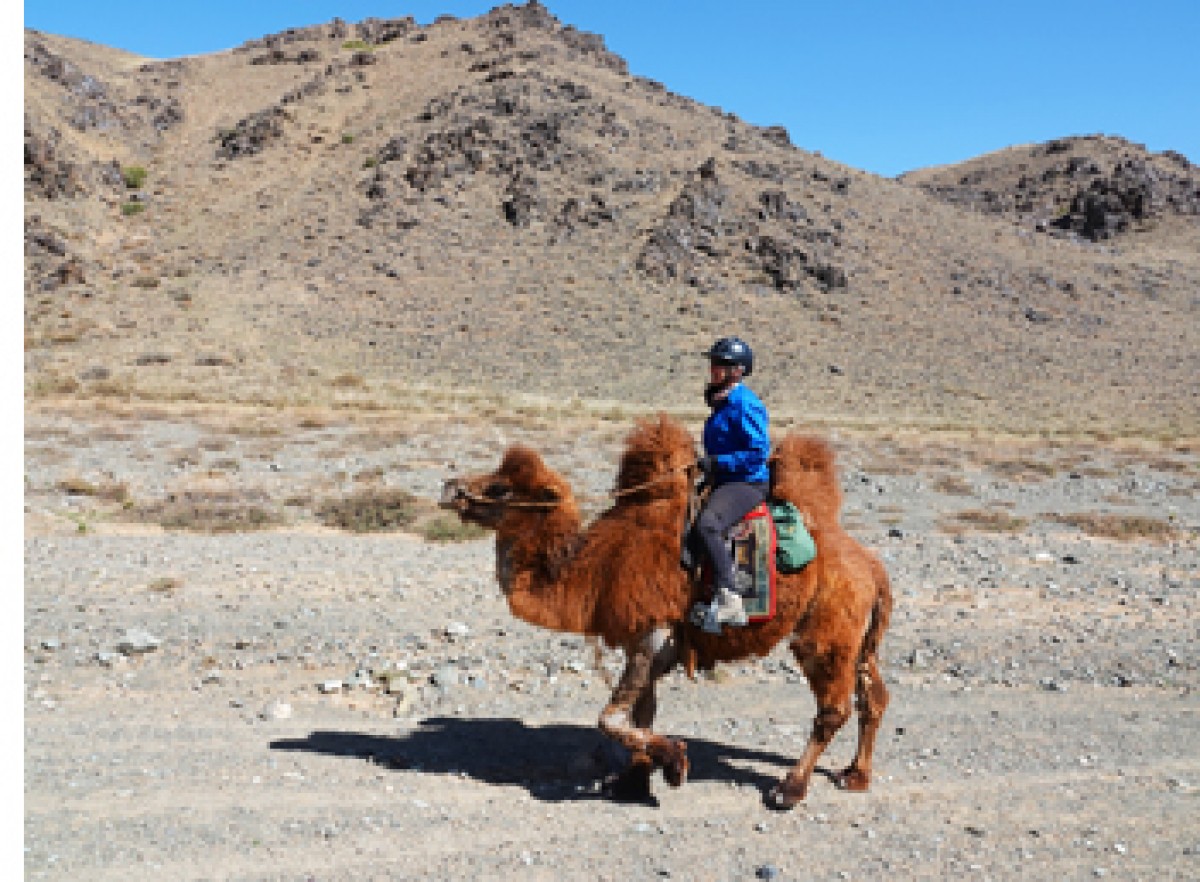 This is the landscape that inspired Russian composer Alexander Borodin's symphonic poem, "In the Steppes of Central Asia." This is the landscape once home to the united tribes of Genghis Khan's 12th century Mongol empire. Today it is home to several endangered species, including the snow leopard, the Gobi bear, the Mongolian wild horse or Dzungarian horse, and the traditions of its people facing the challenges of a nomadic way of life that soon may become extinct.
A mission of Wild Women Expeditions is to support women, wherever possible, against the hazards of marginalization due to change. Laced through this itinerary are opportunities for visitors to see firsthand how nomadic women are managing the trajectory of change brought about by modern climate issues and by the collapse, less than 20 years ago, of the former Soviet Union. They will also be able to discuss with Gobi women their takeaways from a UNESCO project launched in 1991 to help nomadic women protect themselves from becoming marginalized due to economic ups and downs. Reads a UNESCO report: "Nomadic women, in this process, have become active earners and agents of change in the desert."
The women of the Gobi are far from other-worldly, with feet solidly planted in work in conservation and community development and who serve as leaders in social organization. Local groups are typically led by women who are warriors of survival. Their activities have evolved over time, but a focus remains on pasture land management, nature conservation, vegetable growing, tree planting, dairy processing and social activities.
Women here are charged with shaping a better life for their families, communities and themselves. Guests meet up with one community leader among the local herder women who has reached beyond the Gobi to display her products overseas at a slow food event.
Guided by Duya, the female guide for this expedition, guests and hosts interact during a homestay with a family that herds cattle. In one of the model rural districts in Mongolia, with notable modern buildings for school, hospital and administrative buildings, a local women's group explains how and why women expanded from solely domestic use to commercial application of their creations from sheep wool felt and camel yarn. Another visit to a women-run cooperative reveals centuries of tradition in displays of handmade garments of felt and yarn, often with embellished with colorful embroidery.
Although the economic realities around Gobi women are in flux, the desert itself remains steadfast. While traversing the desert guests learn that the most prolific indigenous plants are halophytes, plants tolerant of salts, indicating that this vast region was once a sea. Moving through ice-filled gorges and through red rock formations, they discover the story of the late Roy Chapman Andrews, one-time director of the American Museum of Natural History, whose work in the Gobi unearthed dinosaur eggs, specimens of bird-like dinosaurs (protoceratops) and even crocodiles.
Surviving millennia are petroglyphs 3,000 years old; millennia of domestic detritus dumped 750,000 years ago in caves (resulting in clumps called middens); and traditional dwellings that include yurts or gers that will be home base for guests who variously are driven on 4x4 vehicles across the landscape, or led on hikes or bounced on Bactrian camels.
Stupas and prayer flags mark monasteries destroyed in political purges along a route advancing over sand dunes known as the Singing Sands. Heading to the ancient capital of Kharkhorin (Karakorum), visitors survey Mongolia's traditional croplands of wheat, augmented with oats and barley, potatoes and vegetables.
The per person rate for this adventure is $3,695 USD including accommodations in hotels, ger camps, homestays in the guest ger of herder families and tent camping, travel costs, meals and entry fees to museums and protected areas.
For details on this trip please see:https://wildwomenexpeditions.com/trips/women-of-the-gobi-desert/
About Wild Women Expeditions
Founded in 1991, Wild Women Expeditions is the world's largest women-only travel company. Its initial focus was on canoeing on remote Ontario waters. Through an unwavering focus on Canada, one of the wildest, most pristine countries in the world, Wild Women Expeditions became experts in a pioneering niche that introduced small groups of women into wilderness settings. The company now hosts guests all over the world, offering more trips and more women-only, backcountry camping, hiking, paddling and horseback adventures than any other women's travel company in the world.