Posted: August 2, 2019
Wildland Adventures' donor safari combines adventure travel with hands-on conservation
Safely hidden within a half-buried shipping container, we watch testosterone-driven bull elephants trumpet, driving off thirsty matriarchs also desperate to drink. Beneath them, babies snuggle against their mothers' legs, stretching their miniature trunks toward the clean water bubbling up to the surface. In the distance, kudu and antelope nervously await their turn at the trough.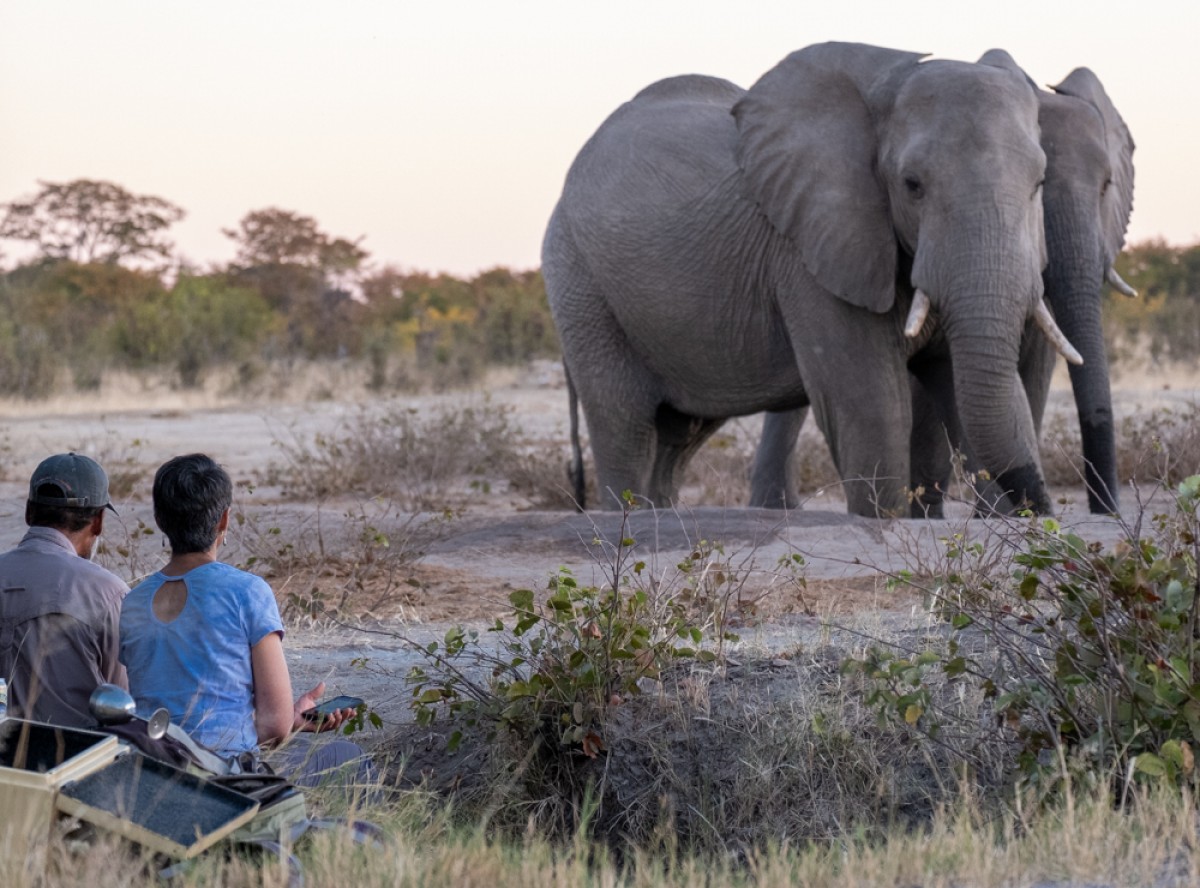 Getting this close to African wildlife is the ultimate safari experience. Here in Zimbabwe's Hwange National Park, it also offers a once in a lifetime opportunity to help keep these animals alive. Every participant has committed to giving back as part of the cost of participating in Wildland Adventures' inaugural Water for Hwange Donor Safari. In return, they have a unique opportunity to experience incredible wildlife viewing, learn about village life and community development, and directly contribute to hands-on conservation efforts here on the front lines of African wildlife protection.
In 2018, Wildland partnered with Zimbabwe's Imvelo Safari Lodges to create Water for Hwange, an initiative designed help sustain water resources vital to wildlife and communities in and around the park. Water for Hwange was subsequently awarded a $20,000 grant from the Adventure Travel Conservation Fund to install solar hybrid game water supply systems and community water pumps designed to help provide an eco-friendlier environment. They then launched this donor safari, which combines a world-class adventure travel experience with the opportunity to take an active part in these initiatives.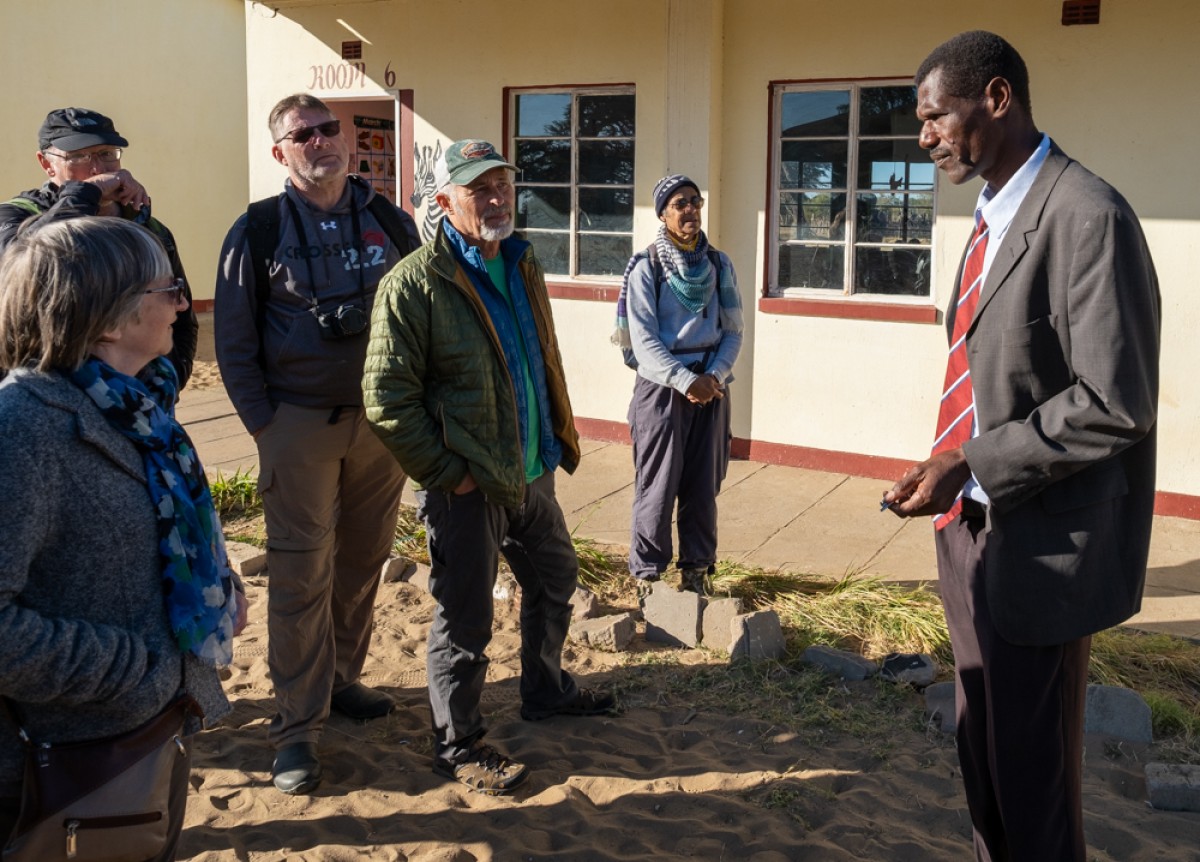 "I've been on other African safaris, but I feel like this is a much more meaningful trip than 'I've ever taken before, one that leaves you more connected to the place," says Carolyn Zehrer, a management consultant from Chicago, as we chat after a morning game drive. "Our interactions with people here, including Imvelo's staff, have felt so much more authentic than my experiences in other safaris, "she adds. "Anyone who chooses to come on this trip will take away much more personally than just photos of pretty animals."
Building a Better Future
The authentic interactions begin on our first morning in Hwange, when Imvelo Managing Director, Mark Butcher, our guide for this safari, drives us to Ngamo Primary School, located within the Tsholotsho communal land adjacent to Hwange's southeastern boundary, just a few miles from Imvelo's Camelthorn Lodge. As our Land Rover crosses the sandy soil of the Ngamo Plains, groups of children, some as young as five, race to catch a lift to school with us. Laughing and singing, they are having a ball with their new foreign friends.
"Many of these kids walk well over ten kilometers to and from school each day," Mark says as he stops to let more youngsters climb aboard. "Some don't have enough food at home for a proper breakfast, and are exhausted by the time they reach class, making it much harder for them to concentrate."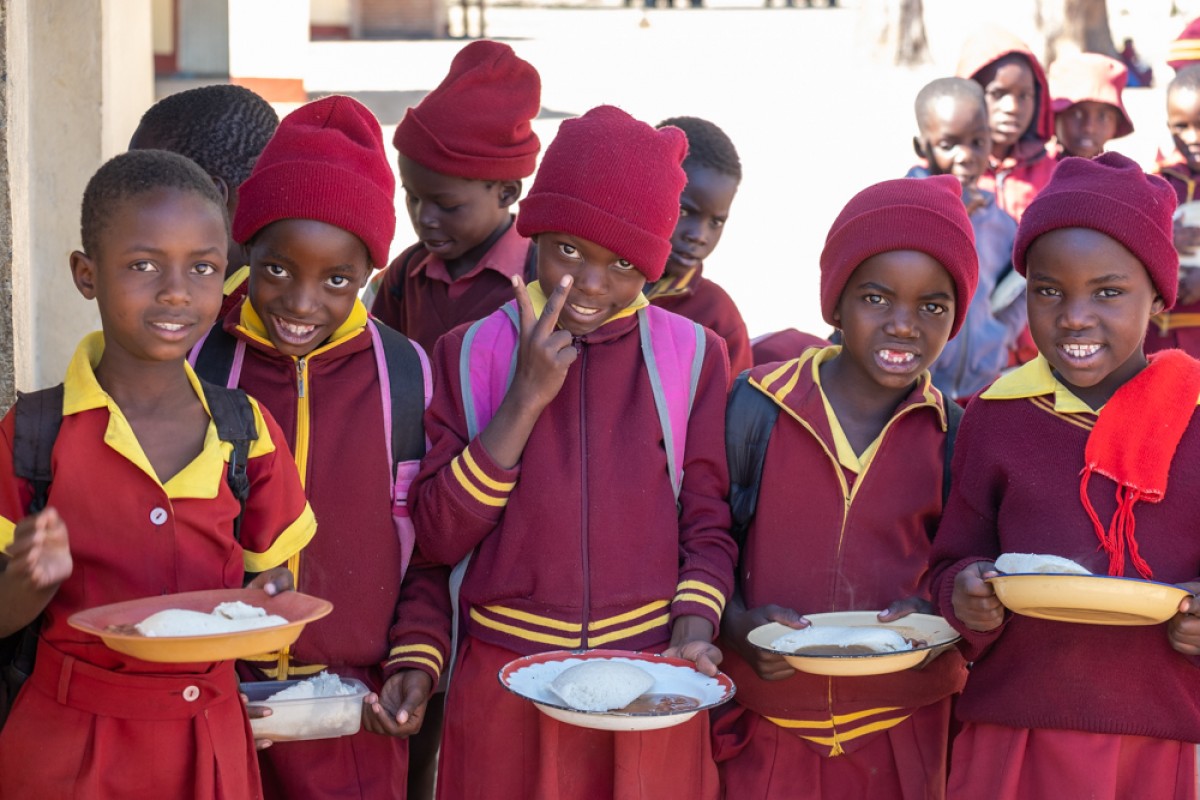 To address this issue, Imvelo has been providing free school lunches at Ngamo Primary and several other schools in the region since 2011. Each of the participants on our Water for Hwange safari has also generously donated toward ensuring that these kids receive at least one nutritious meal a day. According to school headmaster, Moyo Mthenjwa, the Hwange School Feeding Program has made an enormous impact. "You'll find almost 100% class attendance where we're feeding these children," he says as Ngamo's students line up for their daily ration of beans, collard greens and cooked cornmeal called sadza.
"When you consider that a donation of just three dollars can feed a child here for a month, it feels great to be able to contribute," says Janine Wasson, a program manager from Fort Worth, Texas, here with her husband, Eric. Janine, who has visited schools all over the world while working internationally, says she has never experienced anything like Ngamo Primary. "To be able to bring smiles to their faces," she says. "I could have stayed there for a week, just being with them."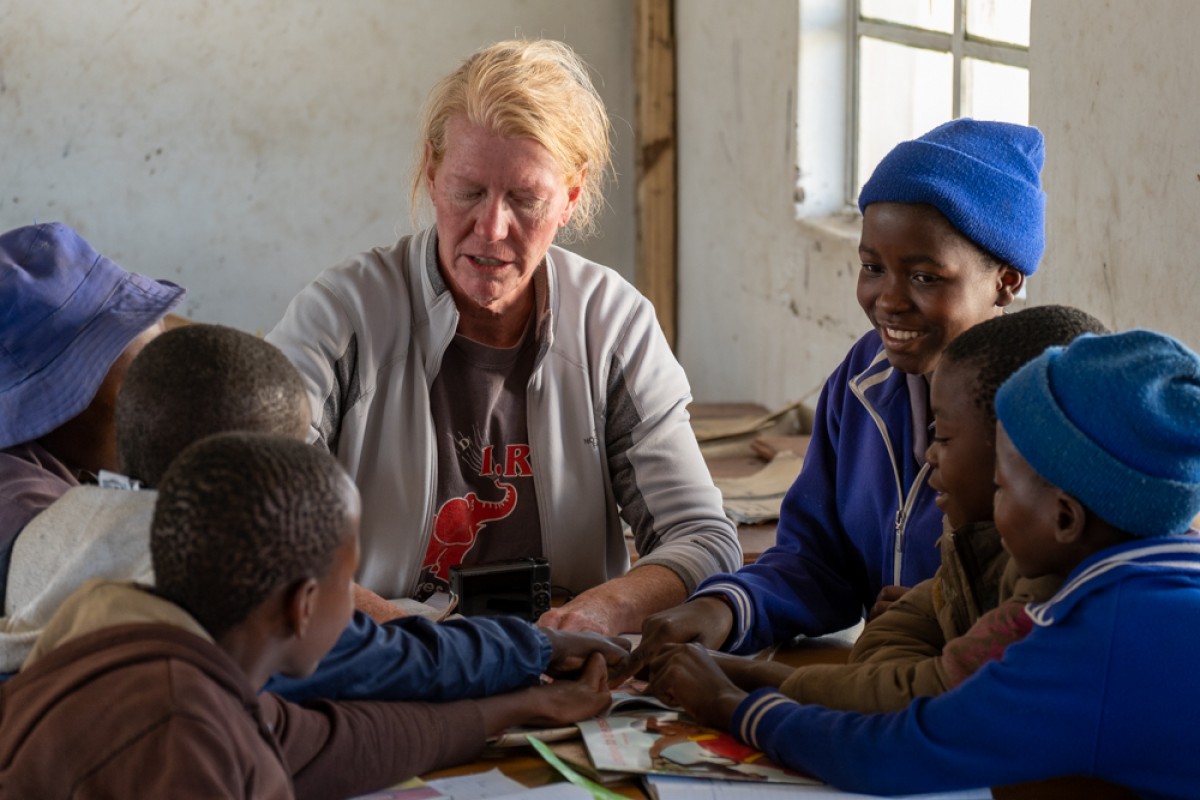 The Pump Run
After touring a nearby village with its headman to learn more about the challenges of daily life on the edge of Hwange, we embark on a two-day journey to the most remote part of the park – a wild and until recently seldom visited outpost called Jozibanini. Long abandoned by park authorities, this starkly beautiful land of ever-shifting Kalahari sands and Mopani and Zambezi teak forests was a poachers' paradise until Imvelo established a camp here in 2014. Now, it's a base for both management of scarce water resources and the inspiration for an extraordinary African bush experience.
On the way to 'Jozi,' as the locals call it, we inspect several wildlife waterholes, called pans, where Imvelo has recently installed game water supply systems partially funded by our group of donors. At Mbazu and Mfagazaan pans, we christen a new solar hybrid pump that will provide water for thousands of elephants and other wildlife in southern Hwange. And at nearby McKenny village, we're greeted by applause from villagers who have just received a new solar pump that will save them hours of daily labor having to draw water by hand.
"Access to water is the most of human needs and the fact that these people have worked so hard to get it for so long," remarks Elizabeth Allen, a public health nurse from Bellingham, Washington. "I think the water for Hwange program is critical. I'm so glad 'they've done it."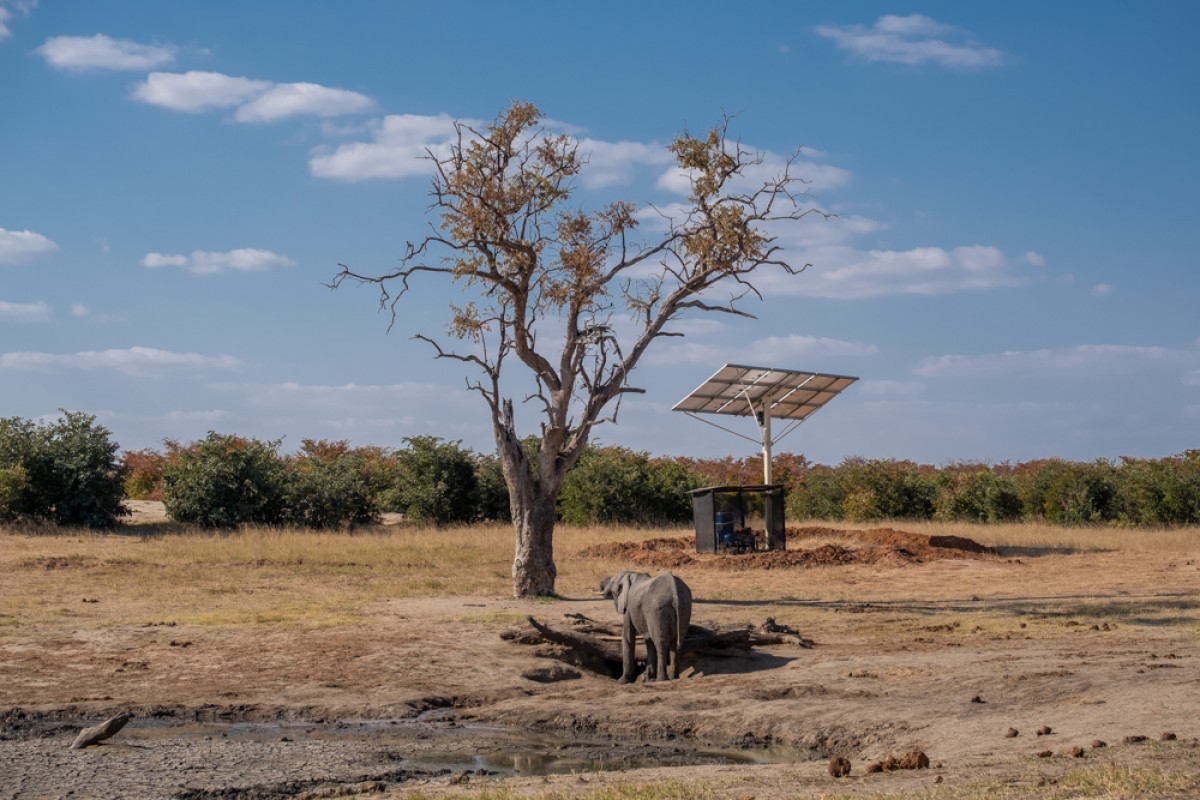 The village's headman, Mr. Dumisani, couldn't agree more as he embraces his beneficent visitors. We want to create things here, not just struggle. If we have water, we have life. Thank you for your help." It's a memorable and profoundly moving encounter for villagers and visitors alike, one whose sentiments of caring across continents will reprise again and again as we observe the positive impact that providing clean water and essential nutrition can make on the lives of wildlife and human populations here.
Inspired by the tireless efforts of Mark Butcher and his Imvelo team, we'll also begin to appreciate the complexities of Africa's human-wildlife conflicts, and how their efforts to alleviate them through responsible community-based tourism are making a real difference. I'll be continually impressed and humbled by the generosity of donors like my companions. And we'll all depart from this transformative adventure travel experience feeling more hopeful that the water will continue to flow and the future will be brighter for Hwange, its wildlife, and its people.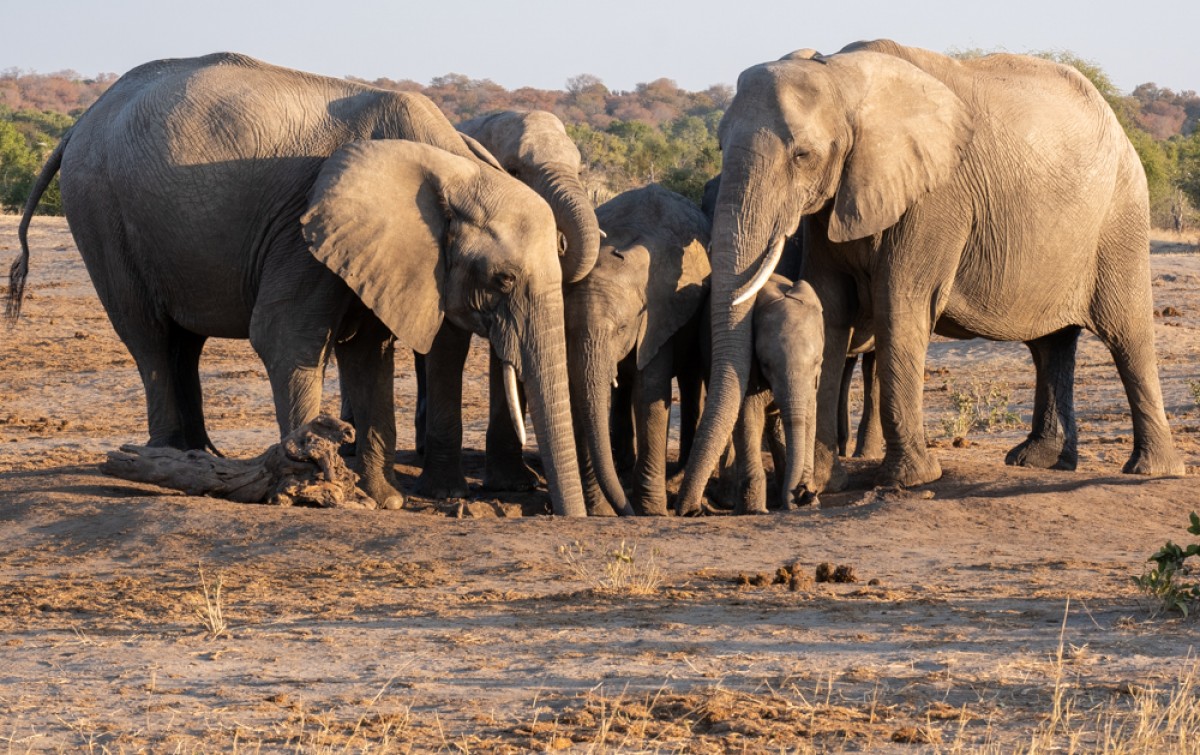 More
Sign up for Wildland's 2020 Water for Hwange Safari.
Learn more about Imvelo's community development initiatives.
Learn more about the ATCF's support for Water for Hwange
Donate to Wildland's Zimbabwe School Feeding Program GoFundMe campaign.