About Adventures in Good Company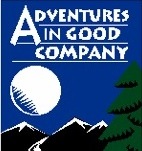 Adventures in Good Company is an active travel company for women with adventurous spirits. We offer small group adventures that encourage women of all ages to (re)connect with their adventurous selves, physical abilities, other women, different cultures, and the natural world.
From hiking to sea kayaking, backpacking to multisport adventures, our vacations are for women who love being active, whether they're first time travelers or lifelong outdoorswomen. It's not about how fast you hike or how many passport stamps you have- it's about taking on a new challenge with the support and friendship of the AGC community.
We create experiences of a lifetime for women seeking a new adventure. We handle the logistics so you can fully experience some of the most breathtaking places on earth alongside other curious women and with the support of our experienced guides.
Together, we share new experiences. We build community. We eat delicious food. We laugh a lot. And we walk (or paddle, snowshoe, or ski) away with new friendships and a mixture of deep satisfaction and a hunger for our next adventure.
What you can expect
Itineraries designed with sustainability in mind- they will introduce you to some of the most beautiful places on the planet and leave you with a new understanding and deep appreciation of them.
Experienced guides whose focus is to keep you safe and well fed, and assist you in having the trip you're hoping for.  They are experts in acquainting you with the natural and cultural history of the area and show you the sights you would never see on your own.
Excellent organization both before and during the trip so you know when and where to show up, what to bring, and what you can expect the next day
A small group size (usually 10-14 women) that quickly makes it feel like you're traveling with a group of new friends
Great food! When we're eating in restaurants we almost always order off the menu. On other trips the guides cook meals that are healthy and delicious using time-tested recipes.