About BikeHike Adventures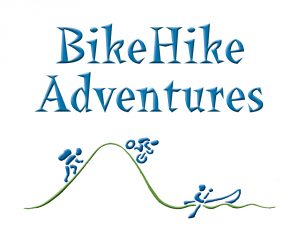 In 1994, BikeHike Adventures was born...out of Founder Trish Sare's vision to create an adventure tour company that connected travellers to the communities they visited on a deeper level than what was possible through conventional travel tours. BikeHike Adventures is deeply focused on connecting travellers to the destination.
BikeHike adopted the tagline "connecting the world through active travel" as a way to better articulate BikeHike's focus. With this tagline, we hoped to better express that by biking, hiking and participating in related activities, the traveller is given a greater opportunity to connect to a destination. When you are getting around with your own muscle power, you just feel more grounded in that place and you can go deeper into the landscapes and communities than if you are using more traditional forms of transport. You see more places, meet more people, create more lasting memories...  And as someone who has always enjoyed staying active in her everyday life, Trish also realized that not only is staying active on vacation healthy, but it's also incredibly invigorating and spirit boosting when you experience new places while remaining active!
Now, 23 years after BikeHike Adventures' first official trip (in Costa Rica), BikeHike runs tours in more than 30 destinations worldwide...
Our adventure vacations include multi-sport and cycling tour itineraries that provide the exceptional ability to navigate each region from a variety of angles and altitudes. A typical tour with BikeHike Adventures includes a combination of adventure activities such as biking, hiking and kayaking. However, BikeHike can create private, customized adventure vacations for you that include your favourite adventure activities. We want to help you build your dream vacation whether it be for a family adventure vacation, a honeymoon, a friends getaway or any other special group vacation. At the core of everything we do as an adventure travel company is our belief that relationships and connections truly matter. At BikeHike, not only are we adventure experts, we're experts at creating precisely customized active vacations! BikeHike also offers vacations perfect for singles travel. All of BikeHike's adventure tours are single friendly, with no extra fees for solo travellers to join a set departure.
While BikeHike Adventures already offers many award-winning trips, we've also recently added some exciting new adventure tours including Cycling Colombia: The Coffee Region & Beyond  and Macedonia: Multisport through the Balkans.