About Boogie Pilgrim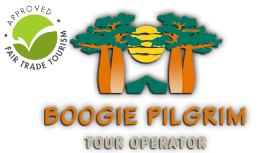 ABOUT BOOGIE PILGRIM • TOUR OPERATOR IN MADAGASCAR
The 4th largest island in the World is an outstanding destination for a life's travel: You will be amazed by its biodiversity, its gastronomy, its inhabitant's kindness. BOOGIE PILGRIM is a Tour Operator in Madagascar since more than 25 years. We offer tours in Madagascar and journeys in our two lodges located in great places. Travel without worrying, we take care of you from your arrival at the intl airport to your departure, thanks to our support team in Antananarivo, capital city of Madagascar. For your comfort during tours, our guides speak English, French, German, Italian, Russian and Japanese. Professionalism and experience of Boogie Pilgrim agency in Madagascar is the best to travel with calm while getting out of the tracks! Dare Madagascar !
ECOTOURISM
Discover the unique Fauna and Flora of Madagascar in a responsible way, by contributing to the environment protection and to the local population well-being. Indeed, Boogie Pilgrim is one of the few Tour Operator in Madagascar to be approved by Fair Trade Tourism® in 2015! Madagascar is full of national parks with endemic species such as Chameleons, Baobabs, lemurs and much more!
ADVENTURE
Travel across Madagascar by hiking, trekking, sailing, camping... to reach the most remote and preserved places. It is the best way to discover authentic Malagasy cultures. We work for a long time with specialists to guarantee your safety all along your journey. Dare the adventure with Boogie Pilgrim!
SOCIAL EXPERIENCE
Enjoy the hospitality and friendliness of the Malagasy people. You can be accommodated in guest houses or in inhabitants houses in a village community. Sustain initiatives and development projects while being immersed in Malagasy way of life. Our 2 lodges Bush House and Tsara Camp are Fair Trade® certified since 2015
DISCOVER MADAGASCAR WITH OUR TOURS!
We offer tours all around the island. Our experience since 1988 allows us to offer you exclusives journeys. We work tailormade too: From budget to Luxe! More information on www.boogiepilgrim-madagascar.com/en/