About Ecuador Freedom Bike Rental & Motorcycle Tours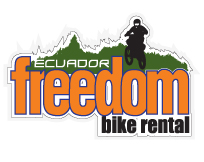 GUIDED AND SELF-GUIDED ADVENTURES BY 4X4 OR MOTORCYCLE
Ecuador Freedom Bike Rental gets adventure seekers like you off the beaten track and deep into to the country's dramatic and varied scenery and its beautiful places. Since 2009, we've helped travelers of all price points live their dreams.
Thousands of clients have trusted us for our award-winning customer service, authentic tours and knowledgeable and friendly staff. Choose from mountain bike, dual-sport / adventure motorcycle rental and 4x4 rentals, self-guided adventures, all-inclusive guided motorcycle tours or create your own getaway and Ecuador Freedom will help make it happen.
RENTALS
Rent mountain bikes, motorcycles and 4x4's to explore on your own. We have the largest fleet of adventure-ready motorcycles in South America, outfitted with quality gear and maintained by an in-house staff of professional mechanics. You'll get more than just a rental vehicle - you'll have the most experienced outfitter to help you plan the perfect trip.
SELF-GUIDED TOURS
Channel your free spirit (and our local knowledge) on your own self-guided tour. Our self-guided tours include an adventure motorcycle or 4X4 vehicle, motorcycle luggage, pre-programmed GPS, detailed road book with daily maps, prepaid lodging, select meals and a cell phone for 24-hour customer support.
GUIDED TOURS
Our guided tours are designed so that you experience Ecuador on an intimate level through conversations with locals and by experiencing what life is like in this land of diverse topography and peoples. We move people away from the common and into the more remote and obscure areas of Ecuador, giving a glimpse into ways of life that have largely disappeared​ .