About Holiday River Expeditions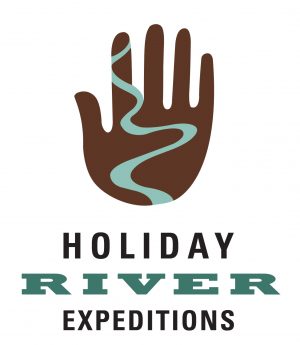 The land is awesome in every respect. Every canyon, every bend in the river reveals something else to stun the senses and leave you marveling that such a place exists at all. We have been going there for 50 years. Whitewater rafting through the most spectacular landscapes on earth; on some of the hottest white water anywhere. We run ten different sections of five rivers in Utah, Colorado and Idaho. Each trip is unique: different landscapes, different-sized rapids. Some trips are designed for the scenic adventurers who are a little more interested in the scenic than in the adventure. Other trips deliver the best world-class whitewater the Colorado River has to offer.
Our rafting journeys down the Colorado and Green River include Lodore, Cataract, Desolation, and Westwater canyons. We offer spring rafting on the two best Colorado Plateau tributaries the San Juan and Yampa rivers. In Idaho you can join us on two sections of the ultimate clear water alpine rafting adventure, the Salmon River. If you like to be active we can offer paddle rafts on many of our trips or combination mountain biking and rafting experiences where you ride like the wind on your mountain bike and then jump onto a raft and run the legendary Colorado River whitewater.
Come join us in a place explored by few people with seven national parks, 21 national monuments and America's wildest rivers. This was the last region of the contiguous United States to be explored; Terra Incognita or 'place unknown' is still one of the world's most remote regions with the best Utah whitewater rafting and Moab mountain biking in North America. What sets Holiday River apart is respect for you, the river and the wilderness we will share with you. That is why we use oars on our rafts, never outboard motors. Come with us and leave the smells and sounds of the mechanized world behind.
It's not just the landscape. It's more than just sightseeing, more than the wilderness, solitude and extraordinary white water. It's the time of your life!