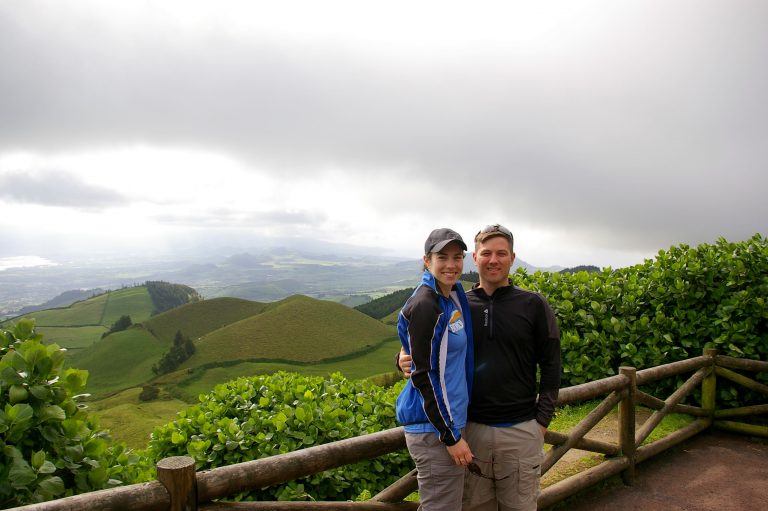 Almost a decade ago, I first learned of the Azores in an article titled something like, "remote islands that no one knows about." I certainly hadn't known they existed, which, perhaps is why I was drawn to them once I could point them out on a map. The thought of a collection of volcanic islands in the middle of the Atlantic with a subtropical climate and European twist really intrigued me. Nevertheless, they sat on my travel list for ten years.
Then in 2016, they popped back on my radar through another article, this time about how the Azores were the next hot new adventure destination.
"Adventure destination," you say? Well, sign me up! I do work at an adventure travel company, after all…
Six months later, I landed in Ponta Delgada at a one-runway airport built on a small patch of land surrounded, more or less, on three sides by the ocean. I explored three islands: Sao Miguel, Pico, and Faial. We hiked, ate, walked through an underground lava tube, waited as cows crossed the road, listened to the waves, went on a whale-watch, and generally just had a lovely time.
Here are my six reasons why it's time for you to visit the Azores.
1) THEY REALLY ARE STILL UNKNOWN.
Nine out of ten friends whom I've told about my Azores trip has no clue where they are. While tourism is growing, there are still fairly few travelers, especially from the US…for now. We came across a couple from the Netherlands and one from Sweden, I heard a few British accents, and apparently, it's a popular place for Spaniards to vacation.
2) THEY ARE EASY TO GET TO AND WELL CONNECTED.
There are direct flights from Boston, New York, Oakland, Toronto, and Montreal. From the East Coast, it's only a 4.5-hour flight. And if you'd like to use the Azores as a gateway to extended European travels, you can continue east with direct flights to Belgium, Denmark, Finland, England, Netherlands, Germany, Spain's Canary Islands, and of course, mainland Portugal.
3) THE VOLCANIC LANDSCAPES WILL TAKE YOUR BREATH AWAY.
Visual reminders of the force of nature, from the many volcanic cones dotting the countryside, to the deep groves where lava once flowed (now lush with vegetation growing in the rich soil), to turquoise lakes and hot springs filling calderas (collapsed volcano cones). Not to mention, you're almost never without a view of the ocean. You can even hike up Mount Pico, a dormant volcano and the highest point in Portugal. (It's a moderately strenuous hike, though on a clear day, the views are totally worth it!)
4) THE CUISINE IS OUTSTANDING.
If you've never had octopus, wait until you get to the Azores. Often braised in garlic and olive oil, it's tender and mild, and simply delicious. The cheeses are incredible, and each island has their own traditional variety. (I liked Sao Jorge's cheese so much that I brought a small wheel home with me. Yes, it was allowed through Customs.) The vineyards on Pico Island (nicknamed "the Island of Wine") are a UNESCO World Heritage Site for their unique growing methods—not on traditional trellises, but in bunches protected by grids of rock walls. And the Azorean pineapple is the best you'll ever have.
5) THEY ARE ON A MIGRATORY "SUPERHIGHWAY" FOR WHALES, DOLPHINS, AND PORPOISES.
These species are collectively known as cetaceans. Historically, whaling was the main industry in the islands, as they are on the migration paths for 27 species of cetaceans. Now, the government is working to protect these amazing creatures with over 60 marine protected areas. However, with the oceans warming, the whales and their cousins may find other waters to swim in or may not survive at all.
6) THEY FEEL LIKE A WORLD APART.
Technically, you're in Portugal, but it really doesn't seem like it. I'd describe the Azores as a mix of Hawaii and Old-World Europe, with a dash of the English countryside (lots of cows and grassy expanses).
The Azores have been dubbed Europe's "Best Kept Secret" and its "Hidden Gem." Those both fit, but I also suggest you go and choose your own moniker. Mine was "the place to which I most want to retire."