AdventureSmith Explorations Celebrates The Charles Darwin Foundation's 60th Anniversary With Continued Dedication to Galapagos Conservation
Posted: April 25, 2019
It is an exciting time to visit Ecuador's Galapagos Islands aboard a small ship. The non-profit Charles Darwin Foundation is celebrating its 60th year with symposiums and events, and overall attention to sustainable travel and wildlife conservation has never been stronger.
"With 2019 being the Darwin Foundation's 60th anniversary the islands are abuzz as a previously thought-to-be-extinct Fernandina tortoise just found on the island in February made global news," notes Todd Smith, founder and president of AdventureSmith Explorations. "Plus, with multiple sustainability measures being implemented in the Galapagos it is a great time to travel to this unique destination to see conservation in action and become an ambassador for the region, inspired by your experiences."
For example, Smith points out that in support of wildlife and habitat conservation, the Ecuadorian Government banned single use plastics in 2018. In addition, many small ship cruise operators have stepped up their conservation methods by building sustainable ships and/or implementing sustainable features on existing ships. Work is being done to end illegal fishing and membership in IGTOA (International Galapagos Tour Operators Association) is at an all-time high.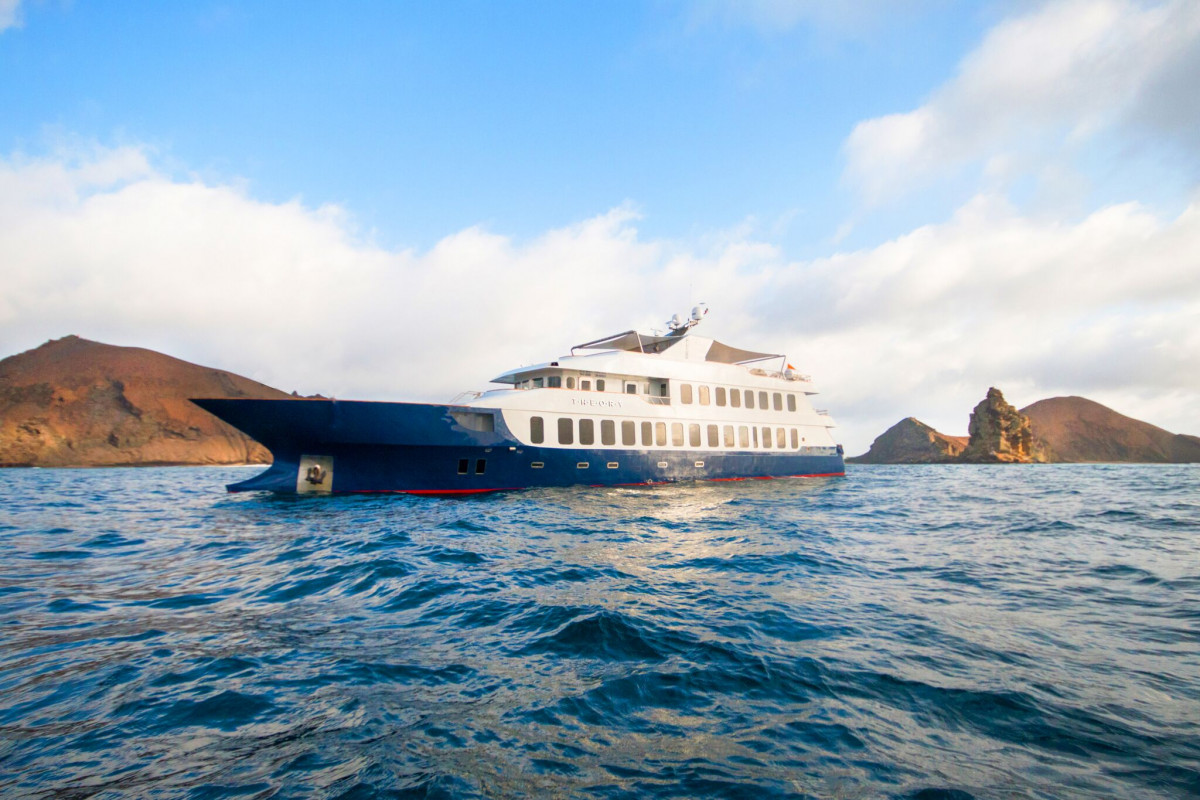 IGTOA is a non-profit association of travel companies, conservation organizations and groups that are dedicated to the protection of the Galapagos. Standing by AdventureSmith's mission of sustainable travel in the Galapagos, Todd Smith is an IGTOA board member and is a voice in guiding its vision. He travels there regularly to speak and exchange knowledge and expertise with other industry leaders.
The Galapagos Islands boast some of the highest levels of endemism (species uniquely defined by geographic location) compared with anywhere else on the planet. About 80% of the land birds you will see, 97% of the reptiles and land mammals, and more than 30% of the plants are endemic. More than 20% of the marine species in Galapagos are found nowhere else on earth.
Small ship cruise passengers' favorites include the giant Galapagos tortoise, marine and land iguana, flightless cormorant, the colorful Sally Lightfoot crab and the Galapagos penguin — the only penguin species to be found in the Northern Hemisphere.
19 species of seabirds (5 endemic) are Galapagos residents. Biologists estimate that up to 750,000 seabirds spend time in Galapagos, including 30 percent of the planet's blue-footed boobies and the world's largest colony of red-footed boobies.
Under the surface, nearly 450 different species of fish have been identified in Galapagos waters, many of which are found nowhere else on Earth—from massive sharks to delicate seahorses. About 50 ocean-based species are considered endemic.
AdventureSmith offers a helpful blog that speaks to future visitors with a list of must-see, fanciful wildlife species. See: 10 Galapagos Animals & How to Best Spot Them.
The company also reports that an impressive number of the ships they work with are taking conservation-minded actions towards a healthy Galapagos:
Origin, Theory and Letty have sustainability at the forefront of their operations and built their two newest ships (Origin and Theory) to a high standard of sustainability. All three ships now meet the strict SmartVoyager conservation and social standards designed by scientists, experts and tour operators.
The M/Y WildAid's Passion partners with WildAid to stop illegal fishing in the Galapagos which impacts the local communities' livelihood, sustainability of fish stocks and health of marine ecosystems. Learn about trips aboard this vessel.
The Galapagos Safari Camp sets the standard for responsible practices both at a human and environmental level. The reforestation program together with the cacao plantation and working farm pioneer sustainable conservation efforts.
To further support and protect the fragile environment, AdventureSmith Explorations offers the added bonus of Carbon-Free Cruising, the small ship cruise industry's first carbon offset program that comes at no added cost to travelers. Plus, AdventureSmith takes Galapagos conservation a step further by giving its travelers an easy choice to support the Galapagos Traveler Conservation Fund through an optional donation when booking and paying for their trip.
For a full list of small ship cruises and land-based packages in the Galapagos Islands please see: https://www.adventuresmithexplorations.com/galapagos-islands.
For details on all of AdventureSmith Explorations' small ship cruises, itineraries, availability and for 2019-2020 reservations, please call 866-575-2875 toll-free or visit the company website.
About AdventureSmith Explorations - Think Outside the Boat!
Founded in 2003, AdventureSmith Explorations is based in Truckee, CA, near the northern shore of Lake Tahoe. A recognized leader in small ship cruising, in 2012 owner Todd Smith first joined the ranks of Condé Nast Traveler's prestigious world's Top Travel Specialists list as the leading expert on small ship expeditions.