AdventureSmith Explorations Folds 30-Guest Luxury Dive Ship Into Indonesia Cruise Itineraries
Posted: January 10, 2020
AdventureSmith Explorations announces the addition of a luxurious and dive-focused expedition cruise ship to enhance and expand the many ways guests can now cruise Indonesia.
The international experts in small ship expedition cruising advises travelers considering a vacation in this region to review How to Choose Your Indonesia Cruise for ideas on dates, itineraries and ships (ranging from a 14-guest sailing vessel to 120-guest expedition vessels).
However, for scuba diving enthusiasts, these new Aqua Blu itineraries can't be beat.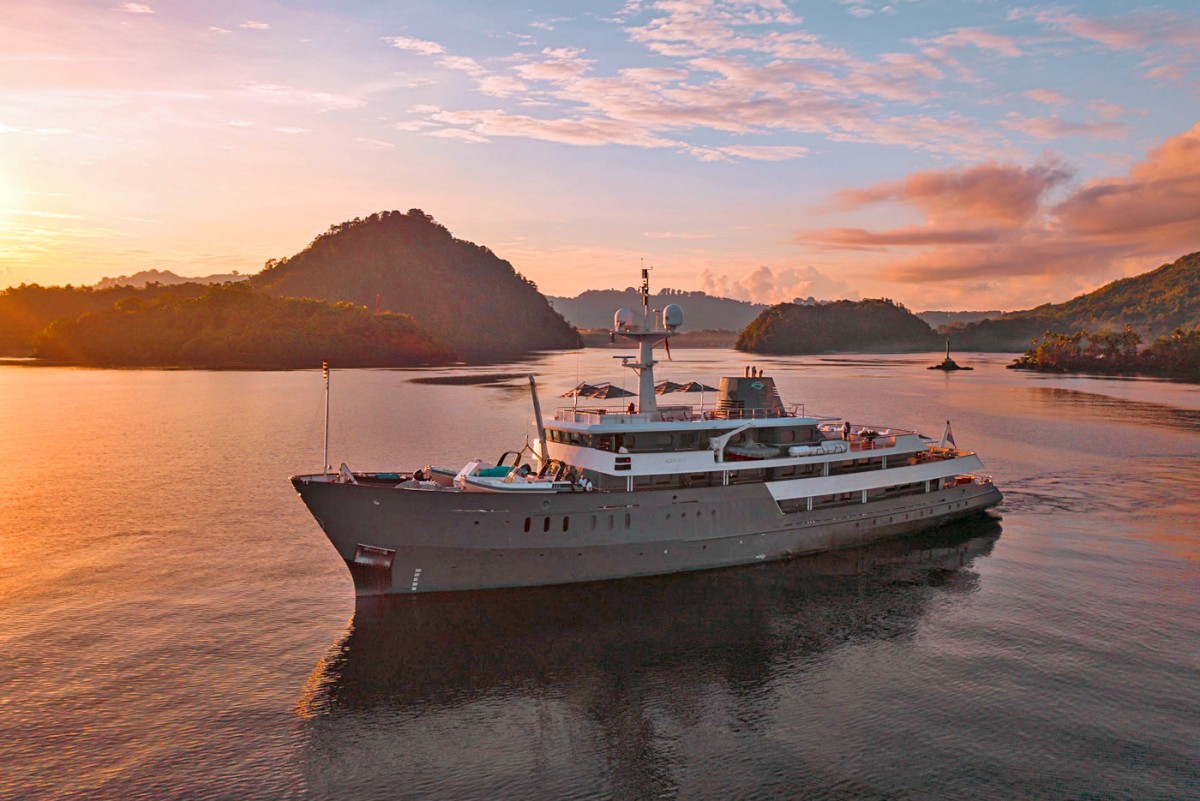 Aqua Blu served previously as a private yacht for an aristocratic European family. Refurbished in 2019, she features 15 sea-facing suites accommodating up to 30 guests, and premium furnishings with a distinctive design that combines modern luxury with ultimate comfort.
Today she offers AdventureSmith Explorations the opportunity to present three new itineraries with daily scuba dive programs that are comprehensive, all-inclusive and unique to Aqua Blu. Beginner, advanced and expert divers are all accommodated; this Information Sheet showcases the ship's commitment to underwater explorations of the Indonesian archipelago.
Sister sailing ships Ombak Putih (24 guests) and Katharina (14 guests) remain AdventureSmith traveler favorites as these masted classics are authentically built in the style of the region. Both ships received new teak decks in 2019 and their highly knowledgeable local guides provide unmatched cultural experiences. Two favorite routes for these ships come with savings for spring 2020 travel:
Sailing Indonesia: The Undiscovered Frontier, 14 days from $8,560 introduces guests to the waters around the island of Sulawesi that is still untouched by tourism. In 2020 bookings for March 19 and April 5 departures include complimentary domestic airfare to the ports of embarkation from Jakarta or Bali, Indonesia. Flights are to and from client ports of embarkation and disembarkation in Manado and Ternate or Labuan Bajo, Indonesia.
Sailing Indonesia: Bali, Komodo and Flores, five- and eight-day cruises from $2,100 (5 day) / $3,280 8 day). This is a best-selling introduction to Indonesia and newly includes the opportunity to swim with whale sharks. 2020 bookings made before March 31, 2020, for departures of this itinerary include complimentary domestic airfare for embarkation or disembarkation in Flores, Indonesia. One-way flights are to/from Bali or Jakarta, Indonesia, and are based on the direction of travel.
"Travel by small expedition cruise ships in this region is growing, and for good reason," said Todd Smith, Founder and President of AdventureSmith Explorations. "The myriad itineraries showcasing endemic wildlife, underwater wonderlands, traditional local cultures and intriguing history present an expanse of options sure to delight travelers looking to sail into remote areas."
How do you choose where to cruise among the many regions of Indonesia?
"Determine how you imagine engaging with the new worlds you will visit. What's most important to you? History, culture, wildlife, activities? Then hone in on those itineraries that come closest to your ideas. For example, Flores, Komodo & Bali cruises embrace volcanoes, rainforests, waterfalls white-sand beaches and explorations of traditional lifestyles in quiet coastal villages. Raja Ampat cruises in the Coral Triangle delight snorkelers in an underwater paradise and birding enthusiasts on jungle-clad karst islands," he added.
For details on all of AdventureSmith Explorations' small ship cruises, itineraries, availability and for 2020-2021 reservations, please call 866-575-2875 toll-free or visit the company website.
About AdventureSmith Explorations - Think Outside the Boat!
Founded in 2003, AdventureSmith Explorations is based in Truckee, CA, near the northern shore of Lake Tahoe. A recognized leader in small ship cruising, in 2012 owner Todd Smith first joined the ranks of Condé Nast Traveler's prestigious world's Top Travel Specialists list as the leading expert on small ship expeditions, a distinction that he still enjoys to this day.