AdventureSmith Explorations Invites Guests To Cruise By Footsteps Of 21st Century Antarctica Explorer
Posted: March 6, 2019
Colin O'Brady, a 21st century American explorer and endurance athlete, elevated himself and the White Continent to celebrity status in December 2018 by completing the first solo unassisted trek across Antarctica.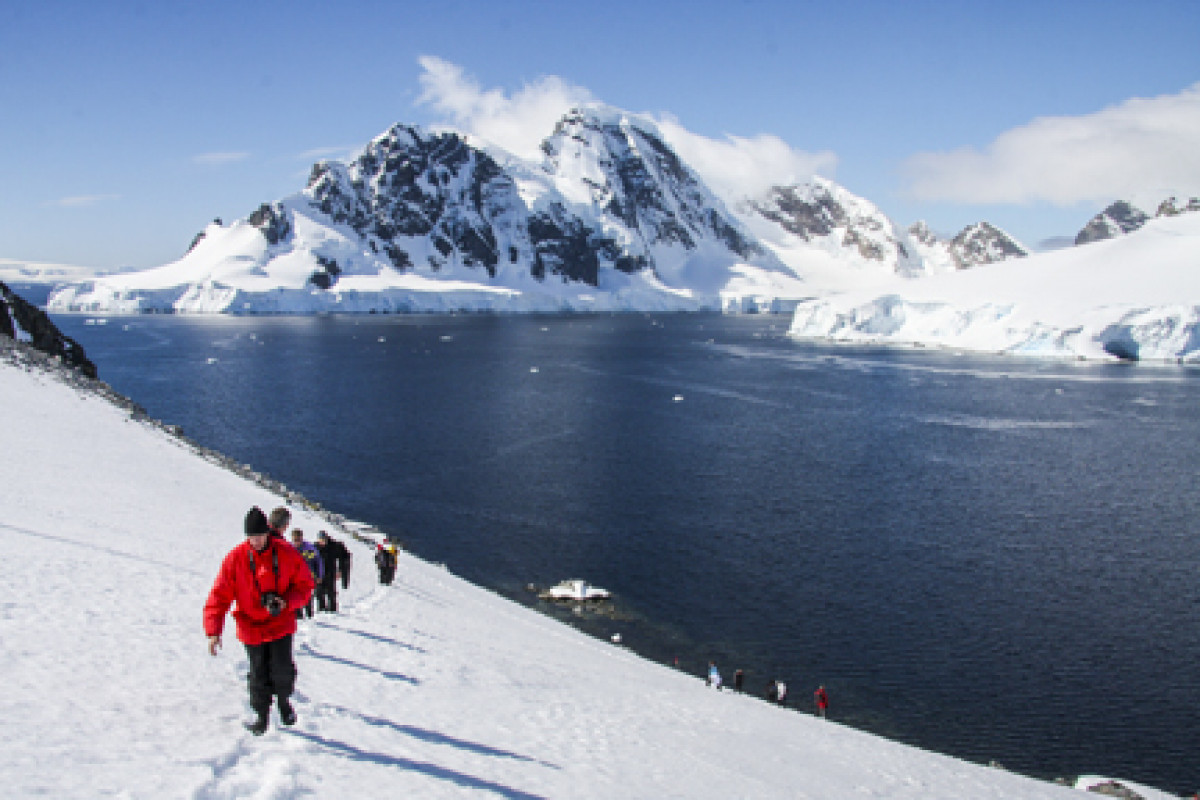 As a result of O'Brady's expedition, demand is up to visit this most southerly point on the planet. The small ship cruise expert, AdventureSmith Explorations, has assembled for the 2019-2020 season cruise-driven itineraries from eight to 35 days that expand opportunities for guests to cross-country ski, camp on frozen terrain and to become mountaineers themselves – in the spirit of O'Brady.
Todd Smith, AdventureSmith's founder and president, reassures guests that they won't be pushed to their limits as O'Brady was. On O'Brady's first solo unassisted trek across Antarctica he skied across 932 snow and ice-covered miles in 54 days (sleeping in a tent). He paid a price, eating basically only freeze-dried meals and specialized nutrition bars and still losing a large percent of his body weight while pulling a 375-pound sled.
"Our guests already have a sense of adventure if they've decided to cruise to Antarctica. However, they don't have to be endurance athletes to participate in one of our epic adventures," Smith said. These include, among others,
The 12-day Antarctic Peninsula Basecamp Cruise aboard either the 116-guest Plancius or the 116-guest Ortelius. Rates are from $9,650 per person double. The itinerary is packed with daily activities conducted by expert guides. Activities included in the rate for this active adventure are mountain climbing, hiking, camping at shore base camps, kayaking and shoreline explorations by skiff.
Antarctic Peninsula is a 10-day program aboard one of three research vessels: the 116-guest Plancius, the 116-guest Ortelius or the brand new174-guest Hondius. Guests can save up to $1,400 on rates that start at $7,050 per person double, and they can arrange for complimentary camping and kayaking by booking the Nov. 20, 2019 departure.
Antarctic Explorer is an 11-day itinerary with rates from $9,995 per person for a double cabin aboard a choice of four ships: the 132-guest Ocean Adventurer, the 189-passenger Ocean Diamond, the 199-passenger Ocean Endeavour and the new 176-passenger World Explorer. Guests can save 25 percent on rates by booking a cruise by April 30, 2019. Each departure includes up-close explorations on guided hikes, shore walks and small-craft excursions. Optional activities include kayaking, a one-time paddling excursion, camping, cross-country skiing, mountaineering and stand-up paddle boarding.
A 35-day National Geographic Epic Antarctica voyage carries guests from South America along Antarctica to New Zealand or reverse. This trip follows earlier explorers: Scott, Ross, Amundsen and Shackleton. The per person double rate is from $48,800 aboard the 126-guest National Geographic Endurance. Unique to this polar experience is the opportunity to explore the strictly regulated and highly protected sub-Antarctic Islands of New Zealand, considered by ornithologists as "bird central." Skiff and kayak shoreline explorations reveal colonies of Adelie and emperor penguins, seals and whales. Macquarie Island, a UNESCO World Heritage Site, is home to thousands of seals and millions of penguins. Guests witness the Ross Ice Shelf, the world's largest. The captain and expedition leader are on the lookout for places where guests can enjoy ice walks, cross country skiing and snowshoe hikes.
National Geographic Antarctica/South Georgia/Falklands is a 24-day adventure with rates from $25,220 per person double. Complimentary roundtrip air from Miami is included if bookings are made by July 31, 2019. Three ships conduct this itinerary: the 148-guest National Geographic Explorer that offers 81 outside cabins; National Geographic Orion for 102 guests; and the new 126-guest National Geographic Endurance. The wildlife-rich Falkland Islands and South Georgia segue into onboard comforts and conversations with cruise companions while crossing the Drake Passage and on to the boundless wildlife on the Antarctic Peninsula where guests can walk wild beaches inhabited by thousands of gentoo, rockhopper and king penguins.
On an Air Cruise the itinerary skips the Drake Passage, thus saving up to four days at sea. Two itineraries, Antarctica Air Cruise(eight days from $12,995 per person double) andPolar Circle Air Cruise (10 days from $17,995 per person double) offer flexible air and sea programs aboard the 72-guest Ocean Nova, 71-guest Hebridean Sky XXI and 69-guest Magellan Explorer.
For details on all of AdventureSmith Explorations' small ship cruises, itineraries, availability and for 2019-2020 reservations, please call 866-575-2875 toll-free or visit the company website.
About AdventureSmith Explorations -Think Outside the Boat!
Founded in 2003, AdventureSmith Explorations is based in Truckee, CA, near the northern shore of Lake Tahoe. A recognized leader in small ship cruising, in 2012 owner Todd Smith first joined the ranks of Condé Nast Traveler's prestigious world's Top Travel Specialists list as the leading expert on small ship expeditions.