A snorkeling adventure is different from other types of travel. The considerable time in the water presents unique challenges to what clothing and gear you need to bring.
While most gear may be available at the destination, we highly recommend bringing your own snorkeling equipment. Blisters are the last thing you want to have happened on a 10- or 12-day trip. With your own fins, you don't have to worry as much about that. An ill-fitting mask that leaks could also ruin an otherwise fantastic trip. And it's much more sanitary to bring your own snorkel. In general, gear that has been used and tested ensures correct fit and comfort during your adventure.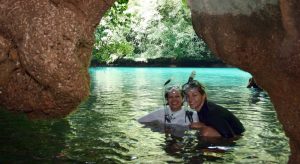 Skin protection is very important when you're spending extended periods of time in the water in a sunny, tropical region. Please look for reef-safe, biodegradable sunscreen with an active ingredient of zinc oxide—we like Stream2Sea and Green Goddess brands. Even at low concentrations, most regular sunscreens cause coral bleaching, which we're sure is something you want to prevent. A diveskin, long-sleeve rash guard top or swim shirt, and rash guard pants will also protect you. They can be worn by themselves, over swimsuits, or under wetsuits. They are great alternatives to sunscreen because you don't have to re-apply, the synthetic material usually air-dries overnight, and they also protect again no-see-ums that may irritate your skin during long days in the water.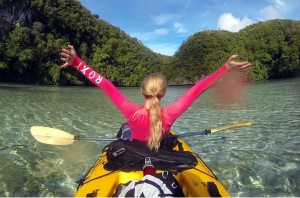 If you are kayaking, bring gloves. Yes, there are special kayaking gloves, but bike gloves would certainly work, as well. You may only be kayaking for a little while each day, but cumulatively over the course of the trip, you'll be glad to have the protection. Gloves will also help prevent sunburn on your hands. Another body part you may not think about for sun protection is your head. A wetsuit hood, cap, or even a bandana is extremely important to bring with you, as the back of your head and neck will be the most exposed part of your body when floating on the surface.
Other handy items to bring include an anti-fogging solution for your snorkel mask, a strap for your sunglasses (remember, you'll be in, on, and near water 100% of the time and sunglasses can easily slip off and disappear forever), a quick-dry towel, and an insulated water bottle—to keep your water as cool as possible when you're out for the day exploring.
And don't forget to throw in a blister remedy—even with your own gear, the effects of wearing it each day for over a week can still cause irritation, so having blister block for prevention and moleskin at the first sign of a hot spot is essential.
Our full-service beach camping trip in Palau does require a few additional considerations than our yacht-based Raja Ampat adventure, so please give us a call at 1-800-941-8010 if you any questions about either trip!