Tour Company in Ireland Targets Brexit to Help Explain Why Ireland Is Two Countries
Posted: October 31, 2019
In a fast-changing world, the letter A appears still to stand for apple. And the letter B? In many minds for the foreseeable future, B is for Brexit -- Britain exiting the European Union).
Confronted with a fast-approaching October 31 vote, this week the EU has been asked for another Brexit delay. If the EU approves the extension request, the Brexit deadline would be delayed until 31 January 2020. Rob Rankin, founder and owner Vagabond Small Group Tours of Ireland, is taking a wait-and-see-attitude concerning the UK Parliament's vote to uphold or not the exit date that could change how the UK does business with Europe -- and also on the Emerald Isle.
Maybe Brexit will be washed down the drain over a toast with its trading bloc partners since 1993. Maybe not. In the meantime Rankin's team offers a list of ideas to visitors to Ireland who may want to know what the fuss is all about. In Dublin, the gateway city for Vagabond Small Group Tours of Ireland, historic attractions are two-a-penny. Guests are invited to discover for themselves the bullet holes on the General Post Office that betray its role at the heart of the 1916 Easter Rising. The National Museum is housed in a former barracks. Glasnevin Cemetery holds an array of independence heroes and an excellent museum.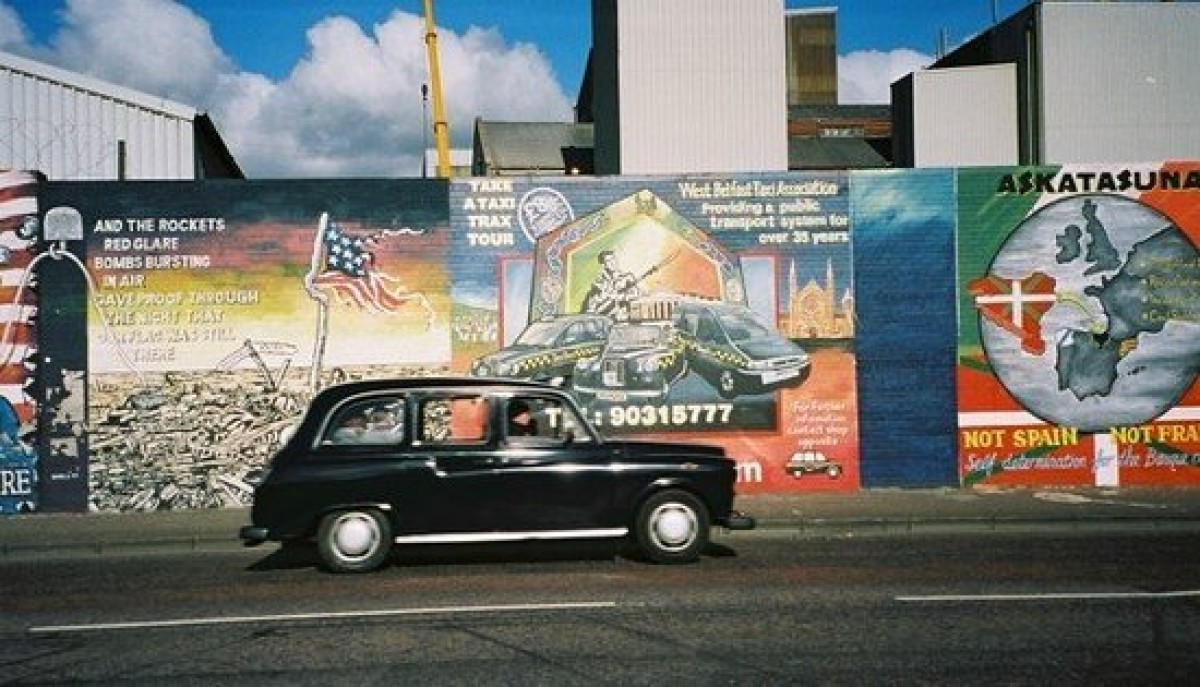 Highly recommended in Belfast is an on-own Black Cab tour that offers a unique perspective on the capital of Northern Ireland. Guests listen to expert personal commentary on a guided tour through unionist and nationalist communities, learning about the late 20th century 'The Troubles' while viewing political murals and signing names to a peace wall.
Itineraries encompassing Derry include a guided walking tour around the historic walled city of Derry/Londonderry that showcases the Guild Hall and a siege cannon while shedding light on the nationalist neighborhood where the Northern Irish Civil Rights movement was born in the late 1960s, leading to a virtual 30-year war between Catholics and Protestants.
And other itineraries including Cork, also known as the Rebel County, share stories of the action here during the early 1920s War of Independence and ensuing Civil War. Michael Collins was ambushed and assassinated at Béal na Bláth. Picturesque Cobh was a center of resistance in 1916.
"It's a no-brainer to say that this ours is a complicated history," adds Rankin. Vagabond Tours of Ireland assists its guests in scratching the surface of the history of why there are two separate Irelands. This history goes back well into the 16th century when the island was like a piece of fabric being stretched between Gaelic-speaking Catholics and the English who spoke English and who were eventually predominantly Protestant.
"Today Brexit has become our own three-legged milking stool," Rankin explains. The three legs are
European Union (EU) – since 1993 a commerce-driven alliance of European nations, the Republic of Ireland and the United Kingdom.
United Kingdom (UK) – inclusive of Great Britain (Scotland, Wales, England) and Northern Ireland (six counties that are culturally British out of an overall 32 counties on the island). This bloc known as the UK has voted to disengage from the EU because of a perception that the UK doesn't enjoy full sovereignty in the EU.
Republic of Ireland – represents 26 of 32 counties on the Emerald Isle, is not part of the UK bloc and enjoys 80% to 90% support for continuing its own EU membership. The Republic of Ireland fought and won independence from the UK from 1916 to 1921. The six counties in the northern part of Ireland demanded that their union with the UK and the British crown remain intact, resulting in Northern Ireland. When the UK voted to remove itself (Brexit) from the EU, the independent country Republic of Ireland determined to remain within the EU.
Customs and tariff protocols between the Republic of Ireland (EU) and Northern Ireland (UK) have been operational and peaceful for nearly two decades. Residents and visitors to Ireland and the UK enjoy visa-free travel to each other's countries. All sides have agreed that this situation will continue post-Brexit.
What is of concern, adds Rankin, is that without a so-called backstop built into the negotiations, the now a 'soft' border between the Northern Ireland and the Republic of Ireland could once again become a 'hard' border that in turn could pick at century-old scars. The relationship between the Republic of Ireland and Northern Ireland has steadily improved since the landmark peace accord of 1998. What's known as the Good Friday Agreement ended paramilitary activity and customs infrastructure at north/south border crossing points. The British army was removed from Northern Ireland.
No matter Brexit's outcome – or not – Rankin and his team are high on 2020 bookings, already strong.
"We envisage no major disruption. The bright side is, we hope, more opportunity to explain Irish history," he says.
Vagabond Small Group Tours of Ireland offers two styles of culturally immersive travel. Vagabond Adventure Tours (the division hosting the Epic Irish Food Adventure Tour) are for active travellers who want to mix up hiking, kayaking and biking and other outdoor adventures with history, culture, dining and shopping. Driftwood Journeys of Discovery follow similar itineraries but at an intimate and in-depth looking and lingering pace, sans the physical exertion.
On all of its tours, Vagabond staff curate locally owned accommodations, pubs and restaurants that help serve their goal of authenticity. In the end the mission is to have guests "love Ireland as much as we do." Transport is in a custom Mercedes 'Vagatron' or special mini-buses which allow access beyond where regular tour buses go.
For details on all of Vagabond Small Group Tours of Ireland itineraries, availability and for 2019 reservations, please visit https://vagabondtoursofireland.com/. Call toll free (from the US) 1.833-230-0288; in Ireland 00353 (0) 1 5634358; or email: [email protected].
About Vagabond Small Group Tours of Ireland
Since 2002 Vagabond Adventure Tours has been creating opportunities for visitors to embrace Ireland by walking, biking, horseback riding and kayaking its lands and waters, imbibing history and culture along the way. In 2013 the company was honored by National Geographic Traveler with a Top 50 Tour of a Lifetime distinction. In 2015 and 2017 Vagabond Small Group Tours of Ireland was named the "Best Adventure Experience" at the Irish Tourism Awards. In 2017, Vagabond became Ireland's first tour operator to achieve Ecotourism Gold Level Certification. In 2018, Vagabond Tours won The Green Tourism & Entertainment category in Ireland's most prestigious Green (business) Awards. And in February 2019, the company won two top Irish Tourism Industry Awards for the Best Ireland Ancient East Tourism Experience and Best Environmental Tourism Innovation.