Vagabond Small Group Tours of Ireland Dips Into St. Patrick Haunts on Immersive, off-Beaten-Track Itineraries
Posted: March 6, 2019
At last count some 180 communities in Ireland claim to host St. Patrick's Day celebrations. The traditional March 17 fete also heralds the day for planting spring peas.
At age 16 (around 400 AD, during Roman times), the to-be-St. Patrick was sold into slavery, working as a shepherd in Ireland. His calling followed, as did the symbolism of the shamrock's three leaves representing the Trinity.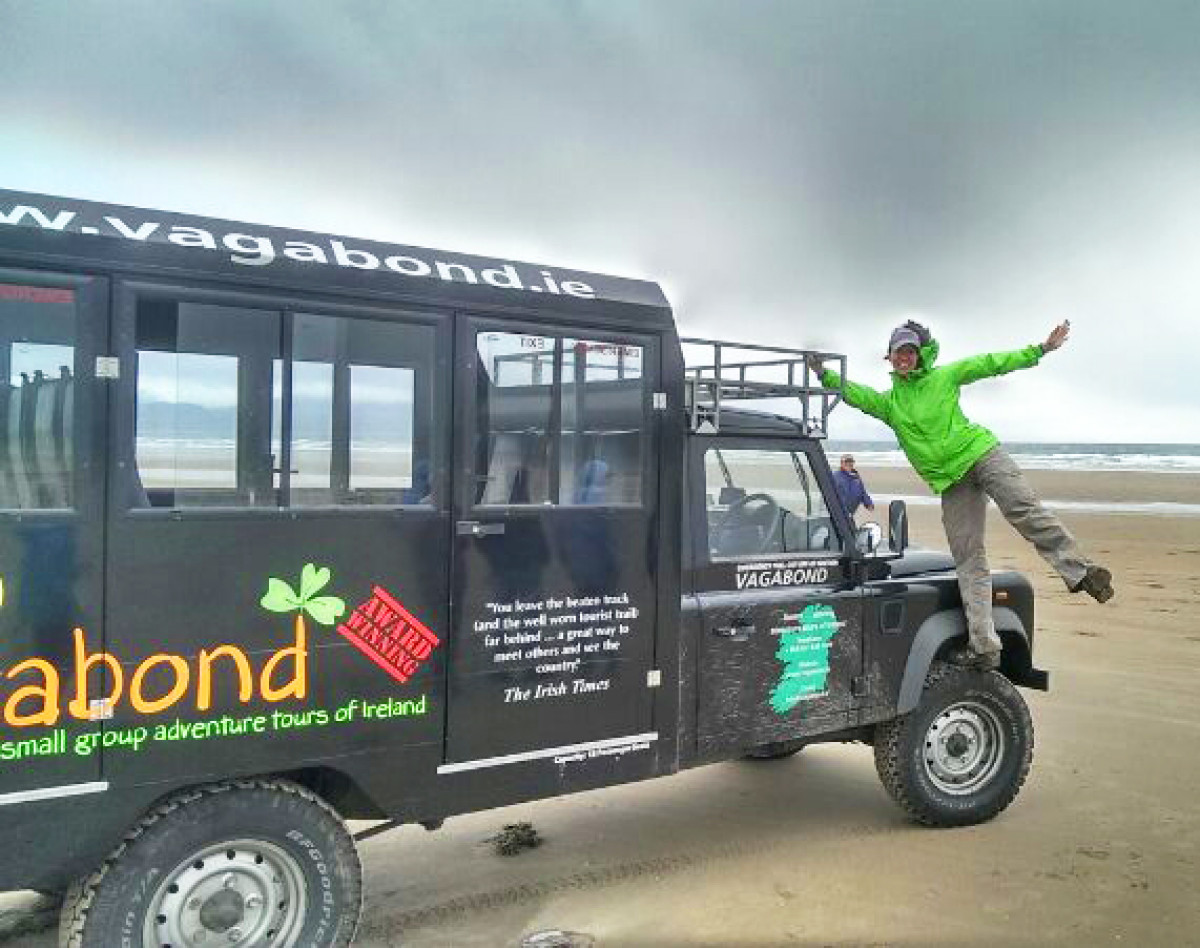 One award-winning tour company, Vagabond Small Group Tours of Ireland, goes off the beaten path to introduce guests to secrets of the Emerald Isle. Discoveries while touring include many of the towns and villages that honor the country's patron saint with parades that include:
Vintage tractors and cars followed by all sorts of agricultural vehicles such as quad bikes and customized fertilizer barrels turned into trains for tots;
Floats, decorated and themed, typically pulled by tractors;
Costumed depictions of ancestors and relations;
Candies (sweets) tossed from the floats to children lining the way;
Majorettes and sports clubs parading;
Country music and dancing;
Irish American paraphernalia;
Animals – sheep and dogs, for example – dyed green.
Along a 92-mile route through the northern counties of Armagh and Down are 15 locations that concern St. Patrick. One Vagabond itinerary, 7 Day Magnetic North Adventure Tour, takes in some of the sights along this route as guests hike, bike, kayak and horseback ride through landscapes fomenting with history and lore. Tours begin mid April and continue into mid October. On the weekend of March 17, this tour's gateway city, Dublin, will see 100,000 or more in the streets celebrating, including sports fans following the All-Ireland Club Championship finals, an inter-county hurling competition devoted to Ireland's national sport. For tour details see https://vagabondtoursofireland.com/tour/7-day-magnetic-north-northern-ireland-adventure-tour/
Along this and other Vagabond routes will be stories of such quirky happenings as those in:
Dripsey: World's shortest parade -- 25 yards from one pub door into another! https://www.rte.ie/archives/exhibitions/923-st-patricks-day-as-seen-on-tv/287788-shortest-st-patricks-day-parade/
Dingle: The earliest St Patrick's Day Parade in Ireland kicks off at 6 a.m., the first of two on this day. The second is a larger lunch-time event. The reason for the early parade stems from a time when people feared to be seen in groups in daylight.
Duncannon on the Hook Peninsula: Ireland's only beach parade.
Derry: Ireland's only walled city hosts a food fest along with a parade. (https://www.youtube.com/watch?v=dVA-3IjxkeI)
Ulster Folk & Transport Museum at Cultra: This historic theme park displays traditional crafts and promotes a traditional food champ. (https://www.youtube.com/watch)
Ardara in Donegal: Pop and country mixed in the 2017 float parade in this genuinely rural Irish country town when one of the floats featured locals dressed as all the celebrities who had died in the previous year. A tractor pulled their party in heaven. https://www.youtube.com/watch?v=0xqWCAtseE4
Slemish in Antrim: Patrick worked on Slemish mountain. Today locals climb the hill en-masse and re-enact his life there.
Living Wake at the Ulster American Folk Park: Costumed guides re-enact emotions of those left behind and those of thousands of people before their voyage from Ireland to America in the 1700s and 1800s.
Elphin Windmill: The restored 18th century windmill in Roscommon hosts a tea party on St. Patrick's Day.
Achill Island: Each tiny village on Achill Island boasts a pipe band. They all come together to compete on St Patrick's Day. The day starts with a traditional drum beating at daybreak – as early as 6 a.m., heralding the Afreann Gaeilge (Mass in Irish). This is preceded by a pipe band. (http://achilltourism.com/experience-achill/achill-island-tourism-festivals-and-events/achill-island-tourism-st-patricks-day-on-achill-island-ireland/).
Vagabond Small Group Tours of Ireland offers two styles of culturally immersive travel. Vagabond Adventure Tours (the collection including the Magnetic North Adventure Tour) are for active travellers who want to mix up hiking and biking and other outdoor adventures with history, culture, dining and shopping. Driftwood Journeys of Discovery follow similar itineraries but at an intimate and in-depth looking and lingering pace, sans the physical exertion.
On all of its tours, Vagabond staff curate locally owned accommodations, pubs and restaurants that help serve their goal of authenticity. In the end the mission is to have guests "love Ireland as much as we do." Transport is in a custom 4x4 Land Rover or Mercedes 'Vagatron' that allows access beyond where regular tour buses go.
For details on all of Vagabond Small Group Tours of Ireland itineraries, availability and for 2019 reservations, please visit https://vagabondtoursofireland.com/. Call toll free (from the US) 1.833-230-0288; in Ireland 00353 (0) 1 5634358; or email: [email protected].
About Vagabond Small Group Tours of Ireland
Since 2002 Vagabond Adventure Tours has been creating opportunities for visitors to embrace Ireland by walking, biking, horseback riding and kayaking its lands and waters, imbibing history and culture along the way. In 2013 the company was honored by National Geographic Traveler with a Top 50 Tour of a Lifetime distinction. In 2015 and 2017 Vagabond Small Group Tours of Ireland was named the "Best Adventure Experience" at the Irish Tourism Awards. In 2017, Vagabond became Ireland's first tour operator to achieve Ecotourism Gold Level Certification and in 2018, Vagabond Tours won The Green Tourism & Entertainment category in Ireland's most prestigious Green (business) Awards. In February 2019, the company won two top Irish Tourism Industry Awards for the Best Ireland Ancient East Tourism Experience and Best Environmental Tourism Innovation.