Vagabond Small Group Tours of Ireland in 2020 Hosts Five 6-Day Celebrations of Irish History Through Food
Posted: October 2, 2019
Countries love to display their cultures and histories through food. Ireland, too, is now ripe for a culinary sort through.
"In the 21st century we love the fact that we can celebrate our food that eloquently expresses the beauty – and poignancy -- of our land and history," says Rob Rankin, Vagabond Tours' Founder and Managing Director.
Ireland's award-winning travel company will showcase in 2020 Ireland's history through food. The 6 Day Epic Ireland Food Tour departs the gateway city of Dublin on a circuitous course from famine to Michelin. Trip dates in 2020 are May 11, June 8, July 6, Aug. 3 and Sept. 14. The per person double rate is €1,899 (single supplement €270). For details see https://vagabondtoursofireland.com/tour/6-day-ireland-food-tour.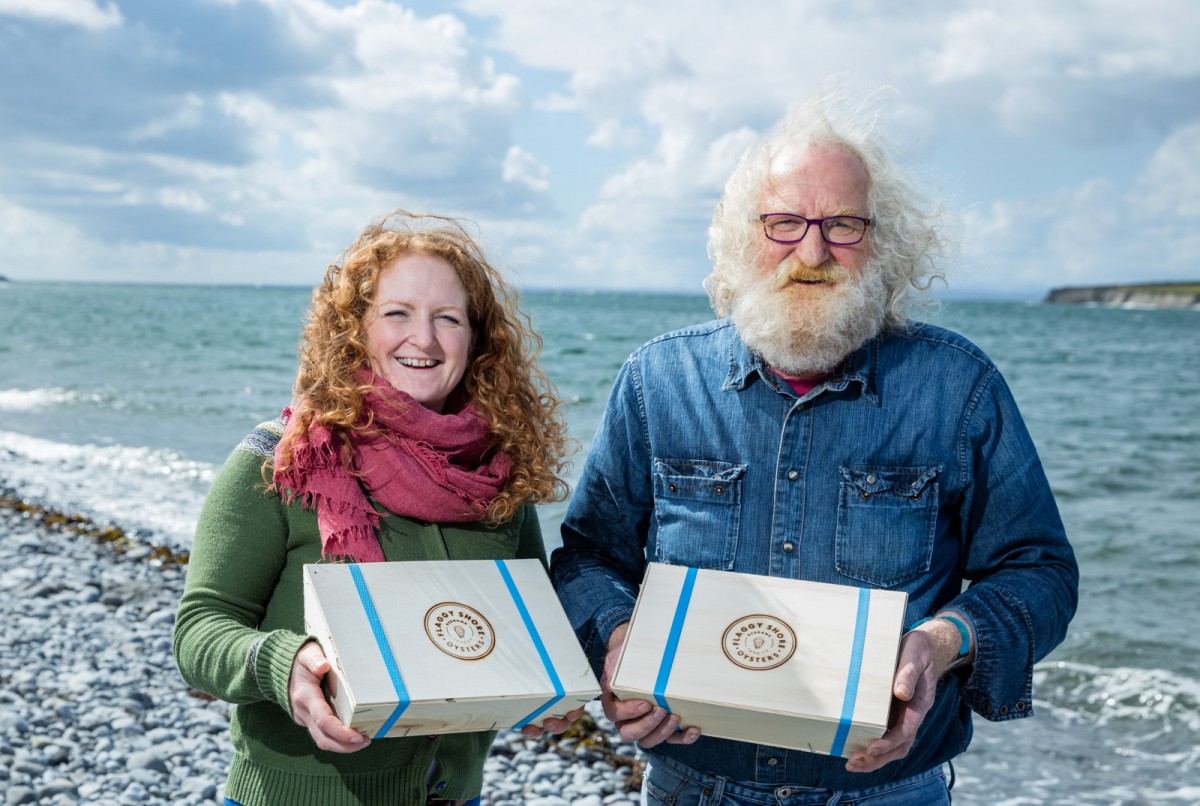 "Call our celebration of food a Phoenix of sorts," muses Rankin. "We have periods throughout our history when the Irish had nothing to eat and other times when we went hungry because we were busy dodging bullets."
But this tour doesn't fixate on the island's past woes; rather this fast-paced, active adventure bakes in the fun while focusing on Ireland's mild climate, rich soil and clean oceans.
"This itinerary opens a window to Ireland's recent food renaissance. After years of underappreciation, local Irish produce has come to the fore, mixing with international influences to produce a distinctively Irish modern cuisine," adds Rankin.
Guests kayak with dolphins across Dingle Bay and walk dramatic cliffs and beaches as they…
Taste dillisk (truffle of the sea) and refreshing carrigeen icepop while foraging, perhaps also finding sea spaghetti and wrack on the golden sands of Derrynane on the Ring of Kerry. (Historic note: Queen Victoria vacationed on the Ring of Kerry back in the 1860s. But did she know about a secret viewing point high above the ocean that Vagabond Tours' 4x4 tour vehicles can access by offroading?);
Unearth fairy potatoes (Conopodium majus – a wild carrot), Irish coconut (blossoms from the wild gorse/furze shrub) and wild garlic that goes into pesto – all on a foraging hike in Clare with local food guru Oonagh O'Dwyer;
Work up an appetite with a breathtaking hike along the Cliffs of Moher;
Sample Irish wildflower honeys and the nectar of the gods at Ireland's finest meadery;
Tour the tastes of a vibrant community – Kinsale -- at the heart of Ireland's food renaissance (and unofficial foodie capital);
Toast this food odyssey with wild-brewed, off-the-beaten-track Irish coffee;
Meet Ireland's original female craft brewer at her 100-year-old Dingle pub;
Feast like lords and ladies at a characterful Irish castle hotel;
Shuck and slurp oysters on the spectacular Flaggy Shore before shuffling to Linnane's Lobster Bar on the active fishing pier;
Meet with such local purveyors as Burren Smokehouse, St. Tola's Goat's Cheese and Wild Irish Sea Vegetables;
Discover Annascaul pudding, Bere Island hake, Castletownbere clams, Durrus and Cashel Blue cheese, smoked and cured Gubbeen bacon and Clonakilty black pudding;
Ramble through a Willy Wonka-inspired edible paradise at the Garden of Re-Imagination near Glengarriff where the flavors and stories of rare delights are revealed by the pink flamingo tree, dahlia tubers and barberries;
Savour the world's creamiest milk and best artisan cheeses from grass-fed cows – and water buffalo. Ireland has an ancient tradition in dairy. Butter making was first introduced by the Celts in the 2nd century BC;
Toast all of the above over Irish craft beers and whiskey.
Vagabond Small Group Tours of Ireland offers two types of culturally immersive travel. Vagabond Adventure Tours (the style hosting the Epic Ireland Food Tour) are for active travellers who want to mix up hiking, kayaking and biking and other outdoor adventures with history, culture, dining and shopping. Driftwood Journeys of Discovery follow similar itineraries but at an intimate and in-depth looking and lingering pace, sans the physical exertion.
On all of its tours, Vagabond staff curate locally owned accommodations, pubs and restaurants that help serve their goal of authenticity. In the end, the mission is to have guests "love Ireland as much as we do." Transport is in a custom 4x4 Mercedes 'Vagatron' or Mercedes-Benz "Drifter" that allows access beyond where regular tour buses go.
For details on all of Vagabond Small Group Tours of Ireland itineraries, availability and for 2020 reservations, please visit https://vagabondtoursofireland.com/. Call toll free (from the US) 1.833-230-0288; in Ireland 00353 (0) 1 5634358; or email: [email protected].
About Vagabond Small Group Tours of Ireland
Since 2002 Vagabond Adventure Tours has been creating opportunities for visitors to embrace Ireland by walking, biking, horseback riding and kayaking its lands and waters, imbibing history and culture along the way. In 2013 the company was honored by National Geographic Traveler with a Top 50 Tour of a Lifetime distinction. In 2015 and 2017 Vagabond Small Group Tours of Ireland was named the "Best Adventure Experience" at the Irish Tourism Awards. In 2017, Vagabond became Ireland's first tour operator to achieve Ecotourism Gold Level Certification. In 2018, Vagabond Tours won The Green Tourism & Entertainment category in Ireland's most prestigious Green (business) Awards. And in February 2019, the company won two top Irish Tourism Industry Awards for the Best Ireland Ancient East Tourism Experience and Best Environmental Tourism Innovation.