Portuguese cuisine has evolved over time and has adopted flavors and recipes from around the world. This is especially true for Portugal, since it was a major player during the Age of Exploration, colonizing in South America, India, Africa, and parts of southeast Asia and the Pacific. Each new discovery led to new spices, herbs, and plants being incorporated into the gastronomic tradition, not to mention the importance of seafood for those living on the coast and out on ships.
Despite the influence of exotic flavors, there are also plenty of dishes reminiscent of other Mediterranean countries—some more rustic and simple, some more extravagant—but whatever you choose, it will be fresh and delicious. And don't worry, on an active tour to Portugal, you'll walk off your culinary indulgences!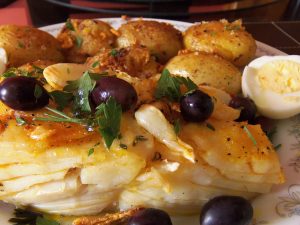 Cod – Perhaps Portugal's most popular and iconic ingredient is bacalhau, or salted cod. Bacalhau is steeped in history; it was brought on voyages to sustain sailors and incorporated into the cuisine of the Portuguese colonies. It is said there is a different bacalhau recipe for every day of the year, but it's often served as fish cakes, boiled with cabbage and carrots, barbequed, baked, chopped in salads, or served with eggs and potatoes. But you're likely to see many other preparations. This might as well be the national dish of Portugal, so it is available everywhere. Don't leave Portugal without trying it.
Seafood stew – Cataplana is traditionally from the southern Algarve region, but it can be found throughout the country. It's cooked in a cataplana (similar to North African tagines), which uses steam to lock in the flavors and juices, allowing them to simmer and meld with the meats and vegetables. This Old-World dish combines just about any ingredient into a delicious stew, from ham and sausage to clams, with typically a tomato and garlic base. Yum!
Olive oil – Not much needs to be said about this except that you should eat as much of it as possible. Not only is Portuguese olive oil the base for Portuguese cooking, but it has also won awards. While it may be overshadowed by the big producers of Spain and Italy, some consider Portuguese olive oil the best in the world.
Cheese – This is Europe, after all, where each country has their own, distinct cheeses. Sadly, Portuguese cheeses are not as famous as others on the continent (cheddar, Gruyere, Brie, or mozzarella…), but they can easily hold their own against the more well-known varieties. You'll find creamy sheep cheese in the Serra da Estrela mountains, aged cow cheese from the valleys, as well as goat cheese. Cheese is most often eaten on its own before or after the main meal and rarely used in recipes.
Wine – No visit to Portugal is complete without sipping it's most famous product—Port. This wine is only made in the Douro Valley and packs a kick—brandy is added, making it a fortified wine. Because of this, Port is a rich, sweet wine with a high alcohol content, best enjoyed after dinner and not before a hike!
Eel and Octopus – When we say the Portuguese love seafood, we mean all seafood. Eel is very popular in the area between Porto and Coimbra and is typically served fried or in a bowl of soup. Enjoy with crisp white wine. Octopus can be similarly prepared but is also grilled or sautéed in a deep dish of olive oil and garlic. When fresh and cooked correctly (and believe me, the Portuguese know how to do it), eel and octopus are tender, mild, and ever-so-slightly sweet.
Fruit – The fruit in Portugal is some of the freshest, colorful, and most perfectly-ripe fruit you will ever see and taste. Eat a lot of it. With a sunny, warm climate, Portugal doesn't have to go far for its fruit, although its outlaying islands do export to the mainland (bananas from Medeira and pineapples from the Azores). Figs, oranges, melons, apples, pears, all varieties of stone fruit, and even almonds, are all grown and eaten in Portugal.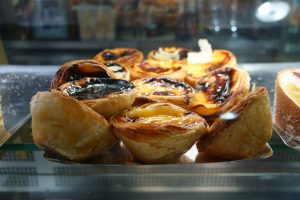 Pastel de nata – Of the many, many pastries you'll find in Portugal, none is more favored than pastel de nata, invented by Lisbon monks in the 1800s (but may date earlier). These are palm-sized, egg custard tarts baked in a crispy, flaky crust. Rich, creamy, with just a hint of sweetness, these can be found everywhere. Locals eat them for breakfast, mid-morning snacks, after lunch, in the afternoon, and in the evening—so just about any time of the day. Best to do as the locals do.